Books

Featured Books

pcb007 Magazine

Latest Issues

Current Issue

Finding Ultra

New demands on PCB fabrication, namely advanced packaging, ultra high density interconnect (UHDI), and new specialty materials, are converging, changing the landscape of our business. Is it time to start paying close attention to this convergence?

Developing a Strategy

A solid strategy is a critical part of success. This month, we asked some of the top industry leaders and business strategy "gurus" to share their thoughts on developing strategies.

Winning With TQM

In this issue, we explore how TQM has entered the DNA of continuous improvement disciplines, and the role leadership transformation plays in this. If you've ever competed against a TQM company, you understand their winning advantage.

Columns

Latest Columns

||| MENU
I-Connect007 Editor's Choice: Five Must-Reads for the Week
June 4, 2021 | Andy Shaughnessy, Design007 Magazine
Estimated reading time: 2 minutes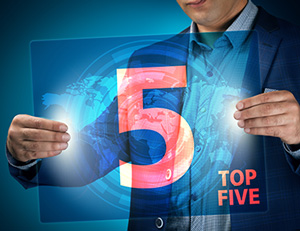 We're still not officially into summer yet, but Atlanta is ahead of the curve, bringing us temps in the 80s and 90s—with plenty of rain to sweeten the pot. At least the traffic is still down somewhat because of the increase in people working remotely. One of the silver linings of COVID-19.
This past week was a busy one. In case you've been on the beach with an umbrella drink in your hand, in industry news we saw the soft opening of a new laminate facility and more M&A activity in the PCB fab segment. And we ran some really great content from our contributors, with articles on how to save your company money and how to save yourself time in the design cycle. Plus, Editor Nolan Johnson channels his inner John Updike with his review of one of the most popular manufacturing strategy books ever, three decades after its publication.
A Review of 'World-Class Manufacturing'
Published May 31
Editor Nolan Johnson recently donned a well-worn blazer, complete with elbow patches, filled his best meerschaum pipe, and wrote this review of one of the seminal books on manufacturing strategies. World Class Manufacturing: The Lessons of Simplicity Applied by Richard J. Schonberger was first published in 1986. Nolan delves into Schonberger's thoughts on familiar topics such as partnerships, cost vs. price, and outsourcing, as well as which of his predictions are now reality, 35 years on.
Catching Up With Dick Saporito: A New Way for PCB Shops to Save Money
Published June 3
Do you want to save your company money? If the answer is yes, you don't want to miss Dan Beaulieu's conversation with Dick Saporito, owner of RPS Savings Consultants. They discuss how RPS reduces costs and improves cash flow for customers, whether in the PCB industry or not. As Dick, a former senior VP at Hadco, explains, they've found savings for every customer they've had, typically about 25%.  
Planning and Communication—Key to Optimizing Your Design Time
Published June 3
One of the challenges that designers frequently mention in surveys is time optimization. Designers are wearing so many hats that a few wasted minutes here and there can really add up. Columnist Chris Young studies design cycle efficiencies, and he lays out some great points in this article. He explains why personal skill management is so important for PCB designers, and why "soft" skills such as communication can affect our professional workflow. For instance, when pitching an idea to your VP, you'll want to communicate using concepts that VPs use in their decision-making processes, such as key performance indicators, instead of technical electronic terms.
Summit Interconnect Acquires Eagle Electronics
Published June 3
We saw more M&A movement this week as Summit Interconnect acquired Schaumberg, Illinois-based Eagle Electronics. This is a good move for Summit, which gains a bigger foothold in the Midwest and gains new advanced technology capabilities through Eagle. Summit CEO Shane Whiteside points out that the merger will be especially beneficial for customers in the high-performance defense and commercial sectors.
Isola's New US Quickturn Manufacturing Facility is Up and Running
Published May 31
Arizona is consistently ranked among the fastest-growing states in the U.S. Forbes ranks the 48th state at the top of its list of most entrepreneurial states, thanks to low business and property taxes and great year-round weather. Now, Isola, a longtime Arizona company, has opened a new 118,000 square-foot facility in Chandler, which includes corporate headquarters and a copper-clad laminate manufacturing operation. This facility is part of Isola's ongoing Lotus Project.