Books

Featured Books

pcb007 Magazine

Latest Issues

Current Issue

The Registration Sweet Spot

Registration is underrated and underappreciated. The key is to ensure proper registration from layer to layer across the entire printed circuit board. It's a holistic process requiring anticipation, prediction, precise attention at each step, and detailed data tracking and monitoring.

High-reliability Fabrication

In this month's issue, our expert contributors discuss the latest in technologies, trends, complexities and resources regarding high-reliability fabrication.

Finding Ultra

New demands on PCB fabrication, namely advanced packaging, ultra high density interconnect (UHDI), and new specialty materials, are converging, changing the landscape of our business. Is it time to start paying close attention to this convergence?

Columns

Latest Columns

||| MENU
Candor Invests in On-demand Inkjet Printing System from MicroCraft
July 6, 2021 | Candor Circuits
Estimated reading time: 2 minutes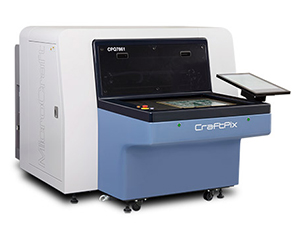 Toronto PCB fabricator, Candor Circuit Boards, has recently purchased and installed a MicroCraft CPQ7861 on-demand inkjet printing system, one of the fastest in the MicroCraft lineup.
What this means for Candor is more speed. The CPQ is a 4 head machine: 2 heads for white legend, 2 heads for green mask, which removes the need to tack, expose, and develop traditional LPI masks on quick turn orders.  MicroCraft notes speed increases in alignment due to the implementation of three CCD cameras. The vast print area covered by the four print heads enables printing on a 22.8 x 17" (580 x 430 mm) substrate in as fast as 11 seconds surpassing their CPi model.
Candor's Technical Sales Manager Sunny Patel commented, "The CPQ allows us to apply extremely accurate solder mask deposit with no defects.  It provides the ability to only apply mask on areas that are needed (traces) and to only apply a thin amount of mask (7 microns).  These upgrades will ultimately allow us to provide our customers cost effective boards with faster turn-around times. The CPQ will also reduce cost for our CM/OEM partners, as they do not need to add 128/QR barcode labels for traceability, we can do it for them with no added cost!"
The investment was part of a Canadian business development loan that looks to expand Candor's technical capabilities and will allow them to hire more people (with growth).  In an added effort to reduce their environmental impact, Candor has also received a climate action initiative grant for the investment of energy saving equipment.
The CPQ was received in the end of April and has been installed and has successfully performed multiple engineering lots and is now fully implemented into production.
About Candor Circuit Boards
Since 1999, Candor Circuit Boards has provided 21st Century customers with innovative PCB solutions for complex technologies through a commitment to service and support. Limitations created by standard manufacturing methods led Candor to invent and develop certain technological advancements, helping them to emerge in the forefront as a top of the line solutions provider. Candor continues to push the envelope of PCB manufacturing through continuous R&D, helping both customers and the industry to a brighter future.  For more information about Candor, visit them on the web at www.candorind.com.
About MicroCraft
MicroCraft is a global leader in flying probe electrical testers and inkjet printers for solder mask and other specialty inks for PCB fabrication. MicroCraft's CraftPix inkjet printers are compatible with all major inkjet ink suppliers and can be used for many applications such as solder mask, etch resist, plating resist and conductive ink printing. For MicroCraft sales inquiries please contact: sales@usamicrocraft.com. For more information please visit their website: www.usamicrocraft.com
---
Suggested Items
06/20/2021 | Luca Gautero -- Column: Additive Reality
New columnist Luca Gautero takes a clever engineering spin on William Tell and the apple and how it relates to inkjet equipment for solder mask coating.