Books

Featured Books

pcb007 Magazine

Latest Issues

Current Issue

The Registration Sweet Spot

Registration is underrated and underappreciated. The key is to ensure proper registration from layer to layer across the entire printed circuit board. It's a holistic process requiring anticipation, prediction, precise attention at each step, and detailed data tracking and monitoring.

High-reliability Fabrication

In this month's issue, our expert contributors discuss the latest in technologies, trends, complexities and resources regarding high-reliability fabrication.

Finding Ultra

New demands on PCB fabrication, namely advanced packaging, ultra high density interconnect (UHDI), and new specialty materials, are converging, changing the landscape of our business. Is it time to start paying close attention to this convergence?

Columns

Latest Columns

||| MENU
Catching Up With Archer Circuits' Echo Yang
July 6, 2021 | Dan Beaulieu, D.B. Management Group
Estimated reading time: 7 minutes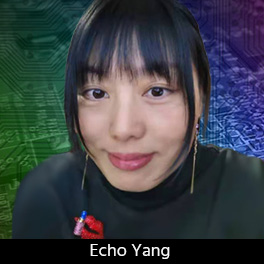 I was thrilled when Echo Yang called to talk about her company, Archer Circuits. And the more she talked, the more I liked her story. Echo is a 37-year-old woman who started her own trading company. She is well-educated, well-trained, and well-spoken; she is filled with ambition and passion for what she does. You are going to find her story and the story of her company as interesting as I have. Enjoy.
Dan Beaulieu: Echo, thanks for reaching out. I appreciate you taking the time to tell me your story.
Echo Yang: No problem. I love talking about my company.
Beaulieu: Yes, and that's a good thing. Please tell me about the company and how you got into our business.
Yang: I founded Archer Circuits in November 2016. I had worked for other trading companies, but I wanted to work for myself. I wanted to build a good sales team in China first. I would get the company established and then enter and grow in the North American market. My goal is to make Archer the "golden brand" of the PCB industry—a true global company with sales and service offices in China, Europe, and of course, North America.
Beaulieu: Interesting and very ambitious. Echo, what is your background?
Yang: I was originally going to be a lawyer. I have a BA in law, and I have also passed the exam for international law as well. But then I decided to go in another direction (I wanted to earn some money), so I worked for the Hangzhou Trading Company and then I had the opportunity to join The Suntak Group in 2006. I worked there until 2010 as the sales supervisor for the U.S. market. During that time, I worked closely with what was then PD Circuits and I helped grow that company to where it became Suntak's number one customer. I would visit the U.S. and spent some time at the PD office in New Hampshire. I was really taken by PD Circuits' model and that is where I got the vision for Archer.
Beaulieu: It seems you were moving around a lot back then.
Yang: Yes, but it was because I wanted to learn. By now I had made up my mind that someday I would own my own business so I wanted to learn as much as I could until I could strike out on my own. I quit Suntak in January 2010 to become the sales manager for Goldenshine. By now I was getting to be well known and I was getting offers from multiple companies. I met PD's general manager in China and decided immediately that I wanted to work for them—which I did in March 2010. But there was a conflict with Suntak. That's when I went to work for ICAPE where I became the sales manager for the U.S.
Beaulieu: So, by now you were what age?
Yang: I was 26 when I went to work at ICAPE. And a few years later, when I was 29, I became the sales manager of the ICAPE North American team.
Beaulieu: And how did that go?
Yang: Pretty well. By the time I left to start Archer in 2016, ICAPE was well on its way to being very successful in North America.
Beaulieu: What drove you to start Archer at that time?
Yang: I wanted to go out on my own. I was passionate and full of energy and starting my own company was a dream come true.
Beaulieu: You had worked for some large companies. What did you learn from that experience?
Yang: I learned a lot. That was like my college in the PCB business. I learned how to run and manage a team, and to be open-minded and fair. There is always good business opportunity no matter what happens. Love your team and dig out the biggest potential from them. I truly appreciate the time I spent with these other companies. I learned a great deal and I have some very fond memories.
Beaulieu: That's very gracious. Now let's talk about your own company. What are your goals for the company?
Yang: I want to get to $25 million in annual sales in 10 years. I also want to have sales offices in the U.S. and in Canada. I am striving to make Archer a real player in the global market, supporting customers all over.
Beaulieu: I have felt that trading companies have a great advantage over brick-and-mortar companies since you can provide your customers with a complete PCB solution. Do you think that is true for Archer?
Yang: Yes. While PCBs are the foundation of Archer, we also provide our customers with a wide selection of products including connectors and sheet metal. In addition to IPC Class 2 and 3, we also support PCBs that require AS9100, IS13485 and TS16949 certification.
Beaulieu: Please describe what your general capabilities are, especially the high tech and special technologies.
Yang: Sure. Archer does RF boards using Arlon 880, RO3003, RO4003, RO5880, RO6002, ranging from 10 mil to 30 mil (2L, immersion silver finish). We do RF boards: FR-4+ Rogers mixed lamination, 4L to 12L. We also do high-tech FPC, rigid-flex up to 18L material: Panasonic, DuPont, ITEQ. And of course, standard FR-4 PCB from 2L to 36L material: Isola, ITEQ, EMC, Shengyi, Panasonic, and Ventec. As I mentioned earlier, Archer does aerospace indirectly for Boeing. We also do lighting boards: 1W, 2W, 3W, and 4W.
Beaulieu: How do you choose your factory partners?
Yang: I believe that every PCB shop has a core competence. We are very careful to match the best PCB shop to provide the best technology. We use the best shops in their field. For example, we use SCC to build AS9100 PCBs and any top-level PCBs. We qualify our factory partners by initial and on-going onsite process audits and sample qualifications. Through my many years of experience and connections in PCB manufacturing, Archer has built strong relationships with our factory partners which provides us with exceptional capabilities that our competition finds hard to match.  
Beaulieu: What advantages do you feel you have over other companies you compete with?
Yang: We provide our customers with the best overall value by delivering superior quality and delivery at a fair cost. We give our customers a great deal of engineering support and deliver great customer service at all times. We succeed in making board buying as easy and simple as possible for our customers.
Beaulieu:  I know you have your sights on North America right now. Why is that?
Yang: First, I have a lot of experience and success selling to North American customers. I feel like I understand that market and what the customers want from an Asian company like Archer. I believe North America is a great potential market, almost the best market in the world. Archer has a very good vendor base and, as long as I have more great people join Archer, I'll grow Archer successfully.
Beaulieu: Why do you feel you will grow Archer successfully in North America?
Yang: Because I am very passionate about that market. I succeeded there before and now I know I can do it with my own company. I am all in, our team is all in, Archer is open and honest with our customers and our PCB vendors/partners. We are in it for the long haul. We are constantly focused on our factory partners with our process audits and approvals. We want to make sure we are offering our customers the best possible PCB solutions available today. One of the things we do that other companies don't is we keep a part number in the same facility from "womb to tomb" for the entire life of the part number. This allows for a steady and trusting partnership with both our suppliers and our customers. We want to demonstrate on a daily basis that we are in it for the long run.
Beaulieu: This is impressive. What are your immediate plans for growth in North America?
Yang: We are on the brink of launching a marketing and branding campaign there with the goal of becoming one of the best-known trading companies in North America. We have also launched an initiative to build a national network of sales reps. Speaking of reps, we are developing a completely new approach for working with the reps in a way that will be more of a win for them which, in the end, is a win for us as well. We are developing a rep partnership program in a way that no other PCB company has ever done before.
Beaulieu: Really? That sounds fascinating. Can you talk to me about that?
Yang: Not yet. I want to get it going first. We can talk about it when I launch it.
Beaulieu: Echo, thanks for talking to me today. As we wrap up, do you have any last comments in closing?
Yang: We are looking at the future with a great deal of optimism. I feel strongly that it is time for U.S. companies to find a way to work together in cooperation, each of them contributing to a complete and synergistic global supply chain.
Beaulieu: That's a good thought. Thank you.
Yang: Thank you. This was fun.