Books

Featured Books

pcb007 Magazine

Latest Issues

Current Issue

The Registration Sweet Spot

Registration is underrated and underappreciated. The key is to ensure proper registration from layer to layer across the entire printed circuit board. It's a holistic process requiring anticipation, prediction, precise attention at each step, and detailed data tracking and monitoring.

High-reliability Fabrication

In this month's issue, our expert contributors discuss the latest in technologies, trends, complexities and resources regarding high-reliability fabrication.

Finding Ultra

New demands on PCB fabrication, namely advanced packaging, ultra high density interconnect (UHDI), and new specialty materials, are converging, changing the landscape of our business. Is it time to start paying close attention to this convergence?

Columns

Latest Columns

||| MENU
TTM Installs Orbotech Neos 800 Additive Printing Solution
July 21, 2021 | Orbotech
Estimated reading time: 2 minutes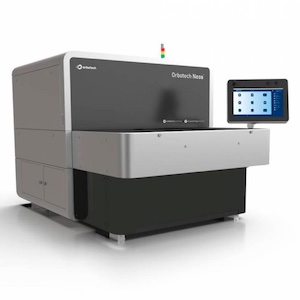 Orbotech, a KLA company, announced that TTM Technologies, a global manufacturer of printed circuit boards and radio frequency components and assemblies, purchased and installed an Orbotech Neos™ 800, transforming the way solder mask is applied to PCBs. The recently available Orbotech Neos 800 inkjet solution replaces conventional solder mask (SM) processing with innovative additive SM printing. In this new installation, TTM cut the SM sequence by half compared to the existing conventional process, making it more efficient, reducing chemical waste and significantly cutting manufacturing turn-around time – an important capability in today's fast-moving electronics industry. 
TTM selected the Orbotech Neos 800 for its Stafford, Connecticut site following a rigorous testing and qualification program. TTM's global PCB customers include leaders in aerospace, defense, automotive, computing and medical. 
"We are very excited to have brought this groundbreaking, environmentally-friendly technology in-house," said Phil Titterton, chief operating officer at TTM Technologies. "Additive printing of solder mask is a significant improvement for us, as it eliminates process steps compared to the way we typically apply solder mask. This high-speed solution is 100% additive with no mess, less power, fewer chemicals, and substantial material savings. The Orbotech Neos enables us to increase our productivity in a smaller footprint on the factory floor while providing high-quality products to our customers."
Currently available in the U.S. and Europe, the Orbotech Neos 800 combines several SM processing steps into a single multi-functional system, eliminating several manufacturing stages such as coating, tack-drying, exposure and developing. This streamlined, environmentally friendly, additive process increases productivity and ensures the consistent, high-quality printing that is critical to high volume manufacturing. It also enables reduced material and power consumption, as well as the associated labor and equipment maintenance costs, thereby decreasing the total cost of ownership. 
"The Orbotech Neos 800 is another example of a disruptive technology coming to market from Orbotech, validating our innovative approach to manufacturing" said Yair Alcobi, president of the PCB division at Orbotech. "In the short time since it has been available, this technology has gained traction with customers. We're hearing from them that as the demand for advanced PCBs rises, shorter time to market and increased productivity with less waste and energy are the main drivers in their decisions to bring the Orbotech Neos on board."
At the core of the Orbotech Neos are two proprietary technologies: the new Structural Printing Technology™, enabling 3D-like quality printing, and the field-proven DotStream Pro Technology™, enabling precise solder mask printing at high speeds. Orbotech Neos can also print serialization data including 2D barcodes at multiple levels for advanced traceability capabilities.
---
Suggested Items
12/05/2023 | Travis Kelly -- Column: American Made Advocacy
For this month's PCBAA Member Profile, the focus is on Hari Pillai, president, Technology Components, Sanmina. Hari says, "I think I've had a good dose of luck throughout my career. But beyond luck, I had a vision to become a general manager as far back as my undergraduate years. I made all my career decisions based on that. My evaluation criteria was always, "How does this opportunity get me closer to my goal?" Sometimes opportunities come from unexpected places."
12/06/2023 | Happy Holden -- Column: Happy's Tech Talk
Registration is one of the most important features for any PCB fabricator, but the capability for multilayers is a lot of work on the fabricator's part. CAM settings, multilayer lamination, X-ray analysis, AOI measurements, imaging capability, and drill accuracy all play an important part in this capability. Software and panel parametric coupons are important because they aid in registration performance.
11/30/2023 | Chris Young, Young Engineering Services
There are many ways, dozens to be sure, and most likely many more, to streamline a PCB design. My goal here is to pick a single-digit number of rules to abide by, that can be reasonably adhered to, and provide some bang for the buck. These rules are meant to reduce design scope creep, avoid PCB respins, and improve production yields.
11/29/2023 | Dana Korf -- Column: Dana on Data
November's issue of Design007 Magazine had an excellent theme that evolved around design simplification. There were exceptionally good articles about how to reduce over-constrained or needlessly complex designs. One significant time-consuming category is the creation of many design files and drawings which lead to lengthy creation and interpretation time along with the considerable time to resolve conflicting or erroneous information.
11/28/2023 | Preeya Kuray -- Column: Material Insight
On May 11, 2023, Reps. Blake Moore (R-UT) and Anna Eshoo (D-CA) introduced the Protecting Circuit Boards and Substrates (PCB) Act to Congress. In October, I had the great pleasure of discussing the bipartisan Protecting Circuit Boards and Substrates Act with Congressman Moore, who represents Utah's First Congressional District. He shared his thoughts on how supporting and investing in the domestic PCB industry can help bolster American security.