Books

Featured Books

pcb007 Magazine

Latest Issues

Current Issue

The Registration Sweet Spot

Registration is underrated and underappreciated. The key is to ensure proper registration from layer to layer across the entire printed circuit board. It's a holistic process requiring anticipation, prediction, precise attention at each step, and detailed data tracking and monitoring.

High-reliability Fabrication

In this month's issue, our expert contributors discuss the latest in technologies, trends, complexities and resources regarding high-reliability fabrication.

Finding Ultra

New demands on PCB fabrication, namely advanced packaging, ultra high density interconnect (UHDI), and new specialty materials, are converging, changing the landscape of our business. Is it time to start paying close attention to this convergence?

Columns

Latest Columns

||| MENU
Printed Circuits Completes Qualification of Notion Direct Soldermask, Nomenclature Printer
July 28, 2021 | Printed Circuits
Estimated reading time: 1 minute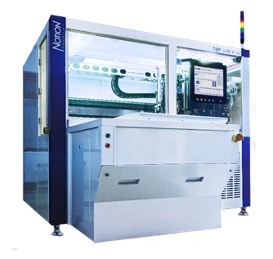 Rigid flex circuit board manufacturer Printed Circuits has completed the installation of the process line and qualification of their new Notion direct soldermask and nomenclature printer.
Printed Circuits purchased the Notion soldermask printer two years ago, and has built the processes to support accelerated manufacturing with the machine. They added an Pluritec UV-DF double sided UV cure unit for additional UV cure after the initial UV cure is done on the machine. They also added a Pluritec Thermotronic 3.5 tunnel oven to provide final soldermask cure on a conveyorized production line.
Printing soldermask and legend ink directly onto rigid flex printed circuit boards eliminates many process steps, accelerates manufacturing, improves accuracy, as well as adhesion and soldermask dam integrity. It also promises an order of magnitude reduction in the sizes of dams, giving their customers more real estate and capabilities on the outerlayers of their designs. 
Direct printing is the next generation technology for manufacturing advanced printed circuit boards. The machine offers four-point alignment to accurately align the mask to dimensional changes, such as offset, or rotation or even for trapezoidal distortion – critical capabilities for rigid flex designs. The machine is also capable of printing nomenclature with sequential serialization, as well as bar code and QR code marking capabilities. 
"This project is two years in the making and I am really happy to see this accomplishment," said Matt Tannehill, Printed Circuit's executive vice president. "More than that, I am proud of our team and the work they did on this. Their extensive internal testing and external qualification validated the processes, the technology and our commitment to it. Direct printing of soldermask is a terrific improvement for us. It eliminates six process steps per side, compared to the way we have been printing mask, and it is 100% additive with no waste or mess and each pass takes 38 seconds. One panel, with soldermask and nomenclature on both sides, can be done in less than three minutes. This will give our customers a much better product at a higher quality, while increasing our productivity in a much smaller footprint," Tannehill explained. 
---
Suggested Items
12/01/2023 | Epec Engineering Technologies
Precision Technology, Inc. (PTI) and Epec Engineered Technologies shared that they have joined together to give customers a greater range of high-quality printed circuit boards and other electronic products.
11/16/2023 | I-Connect007 Editorial Team
Registration is underrated and underappreciated. You can try to argue with us about this, but after diving into the current state of registration, we're convinced. What's key here is ensuring proper registration from layer to layer across the entire printed circuit board. It's a holistic process requiring anticipation, prediction, precise attention at each step, and detailed data tracking and monitoring, because a slight error up front will only snowball as the process continues. How does your registration process stack up?
11/07/2023 | Ventec International Group
Ventec Giga Solutions, the equipment division of Ventec International Group that delivers turnkey workflow solutions, including equipment selection, installation, and commissioning, has reached an agreement to distribute high-performance inkjet-printers from Hi-Print in Europe and North America.
11/07/2023 | OE-A
The turnover sales forecast +16 percent for 2023 and +18 percent for 2024 shows an overall positive outlook of the Printed Electronics Industry into the future.
11/02/2023 | Andy Shaughnessy, PCBDesign007
During PCB West, Insulectro held an educational showcase at its office in San Jose that focused on flexible, printed electronics, and advanced materials. After the courses concluded, I spoke with Chris Hunrath, VP of technology, about the company's efforts to educate PCB designers, and the variety of material options available for customers who want to push the envelope of innovation.