Books

Featured Books

smt007 Magazine

Latest Issues

Current Issue

Economic Headwinds

This issue takes stock of the current economic outlook and how companies are using current conditions to move themselves through technological evolutions, workforce shifts, and financial changes. Even with these headwinds, there's forward progress to be made.

Attracting New Talent

To get different results in staffing, you must change how you define, promote and recruit your job opportunities. How do you become magnetic to high-quality early-career candidates?

Test and Inspection

Test and inspection methods are undergoing rapid change. In this issue, we consider the influence of AOI, AI, and human eyes. How exactly are these pieces of the puzzle changing the role of test and inspection?

Columns

Latest Columns

||| MENU
Kodiak Assembly Solutions Now ITAR Compliant
September 14, 2021 | Kodiak Assembly Solutions
Estimated reading time: 1 minute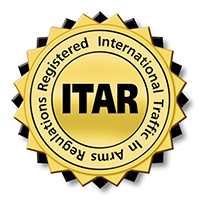 Kodiak Assembly Solutions LLLP, a leading contract electronic manufacturer, announces that it has successfully completed its ITAR registration.
"At Kodiak we are constantly striving to be ahead of the pack in the EMS field," commented Mike Harlow, Vice President of Kodiak. "An ITAR registration is a mark of a high-quality manufacturing facility. Having an up-to-date ITAR registration means that we can ensure the quality and consistency of our facility and processes. It also allows us to produce sensitive products for the DoD and other government agencies where restricted information can be stored in a safe and secure environment."
Over the last 16 years, Kodiak Assembly has established a reputation for its high quality, first pass yields and on-time deliveries. The company offers PCB assembly, test and system integration capabilities out of its world-class facility in Austin.
Kodiak Assembly's expertise and flexibility allow the company to facilitate the effective production of a great variety of products. The company is built around the idea of being able to quickly begin production of high-quality electronic products while also sticking to the most demanding schedule.
Kodiak has extensive experience in a number of key electronic markets, including: IoT- Internet of Things, Network Servers, LED Lighting, Energy Management & Storage, Oil and Gas, Industrial controls, Radio Frequency (RF) Solutions, Security /Access Controls and Microprocessor Embedded Computer Assemblies.
---
Suggested Items
11/30/2023 | Chris Young, Young Engineering Services
There are many ways, dozens to be sure, and most likely many more, to streamline a PCB design. My goal here is to pick a single-digit number of rules to abide by, that can be reasonably adhered to, and provide some bang for the buck. These rules are meant to reduce design scope creep, avoid PCB respins, and improve production yields.
11/30/2023 | Hirose
Hirose has expanded its low-profile DF51K wire-to-board connector series to include a surface mount technology (SMT) version. Compatible with automated assembly processes, including pick-and-place machines, the DF51K SMT Series simplifies the assembly process and saves significant manufacturing time and cost. 
11/21/2023 | Pete Starkey, I-Connect007
Productronica 2023 played host to the IPC World Hand Soldering Competition, bringing talented regional solder champions from all over the globe to compete for the title of World Champion. Each competitor was given sixty minutes to assemble a complex printed circuit board with their performance judged in accordance with IPC-A-610 Class 3 criteria. Each competitor's efforts were rated on the merits of the results achieved, scored on the quality of the assembly process, the electrical functionality of the assembly and the speed at which the assembly was produced.
11/16/2023 | CIL
In early November 2023, CIL completed the installation of its first volume SMT PCBA assembly line at its BP2 Semiconductor packaging facility
11/15/2023 | PIT Equipment
PIT – Equipment Services, LLC is pleased to announce Don Dennison, founder and CEO of PIT Equipment Services, has been honored with the prestigious 2023 GLOBAL Technology Award in the category of Best Manufacturers Representative - USA. The award ceremony took place during productronica in Munich on November 14, 2023.