I-Connect007 Editor's Choice: Five Must-Reads for the Week
September 17, 2021 | Nolan Johnson, I-Connect007
Estimated reading time: 3 minutes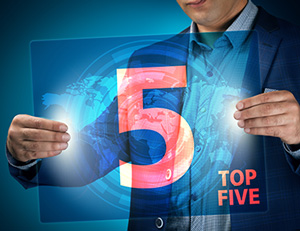 "Life is not a popularity contest," they said. "Do something well, excel at it, and, in due course, people will recognize you for it." They weren't wrong. In the end, it does seem to work out that way in life. I ponder this because I have a high school reunion to attend tomorrow. My graduating class was 675 strong, a large class by most U.S. high school standards.
With that many students, it was easy to hide in the crowd, if that was what one wanted to do. But as is true with all human society, some of us choose to be noticed, choose to stand out in some way. Usually, that effort to be recognized—to become famous within the class—involved accomplishing something: athletics, academics, theater or music, say. Other times, the notoriety was more a case of becoming… infamous. In that regard, being recognized is indeed a popularity contest.
This was bouncing around in my thoughts as I put together this week's editor's picks. In some weeks, readership numbers are pretty even, which means I make my picks based on "excellence" or "achievement" of some sort. Other weeks, you readers "go viral" on a few key news items, making the selection process numerically driven. This was one of those weeks.
Here, then, are the five most-read news items. While readership seemed to be up across the board this last week, these five stories were our #trending items. Of course, leading the way are our esteemed technical editors, Pete Starkey and Dan Feinberg. These gentlemen are examples of my opening statement, as both enjoy huge popularity with readers precisely because they are so good at reporting on the industry.
Wish me luck at my reunion; hopefully I'll be able to recognize a few classmates. Andy Shaughnessy will compile next week's list. I'll see you again at the end of the month.
Review: Emerging Opportunities for Additive Electronics 
Published September 15
Mr. Starkey brings his unmatched talent for authoring technical conference travelogues to the latest edition of the SMTA virtual Additive Electronics TechXchange 2021. Speaking for myself, I found Starkey's summary of the keynote, as presented by Matthew Dyson, to be highly informative and enjoyable to read. 
Fein-Lines: PCEA Presentation—Latest PCB Fab Processes 
Published September 14
Dan Feinberg's Fein-Lines column returns. Feinberg chooses to cover the former IPC Designer's Council (now no longer affiliated with IPC) and reconstituted as the Printed Circuit Engineering Association (PCEA). The organization cooperates with IPC and other industry organizations and publications, including I-Connect007. In this column, Feinberg reports on a recent chapter meeting hosted by Scott McCurdy. Speakers included John Bushie and Anaya Vardya from American Standard Circuits, and Haris Basit of Averatek. 
New iNEMI Project on AI Enhancement to AOI for PCBA 
Published September 10
From the press release, "iNEMI is starting a new project looking into the benefits that artificial intelligence (AI) may bring to automated optical inspection (AOI) of printed circuit board assemblies. The Investigation…will investigate the current use of AI for AOI, develop and establish common performance metrics to evaluate the AI value-add to AOI capabilities, and provide recommendations to the industry on opportunities for future improvement and implementation." If reader clicks were any indication, there is great interest in this topic.  
BOM Connector: A Ready-Built Solution 
Published September 10 
Kevin Decker-Weiss of CircuitByte and Mark Laing of Siemens talk with the I-Connect007 team about a new approach to BOM complexity management. Current market conditions and semiconductor shortages mean that, if this wasn't a problem for you before, it most likely is a problem now. Your readership numbers would agree. 
Libra Industries Dayton Facility Passes 3 Audits for Aero/Defense, Manufacturing, Medical Certifications 
Published September 14 
To slightly paraphrase the press release, "Libra Industries' Dayton facility has passed surveillance audits for AS9100D (aerospace-defense), ISO 9001:2015 (manufacturing) and ISO 13485:2016 (medical) certifications. These audits successfully established certification in these international standards … providing evidence to Libra's customers in these fields that Dayton is capable of meeting their expectations for quality products and services."