I-Connect007 Editor's Choice: Five Must-Reads for the Week
October 1, 2021 | Nolan Johnson, I-Connect007
Estimated reading time: 3 minutes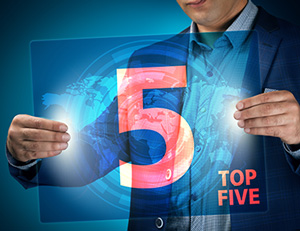 Once again, seemingly like clockwork, the controversy erupts. It's such a divisive issue, and it seems no one can be undecided in this debate; each of us is expected to take a stand. All of society—including the media—asks, "Which side are you on?" 
It's interesting to see the demographic trends, too— male vs. female, cultural background, age, white collar, or blue collar. Me? I'm just not that interested in the shot. I mean, I can take it or leave it. Nor do I want to be pushed into picking a side. Still, it's fascinating who lines up where behind such a lightning rod issue as… whether to go for the pumpkin spice booster shot in our coffee drinks.
You do you. I'm perfectly fine with whatever you like; but don't expect me to give up my ambivalent neutrality.
The news this week, however, is not nearly so bifurcated in its appeal. I could easily have compiled a Top 10 list; it's been a newsy week. So, enjoy these five picks, but I encourage you to take a little extra time to read back through all the news in the past week. You won't regret it.
North American PCB Industry Sales Up 5.3% in August
Published September 24
While July's book-to-bill was in record territory, August's metric bumped even higher. IPC Chief Economist, Shawn DuBravac, offers commentary on the numbers. As always, DuBravac's insight on the industry's leading and trailing indicators is both valuable and popular.
SIA Welcomes White House Meeting on Semiconductor Supply Chain
Published September 24
From the article:
"Federal investment in semiconductor research has been flat as a share of GDP, while other governments have invested substantially in research initiatives to strengthen their own semiconductor capabilities, and existing U.S. tax incentives for R&D lag behind those of other countries. Furthermore, global semiconductor supply chain vulnerabilities have emerged in recent years that must be addressed through government investments in chip manufacturing and research"
The CHIPS for America Act, enacted by Congress in the 2021 NDAA, will have significant effect on U.S. based electronics manufacturing, it's no surprise y'all are following this news.
24 Essential Skills for Engineers: The Story Behind the Book
Published September 30
I had the honor of interviewing Happy Holden about his newly released book, 24 Essential Skills for Engineers, and you, dear readers, did Happy the honor of going along with us as Happy painted in the background behind this new title. If you haven't downloaded your copy yet, I highly recommend it; if you're ambivalent about it (like me and pumpkin spice), then I'll wager the interview will motivate you. Get it; enjoy!
North American EMS Industry Down 3.2% in August
Published September 24
IPC's report on EMS company performance reports a down tick in August shipments, but an uptick in the book-to-bill. IPC Chief Economist, Shawn DuBravac, notes, "During the month we also saw shipments pick-up, a hopeful sign that manufacturers will be able to deliver on their growing backlog of orders." Read more details here, in this article
Cogiscan, iTAC to Demonstrate SMT Factory Digitalization Solutions at productronica
Published September 28
Press releases announcing trade show news this week drew a noticeable bump in readership across the board. To represent that entire category, I selected this announcement for productronica as a reminder that our global industry is re-emerging in all corners of the globe. There are plenty of other tradeshow announcement this week, it's worth your time to scan through all our news feeds for the companies that you follow closely. There's plenty of news to be had.