Books

Featured Books

smt007 Magazine

Latest Issues

Current Issue

Chips Don't Float

In Europe and the U.S., legislation is under way to revitalize PCB fabrication and packaging. What is the status of this work, and how specifically does this change the industry landscape for EMS companies? What will help keep us afloat?

Flying High With Digital Twin

The opportunity to use manufacturing simulation as a test bed for job planning and process optimization brings continuous improvement into the modern age. This may be an all-or-nothing type of project, but it's worth the investment.

Artificial Intelligence

In this issue, we (and AI) explored how and when artificial intelligence plays a role in manufacturing today. Whether on the factory floor, or in the front office, AI applications are emerging and changing how we approach planning, processes and problem solving.

Columns

Latest Columns

||| MENU
MacDermid Alpha Electronics Solutions to Present Latest Research at SMTA International 2021
October 15, 2021 | MacDermid Alpha Electronics Solutions
Estimated reading time: 1 minute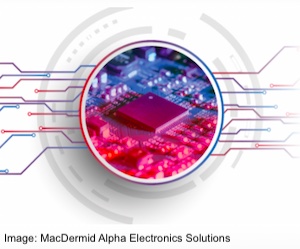 MacDermid Alpha Electronics Solutions, a global leader in high performance electronics materials, will exhibit its latest interconnect solutions and present nine papers at the SMTA International Expo and Conference taking place November 1 - 4 at the Minneapolis Convention Center in Minneapolis, MN.
The papers, authored by leading industry experts, will discuss materials and solutions designed to meet the demands of high reliability applications found in automotive, telecommunication, and high-power LED assemblies.  These include next generation low temperature and high reliability solder pastes and edgebond materials, advances in plating for connector press-fit applications, cost reduction capabilities of solder preforms, and leadframe chemistries for die attach.
The papers to be presented are as follows:
Tuesday, November 2:
Edge Bonding as Viable Reinforcement for Solder Joints in High Reliability Applications
Low-temperature Solders SMT Process Optimization for Enhanced Reliability
High-Reliability Lead-free Solders for Automotive Electronics - Thermal Cycling and Shear Strength Performance
Reducing Solder Scrap by Replacing Solder Paste with Solder Preforms When Appropriate
Wednesday, November 3:
No Bleed Die Attach to Roughened Leadframe
Innovative Indium and Silver-Tin Plating Processes for Connector Press-Fit Applications
Thursday, November 4:
Unveiling a Total Solution for Soldering Through-hole Components using a Low Temperature Alloy
Manufacturing Cost Reductions Available When Using Low MP Solder Paste
Challenges To Maintain High Electrical Reliability Of Low Temperature Solder Paste
MacDermid Alpha will also promote its portfolio of innovative metallization and electronics assembly technologies in Booth 3333. The MacDermid Enthone brand will feature high reliability solutions including their leadframe packaging portfolio, connector & interconnect processes, the Affinity family of ENIG and ENEPIG final finishes, and MacuSpec THF 100, the high performance copper plating technology that bridges and fills through holes in a single plating step. The Alpha and Kester brands will promote innovative lead-free alloys and high reliability solutions including ALPHA CVP-390V and Kester NP505-HR solder pastes with the industry leading high reliability Innolot alloy and the ALPHA HiTech portfolio of adhesive, underfill, and edgebond solutions.
For additional information about MacDermid Alpha Electronics Solutions, please stop by Booth 3333 and visit MacDermidAlpha.com.
---
Suggested Items
09/27/2023 | AT&S
AT&S is working on the EECONE (European ECOsystem for greeN Electronics) project to develop new technologies to make electronics production in Europe more sustainable.
09/27/2023 | iNEMI
Join iNEMI and ZESTRON in Shenzhen on October 13 for a full-day workshop on reliability requirements and challenges for automotive electronics and to share the latest information about standards development for this market segment.
09/26/2023 | SMTA
SMTA is pleased to announce Catherine Wong, Foothill College, has been selected as the recipient of the 2023 JoAnn Stromberg Student Leader Scholarship.
09/25/2023 | Purdue University
Purdue University continues building momentum as America's leading university in semiconductors, with a broad range of updates this fall semester.
09/25/2023 | Alison James
"Electronics systems are at the heart of almost all modern technology. The performance and functionality of these systems have increased at breathtaking speed, chiefly as a result of advancements in semiconductor technology. Semiconductors do not function in isolation," writes Alison James, IPC senior director of government relations, in a 2023 report for the European Commission's Directorate General for Internal Market, Industry, Entrepreneurship. "These electronics systems feature prominently in key sectors like defence, aerospace, space, automotive, medical, and high-performance computing, but electronics are vital to every industry and are central to a variety of EU priorities, including the twin digital and green transitions and Europe's technological sovereignty."