DownStream Adding More Flex, Rigid-Flex Functionality
November 4, 2021 | Nolan Johnson, I-Connect007
Estimated reading time: 5 minutes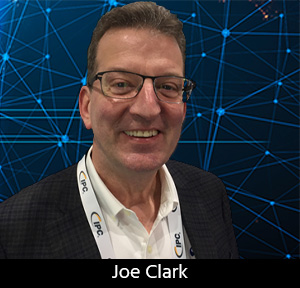 I recently spoke with Joe Clark, one of the co-founders for DownStream Technologies. We discussed the company's latest software release, which adds more flex and rigid-flex capabilities, as well as updates to the scripting in DownStream's tools. 
Nolan Johnson: Joe, welcome. Nice to see you again.
Joe Clark: Thank you very much. Great being here.
Johnson: As we start this conversation, there has been some new work done, and some new developments going on at DownStream Technologies. I would love for you to talk about those.
Clark: Yes, I'd be glad to share that with you. Some of this that I'm going to talk about is in process and will be introduced later in the year. But with our current release of software, we focused on rigid-flex designs, which is becoming a common design challenge for our customers. We've implemented support for rigid-flex embedded components going to the next level now, and we're working with some large companies to define the design for manufacturing checks that would be necessary for verifying these advanced designs. So that's coming in our DFM release that will be out later this year. Likewise, we're adding new features and functions into our documentation tool to go along with these DFM checks about being able to document these sophisticated designs, these multiple stackup designs with embedded components and so on.
This is what we're working on now. In addition, we're taking our existing CAM350 and DFMStream tool, and adding new scripting technology. Basically, current technology, VB scripting, to allow our customers to be able to script and customize their checks and their streams, we call it, which are the list of checks that they run on a particular design, which they can save away and run over and over as new designs are introduced. Well, obviously a key part of our business is supporting the IPC-2581 Consortium, and the new version of IPC-2581 Rev C, we will be supporting. We partially support it now, but we'll be fully supporting it in this new release.
And then, as always, we go back through our products and look at where else can we add improvements. And as you add new features and functions, at some point you want to take a step back and say, "Now we need to look at this in its an entirety and look for ways to improve the throughput and the performance." That's also a key part of this new development we have underway.
Johnson: That is quite a bit, and there is a lot of DFM-related file export transfer-to-manufacturing thought going on here.
Clark: There is, indeed. And when you're working with giant companies, you learn what their challenges are. And it became clear to us that with this new technology, some designs, like my PC, might have dozens of flex and rigid-flex circuits inside. The problem they face is that there's no real solution out there for the DFM checks that they want to do. And not only the DFM checks, which would be maybe standard for everybody, but custom checks that they might want to do. So we're working with our customers to define these capabilities and implementing them. And it will be a phased approach. There's more to come as the technology evolves.
Johnson: Scripting for the CAM side certainly seems to be a very powerful option that gives you consistency in operation, as well as maybe some other creative features.
Clark: Absolutely. It's not just being able to script and define your particular templates for running on your designs over and over, but imagine you're a fabricator and you're bringing in a lot of this data from a customer. You want to be able to record the importing of that data so that when updates come, you can just hit the button and it's done, rather than have to go through the whole manual process again. There are huge time savings, and when you're talking about high volume shops, saving a couple of seconds on every design import or process, adds up to increased capacity. That's the name of the name of the game. So yes, there is this huge return to our customers for this. It is one of the most common requests that we get, "We need to have better scripting and recording capabilities on the CAM side." We've always had that in the documentation side. We had that early.
For documentation, we had implemented scripting with the introduction of the product. That's because, while you think documentation is pretty straightforward, there's a lot of intersect and commonality. But then there are infinite permutations, and you could never develop a product that just covers, automatically, all those permutations. So unless everybody lets us make the rules for what goes in documentation, you have to be able to allow customers to customize it. The scripting is important there as well, and it has been utilized heavily by big companies that have implemented BluePrint.
Johnson: Absolutely. There has been a lot going on at DownStream.
Clark: Yes. For everyone in our business, you always have to stay on top of technology, and it evolves. The best way to do that is to work collaboratively with your customers. Of course, when you can't get onsite to see the customers, it certainly presents challenges, but that will pass. We've been doing a lot of Zoom meetings and so on. Basically, while we think we're pretty smart people at DownStream, our customers are much more knowledgeable, and that's where we get our ideas and they've driven our success to date.
Johnson: Well, great. Joe, thanks for taking the time to speak with us.
Clark: You're very welcome. Thanks for taking the time to let me speak to you.