Books

Featured Books

smt007 Magazine

Latest Issues

Current Issue

Economic Headwinds

This issue takes stock of the current economic outlook and how companies are using current conditions to move themselves through technological evolutions, workforce shifts, and financial changes. Even with these headwinds, there's forward progress to be made.

Attracting New Talent

To get different results in staffing, you must change how you define, promote and recruit your job opportunities. How do you become magnetic to high-quality early-career candidates?

Test and Inspection

Test and inspection methods are undergoing rapid change. In this issue, we consider the influence of AOI, AI, and human eyes. How exactly are these pieces of the puzzle changing the role of test and inspection?

Columns

Latest Columns

||| MENU
GÖPEL electronic's SCANFLEX II Controller Now Also Available as PXIe
November 18, 2021 | GÖPEL electronic
Estimated reading time: 1 minute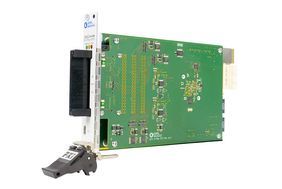 Boundary Scan Controllers serve as the interface between the test PC/software and the target assembly in manufacturing or development. Based on state-of-the-art FPGA, SCANFLEX II controllers enable the application of powerful test and validation methods. They use instruments embedded in the electronic assemblies under test with reduced physical access to test and program them. In this context, the SFX II PXIe C4/FXT offers a unified control platform with 4 independent, true parallel Test Access Ports (TAP) for up to 100MHz. This enables the synchronised execution of embedded test, debug and programming operations via boundary scan (IEEE1149.x), processor emulation, chip integrated instruments or the embedded diagnostics procedure. Basic elements include a programmable, multifunctional 32-channel I/O mixed-signal unit with signal frequencies up to 100MHz, programmable TAP protocols for a variety of processor debug interfaces. The SFX II PXIe C4/FXT is controlled via a PXI Express x2 interface.
Due to its multifunctional architecture, the SFX II PXIe C4/FXT offers almost unlimited possibilities to combine all technologies, including mixed signal tests, flexibly and with highest performance on only one platform. This solution approach not only offers the advantage of significantly improved test depth for complex boards even without the use of needles, but it also minimises the number of necessary instruments. For example, embedded functional tests can be used to detect and diagnose dynamic faults, while the features for in-system programming (ISP) for flash components, micro-controllers and PLD/FPGA make other stand-alone programmers superfluous.
Thanks to a multitude of special extension and configuration features, the SFX II PXIe C4/FXT is also already equipped for future embedded technologies for testing, validation, debugging and programming. Using the PXI Express platform, external function tests can thus be easily combined with embedded procedures. The system is suitable for both development and production. As a result, it can be used for prototype design verification, hardware debugging, Flash programming, gang testing of high-volume units and diagnosing defective assemblies from the field to obtain the necessary repair information.
---
Suggested Items
12/08/2023 | Lockheed Martin
Lockheed Martin successfully conducted a JAGM-MR guided flight test on Dec. 2, 2023, at China Lake Test Range in California.
12/06/2023 | Keysight Technologies, Inc.
Keysight Technologies, Inc. has received an $18.5 million U.S. Air Force contract to integrate and deliver two Electronic Warfare Threat Simulator (EWTS) systems, with sustainment support consisting of software patch management, field engineer support, non-critical spare parts, critical spare parts, and storage.
12/06/2023 | Happy Holden -- Column: Happy's Tech Talk
Registration is one of the most important features for any PCB fabricator, but the capability for multilayers is a lot of work on the fabricator's part. CAM settings, multilayer lamination, X-ray analysis, AOI measurements, imaging capability, and drill accuracy all play an important part in this capability. Software and panel parametric coupons are important because they aid in registration performance.
12/05/2023 | Amkor Technology
Amkor Technology, Inc., a leading provider of semiconductor packaging and test services, has announced its plan to build an advanced packaging and test facility in Peoria, Arizona.
12/04/2023 | BUSINESS WIRE
Sierra Space, a leading pureplay commercial space company building the first end-to-end business and technology platform in space, announced the commencement of a comprehensive testing campaign for the Shooting Star™ cargo module at NASA's Neil Armstrong Test Facility in Sandusky, Ohio.