EIPC Summer Conference 2022: Day 1 Review
June 28, 2022 | Pete Starkey, I-Connect007
Estimated reading time: 18 minutes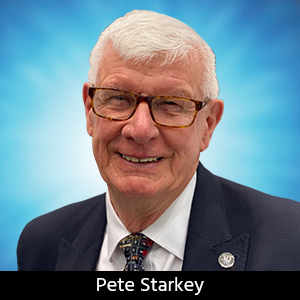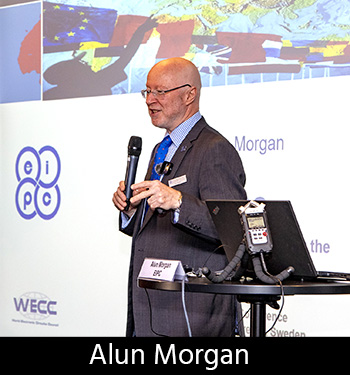 At last, a live EIPC conference and this time in the Swedish city of Örebro, "where history and contemporary culture converge," a pleasant and convenient location for an event that included a privileged visit to the Ericsson facility in Kumla. Around 100 delegates made the journey and the Örebro Scandic Grand Hotel was an excellent conference venue for the June 14-15 conference. 
EIPC president Alun Morgan welcomed all and was delighted to report that EIPC had gained 10 new members in 2022. 
With his natural flair for looking at situations from imaginative perspectives, Morgan cited Jorge Luis Borges in his reference to the latest developments in supercomputers and artificial intelligence. Borges' story, "The Library of Babel," effectively exposed the absurd futility of humanity's attempt to understand everything when there is an almost infinite amount to comprehend. Exascale computing would enable the identification of new patterns in data, and the development of innovative data analysis methods to accelerate the pace of scientific discovery. Regrettably, in the meaningful words of English humorist and satirist Sir Terry Pratchett, "Real stupidity beats artificial intelligence every time."  
The opening conference session, moderated by EIPC technical director Tarja Rapala-Virtanen, was the keynote on market outlook and new business opportunities. It has become a tradition for the event to begin with an analysis by Custer Consulting. Walt is enjoying his retirement, and his son, Jon Custer-Topai, has taken the reins and had compiled a comprehensive update. Jon could not attend, but his presentation was ably delivered by Morgan.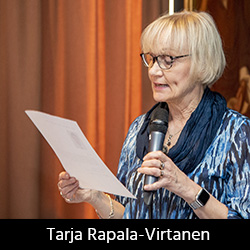 Summarising the first quarter of 2022, Custer commented that the initial optimism has not lasted long because the Russian war with Ukraine has caused a fragile supply chain to worsen again. Particular challenges for semiconductor manufacturers are that Ukraine supplies 50% of the world's semiconductor-grade neon, and Russia provides the United States with more than a third of its palladium. Prices continue to rise in the whole supply chain due to cost increases for raw materials, shipping materials and labour. The price of copper has increased, and fuel and energy prices are soaring. World Bank forecasts for real rates of economic growth in 2022 indicate a world figure of 4.1%; U.S., 3.5%; Eurozone, 4.4%; and China, 5.6%
In 2021, Germany manufactured 43% of Europe's PCB production, with a value of 709 million euro. Austria and Switzerland, 19.6%; Italy, 11.7%; and UK 8.5%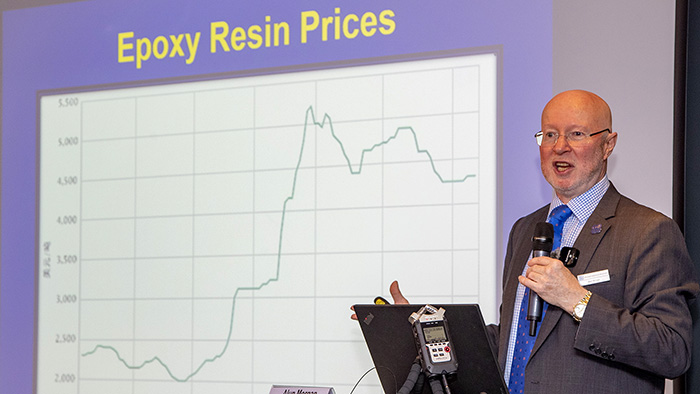 Custer acknowledged the contribution of Michael Gasch, who forecast that, based on sales results for the first four months in 2022, the total potential growth in Europe could be between 7% and 9%, with Germany, Austria, and Switzerland having between 6% and 7%. The German speaking countries are strong in automotive, medical, and industrial electronics, whereas France, Belgium, Spain, and Italy are mainly active in aeronautics and defence. He expects total PCB sales in Europe to reach more than 1750 million euro.
Gasch warned that there could be some "nasty surprises," depending on developments in the Russia-Ukraine conflict, the progress of COVID and when Chinese factories will be able to manufacture again. Further factors include the dispersal of the clogged harbours in China together with the normalisation at the harbours in the U.S. and Europe, the availability of shipping containers at the places where they are needed, the availability of components from China and other Asian countries, the availability of materials needed for laminate and PCB production, and finally, the development of consumer behaviour as inflation reduced their spending power. Because of the complexity of the situation, the eventual outcome could be totally different.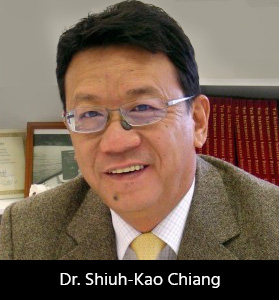 A second insight into the business and technology of the printed circuit industry came from Dr. Shiuh-Kao Chiang, managing partner at Prismark Partners. From his comments, it is clear that 2022 will be an interesting year and does not appear particularly friendly for the PCB business.
Reflecting upon the first quarter's results in 2022, he remarked: "The electronics industry is in the late stages of a historic cycle fuelled by the COVID-19 pandemic, but cracks are now forming at the edges. No party lasts forever." The current forecast was for modest growth, with factors like inflation, high interest rates, a strong U.S. dollar, the Ukraine conflict, and China's zero-COVID policy to be taken into account. 
He summarised the main challenges to the electronics industry as high inventory along the supply chain, weak demand due to declining purchasing power, high inflation and high interest rates, over-supply of rigid and flexible boards, geopolitical conflicts causing high energy costs, pandemic lockdowns causing disruptions in supply-side production and logistics, as well as labour shortages and material cost volatility. 
He believes that the strongest segments will be industrial and medical, automotive, computing, and communications infrastructure and other consumer electronics, particularly wearables. 
The substrate market is experiencing continued growth; around 14% is expected in 2022. HDI products will be required in more non-consumer applications, such as automotive, high-performance computers, high-speed networking, and satellite communications—although a weak smartphone market could impede HDI growth. More low-loss multilayer boards will be required for infrastructure. The automotive market will demand more high-reliability high-current and high-thermal circuit boards, and there will be a decline in orders for rigid boards for consumer and PC applications.
Although the first quarter of 2022 has been strong as a consequence of carry-over from 2021, indications are that the industry will have a relatively weak second quarter. The current consensus for the third quarter is that there will still be some inventory issues to resolve. There will be price erosion due to competition and over-supply. Maybe a rebound will happen in the fourth quarter? In Chiang's opinion the forward visibility remaines unclear and it is difficult to make accurate projections. 
Chiang had some words of warning for European PCB manufacturers: "Be cautious about your competition. Your competitors in China are growing. They are expanding their market share and continue to upgrade their technical capability." 
His closing comments: 2022 will be an interesting year after the glory days of 2021, with many challenges to be confronted. His suggested approach is to aim to maintain relative stability in managing a business and to work toward finding the best solution to deal with a couple of those challenges at a time.
Morgan moderated the second conference session, discussing the technology roadmap and its associated technical requirements.Page 1 of 3
---
Suggested Items
11/13/2023 | Global Newswire
The "Global Copper Clad Laminates Market (by Type, Application, Reinforcement Material, & Region): Insights and Forecast with Potential Impact of COVID-19 (2023-2028)" report has been added to ResearchAndMarkets.com's offering.
11/07/2023 | SCHMID Group
The SCHMID Group, a global solution provider for the high-tech electronics, photovoltaics, glass and energy systems industries, will be exhibiting at productronica in Munich from November 14 – 17, 2023.
11/01/2023 | Alex Stepinski, Stepinski Group
The topic of intrinsic copper structure has been largely neglected in discussions regarding the PCB fabrication quality control process. At face value, this seems especially strange considering that copper has been the primary conductor in all wiring boards and substrates since they were first invented. IPC and other standards almost exclusively address copper thickness with some mild attention being paid to surface structure for signal loss-mitigation/coarse properties. 
10/26/2023 | Andy Shaughnessy, Design007
At PCB West, I sat down for an interview with John Andresakis, the director of business development for Quantic Ohmega. I asked John to update us on the company's newest materials, trends in advanced materials, and the integration of Ticer Technologies, which Quantic acquired in 2021. As John explains, much of the excitement in materials focuses on laminates with lower and lower dielectric constants.
10/25/2023 | Preeya Kuray -- Column: Material Insight
Printed circuit board (PCB) reliability testing is generally performed by exposing the board to various mechanical, electrical, and/or thermal stimuli delineated by IPC standards, and then evaluating any resulting failure modes. Thermal shock testing is one type of reliability test that involves repeatedly exposing the PCB test board to a 288°C pot of molten solder for a specific time (typically 10 seconds) and measuring the number of cycles it takes for a board's copper layer to separate from the organic dielectric layer. If there is no delamination, fabricators can rest assured that the board will perform within expected temperature tolerances in the real world.