Enpower Greentech Develops World's Lightest 100 Ah Lithium Metal Battery
July 8, 2022 | PR Newswire
Estimated reading time: 1 minute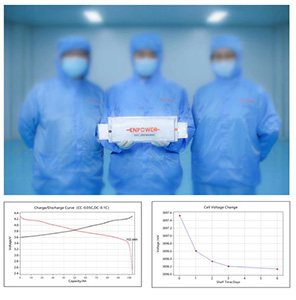 Enpower Greentech Inc. has successfully developed a 100Ah lithium metal battery (LMB), another major step in the commercialization of next-generation batteries for electric vehicles. The breakthrough comes on the heels of Enpower Greentech's newly developed ultra-high energy density (450Wh/kg and 520Wh/kg) LMB in 2021, as well as its safety credentials secured in June 2022. 
Enpower Greentech's high-capacity battery cell adopts its proprietary flame-retardant electrolyte solution, which enhances safety without compromising performance. The weight of a single cell is 0.821kg. The cell has a capacity of 102.4Ah (0.1C discharge), a gravimetric energy density of 479Wh/kg, volumetric energy density of 910Wh/L; internal resistance of ?1.0m?. The cell also has a low self-discharge rate (K value ?  2.0?V/h, at 30% SOC), which is less than 10% that of graphite and silicon anode-based traditional lithium-ion batteries.
Enpower Greentech, with subsidiaries in China, Japan, and the U.S., fosters cross-border collaborations to achieve a competitive edge in the development of next generation batteries. It has expanded its product line, developing a 10Ah to 50Ah LMB for the drone and electric aircraft (eVTOL) markets. Enpower Greentech is also developing an all-solid-state LMB and plans to deliver Ah-class pouch cells for external testing by the end of this year. The company plans to start production of 100MWh-scale and GWh-scale LMB manufacturing lines in 2023 and 2024, respectively.
Batteries are now a core technology driving global industry, with multinational automakers and battery manufacturers all competing in the space. On the 10th year of its founding, Enpower Greentech has managed to become a world technology leader, especially with respect to battery performance such as energy density and cycle life. In the future, Enpower will continue to improve its battery performance, optimizing its cycle life, fast-charging, and other performance metrics while reducing costs.
Enpower Greentech's team would like to dedicate their work on safer and better performing batteries to their mentor and collaborator Professor John Goodenough, who celebrates his 100th birthday this month.
---
Suggested Items
09/21/2023 | TrendForce
Fueled by an AI-driven inventory stocking frenzy across the supply chain, TrendForce reveals that Q2 revenue for the top 10 global IC design powerhouses soared to US $38.1 billion, marking a 12.5% quarterly increase.
09/19/2023 | indie Semiconductor
indie Semiconductor, an Autotech solutions innovator, announced it has entered into a definitive agreement and completed the acquisition of privately held EXALOS AG, a Swiss photonics company, specializing in the design of high-performance optical semiconductors.
09/19/2023 | StratEdge
StratEdge Corporation will present its thermally-efficient line of post-fired and molded ceramic semiconductor packages at several upcoming events including European Microwave Week (EuMW), September 19-21, IMAPS International, October 3-4, and IEEE BCICTS, October 16-17.
09/18/2023 | Matrix Electronics
This past year Matrix introduced the Advanced Engineering PMA101-CPB Mylar Peeler to the North American market. The PMA101-CPB Mylar Peeler is one of the most successful products in this category with over 200 units sold globally. This latest version of the mylar peeler was released in mid-2022 with a fully enclosed cabinet and upgraded PLC to support growing Industry 4.0 requirements in the PCB fab market. This machine can operate as a standalone unit or be combined with Advanced Engineering SRV automated load, unload equipment to connect to a customer's DES line.
09/14/2023 | MediaTek
MediaTek and TSMC announced that MediaTek has successfully developed its first chip using TSMC's leading-edge 3nm technology, taping out MediaTek's flagship Dimensity system-on-chip (SoC) with volume production expected next year.