Books

Featured Books

smt007 Magazine

Latest Issues

Current Issue

Economic Headwinds

This issue takes stock of the current economic outlook and how companies are using current conditions to move themselves through technological evolutions, workforce shifts, and financial changes. Even with these headwinds, there's forward progress to be made.

Attracting New Talent

To get different results in staffing, you must change how you define, promote and recruit your job opportunities. How do you become magnetic to high-quality early-career candidates?

Test and Inspection

Test and inspection methods are undergoing rapid change. In this issue, we consider the influence of AOI, AI, and human eyes. How exactly are these pieces of the puzzle changing the role of test and inspection?

Columns

Latest Columns

||| MENU
Metcal Launches HCT-910 Hot Air Rework System
July 19, 2022 | Metcal
Estimated reading time: 1 minute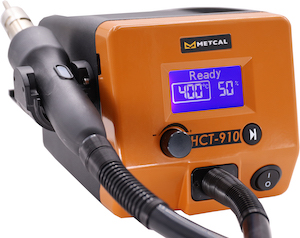 METCAL announced the launch of the new HCT-910 Hot Air Rework System. This hot air system is accurate and intuitive-to-use, with high thermal performance capable of meeting the full spectrum of application requirements needed for production and rework in electronics manufacturing.
The Metcal HCT-910 can generate 900 watts of heat with a maximum temperature of 600°C. This expands the capability of the Metcal HCT-910 beyond standard thermal demand applications to higher thermal demanding applications in military, defense, and aerospace, using highly metalized circuit boards.
The Metcal HCT-910 digital interface is intuitive and easy to use.  The system incorporates a novel control method making it easy to quickly adjust the temperature and airflow rates without looking away from the application.  In addition, a multi-olor status light on the hand-piece is a visual cue to the operator regarding the "current status" of the unit. 
"The Metcal HCT-910 improves the user experience significantly by adding features such as 'On-the-fly' manual control which utilizes a single push-button knob to adjust, control, and quickly toggle between temperature and airflow. This intuitive design, in combination with accurate temperature, and the performance of the 900-watt heater, will improve throughput while controlling a tight quality process," said Curtis Yamauchi, Product Manager of Metcal.
The Metcal HCT-910 can be configured for any worldwide standard voltage and power outlets.  It also offers an intuitive user interface, multiple language settings, and a USB port to update software and power peripherals such as fans, lights, cameras, or even a cell phone.
The complete system for each model includes the hot air tool, power cord, and hand-piece cradle to support a variety of soldering and rework applications.
---
Suggested Items
11/29/2023 | TT Electronics
TT Electronics, a global provider of custom power solutions and engineered technologies, has announced that its Power and Control business has officially opened its new state-of-the-art research, development and manufacturing facility.
11/27/2023 | HyRel
HyRel Technologies, a global provider of quick turn semiconductor modification solutions, announces the achievement of International Traffic in Arms Regulations (ITAR) registration.
11/20/2023 | MIT
MIT's Department of Aeronautics and Astronautics (AeroAstro) recently hosted the 2023 Future Leaders in Aerospace Symposium, inviting women and underrepresented minorities in aerospace fields to campus for a two-day program.
11/14/2023 | NEO Tech
NEOTech, a leading provider of electronic manufacturing services (EMS), design engineering, and supply chain solutions in the high-tech industrial, medical device, and aerospace/defense markets, is thrilled to welcome James Doyle to the team as Chief Executive Officer of NEOTech's Aerospace & Defense division, effective immediately.
11/06/2023 | PRNewswire
Vuzix Corporation, a leading supplier of smart glasses and Augmented Reality (AR) technology and products, announced it has completed delivery against a follow-on order from a Tier-1 aerospace and defense contractors with which it has been working with.