Hon Hai, Monarch Tractor to Build Next-Generation AgTech Equipment
August 9, 2022 | Business Wire
Estimated reading time: 1 minute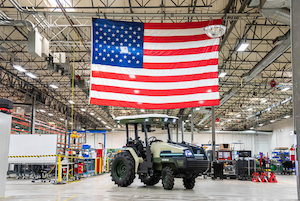 Hon Hai Technology Group announced the signing of a contract manufacturing agreement (CMA) with Zimeno Inc. DBA Monarch Tractor to build next-generation agricultural equipment and battery packs at the Foxconn Ohio facility.
"Leveraging Foxconn's manufacturing strengths, world-wide network of industry leaders and supply partners, and our new partnership with Monarch Tractor, Foxconn is positioned and eager to contribute to the ongoing and future success of Monarch Tractor, its products and its customers," said Young Liu, Chairman of Hon Hai Technology Group. "This partnership reflects Foxconn's growing center of gravity for autonomous electric vehicle production and the potential that can emerge from forward-thinking collaborations."
Full-rate production of Monarch Tractor's MK-V Series is scheduled to begin Q1 2023 at the Foxconn Ohio facility, an approximately 6.2 million square foot campus of scalable production space. This will follow production of Monarch's Founder Series in Q4 of 2022 at Monarch Tractor's Livermore, California, manufacturing facility.
"Creating the industry's most advanced tractor demands a manufacturing partner with the experience to quickly scale and execute with precision," said Praveen Penmetsa, Co-Founder & CEO of Monarch Tractor. "Foxconn is an EMS leader whose manufacturing and solutions are world-renowned. We are proud to partner with Foxconn and work together to transform the future of farming."
In May 2022, Foxconn assumed manufacturing operations at its Ohio facility after completing an Asset Purchase Agreement ("APA") with Lordstown Motors Corp. (Nasdaq:"RIDE"). The agreement with Monarch Tractor is the first contract manufacturing engagement by Foxconn following the closing of the APA. It embodies the Foxconn vision to expand its contract manufacturing in the EV market. The agreement also continues the transformation of Foxconn capabilities in the Mahoning Valley.
---
Suggested Items
09/21/2023 | SEMI
The SEMI Semiconductor Climate Consortium (SCC) issued its first report of the semiconductor ecosystem's greenhouse gas (GHG) emissions profile, an in-depth analysis of the semiconductor value chain's carbon footprint and priority-ranked carbon emission sources for the industry to address.
09/21/2023 |
Intraratio, a provider of enterprise software solutions, is pleased to announce that Ryan Gamble, CEO and Founder of Intraratio, will deliver an informative keynote presentation at SMTA International 2023. T
09/20/2023 | Siemens
Siemens Digital Industries Software announced that Gotion High-tech Co., Ltd. has selected the Siemens Xcelerator portfolio of industry software to build an intelligent battery manufacturing platform as part of achieving its digital transformation goals.
09/20/2023 | Zentech Manufacturing
Zentech Manufacturing is pleased to announce that it has chosen Tim Facklam to be its Chief Operating Officer.
09/20/2023 | BTU International, Inc.
BTU International, Inc., a leading supplier of advanced thermal processing equipment for the electronics manufacturing market, is joining forces with SMarTsol Technologies at the upcoming SMTA Guadalajara Expo, scheduled to take place Oct. 25-26, 2023 at the Expo Guadalajara in Guadalajara in Jalisco, Mexico.