Hon Hai, Monarch Tractor to Build Next-Generation AgTech Equipment
August 9, 2022 | Business Wire
Estimated reading time: 1 minute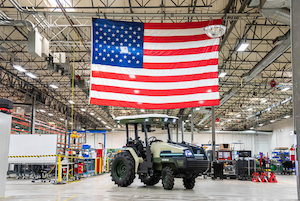 Hon Hai Technology Group announced the signing of a contract manufacturing agreement (CMA) with Zimeno Inc. DBA Monarch Tractor to build next-generation agricultural equipment and battery packs at the Foxconn Ohio facility.
"Leveraging Foxconn's manufacturing strengths, world-wide network of industry leaders and supply partners, and our new partnership with Monarch Tractor, Foxconn is positioned and eager to contribute to the ongoing and future success of Monarch Tractor, its products and its customers," said Young Liu, Chairman of Hon Hai Technology Group. "This partnership reflects Foxconn's growing center of gravity for autonomous electric vehicle production and the potential that can emerge from forward-thinking collaborations."
Full-rate production of Monarch Tractor's MK-V Series is scheduled to begin Q1 2023 at the Foxconn Ohio facility, an approximately 6.2 million square foot campus of scalable production space. This will follow production of Monarch's Founder Series in Q4 of 2022 at Monarch Tractor's Livermore, California, manufacturing facility.
"Creating the industry's most advanced tractor demands a manufacturing partner with the experience to quickly scale and execute with precision," said Praveen Penmetsa, Co-Founder & CEO of Monarch Tractor. "Foxconn is an EMS leader whose manufacturing and solutions are world-renowned. We are proud to partner with Foxconn and work together to transform the future of farming."
In May 2022, Foxconn assumed manufacturing operations at its Ohio facility after completing an Asset Purchase Agreement ("APA") with Lordstown Motors Corp. (Nasdaq:"RIDE"). The agreement with Monarch Tractor is the first contract manufacturing engagement by Foxconn following the closing of the APA. It embodies the Foxconn vision to expand its contract manufacturing in the EV market. The agreement also continues the transformation of Foxconn capabilities in the Mahoning Valley.
---
Suggested Items
12/01/2023 | Silicon Mountain
Silicon Mountain, a leading electronic manufacturing company, is pleased to announce its participation in the 3rd Annual Idaho Manufacturing Industry Trade Show & Conference, hosted by the Idaho Manufacturing Alliance.
11/30/2023 | BUSINESS WIRE
Ciena, a U.S.-based networking systems, services and software company, is adding domestic manufacturing through an expanded agreement with global diversified manufacturer Flex.
11/30/2023 | Keysight Technologies, Inc.
Keysight Technologies, Inc. announces that Arbe has selected the E8719A Radar Target Solution (RTS) to test the Arbe 4D imaging radar chipset for automotive applications.
11/29/2023 | TT Electronics
TT Electronics, a global provider of custom power solutions and engineered technologies, has announced that its Power and Control business has officially opened its new state-of-the-art research, development and manufacturing facility.
11/29/2023 | Dana Korf -- Column: Dana on Data
November's issue of Design007 Magazine had an excellent theme that evolved around design simplification. There were exceptionally good articles about how to reduce over-constrained or needlessly complex designs. One significant time-consuming category is the creation of many design files and drawings which lead to lengthy creation and interpretation time along with the considerable time to resolve conflicting or erroneous information.