Books

Featured Books

smt007 Magazine

Latest Issues

Current Issue

Economic Headwinds

This issue takes stock of the current economic outlook and how companies are using current conditions to move themselves through technological evolutions, workforce shifts, and financial changes. Even with these headwinds, there's forward progress to be made.

Attracting New Talent

To get different results in staffing, you must change how you define, promote and recruit your job opportunities. How do you become magnetic to high-quality early-career candidates?

Test and Inspection

Test and inspection methods are undergoing rapid change. In this issue, we consider the influence of AOI, AI, and human eyes. How exactly are these pieces of the puzzle changing the role of test and inspection?

Columns

Latest Columns

||| MENU
Passing the Test With SMTA's Rob Boguski
September 14, 2022 | Andy Shaughnessy, I-Connect007
Estimated reading time: 9 minutes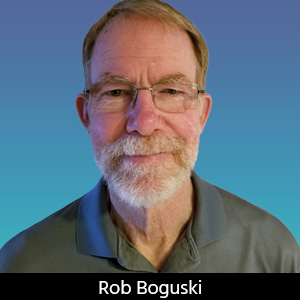 AUDIO TRANSCRIPT:
I recently spoke with Rob Boguski, president of Fremont, California-based Datest and an SMTA vice president and board member. Rob explained why today's test customers are asking for more information than the traditional pass/fail, offers a preview of SMTA International, and gives an update on SMTA's planning strategy for the next five years.
Andy Shaughnessy: I'm here this afternoon with Rob Boguski, president of Datest, and a long-term member and leader at SMTA. How are things going, Rob?
Rob Boguski: It's a busy time, Andy. In spite of the pandemic, business has been, well, busy. There are a lot of new opportunities, a lot of new industries, which for us is wonderful. Datest has two businesses. We're test engineers and failure analysis engineers. The latter is an outgrowth of the former.
We originally started in the testing business when Datest was founded in 1984, doing in-circuit testing then later, things like flying probe and boundary scan in AXI and other techniques. Along the way, many of our customers started saying, "You can test my boards. They pass, they fail. Now, tell me why they failed. Give me an analysis of the failures." We started investing in various techniques, methodologies, and capital equipment to enable us to come to those answers, primarily by means of imaging technology like X-ray, 3D, and CT scanning to get to the root cause of failures, mostly of solder joints.
As time has gone by, those two businesses have grown, but the failure analysis business in particular has grown exponentially over the last five years. Not only for electronic products, but also for many other things, because we have a very large CT scanning system that's unique in the industry. Engineers get wind of it and bring us things like castings, metal parts, plastics, tubing for medical applications, and all manner of things that need to be non-destructively analyzed to get to the base of what goes wrong.
A good example would be an avionics package for space flight, where you've got several boards that are joined together and then enclosed in a larger box. Rather than tearing the box apart, we'll CT scan it to find out why there's an open in a particular location, and maybe we'll locate a cracked pin on a connector or a head and pillow defect on a solder joint. Maybe it's a combination of things, but you can do that a lot quicker than tearing it apart, and obviously it's less destructive. If you can identify the problem quickly, then oftentimes the customer can perform the necessary rework and restore it to service.
From where we sit, automation is at the end of the food chain, so it speeds up the process, which means it increases the volume of defects, which, cynically and self-servingly, is pretty good for business. Because you multiply the number of defects, you multiply the severity of the defects. It creates opportunities for us to help people. Our customer base has grown by leaps and bounds over the last three years because of that. Industry 4.0 is very good for us.
Shaughnessy: We didn't really hear that much about failure analysis until about five years ago. Now it seems like it's taken off.
Boguski: It is because reliability is becoming a more important term. One of the dirty little secrets of our industry has been that, if it passes test, however marginal the solder joints may be, it is a good board at the manufacturing level in many cases. It fails to take note of the marginal conditions. What happens is that product then gets shipped or goes into a larger product, which gets shipped. It goes to the field, works for a while, then in something like nine months or two years, it stops working. If you're dealing with a piece of equipment on an oil rig in the Gulf of Mexico, that's a bit of a problem. If it's avionics in a spacecraft, a satellite, or an aircraft, you don't want that to happen when you're airborne.
Reliability is an issue and discovering what impacts reliability feeds back to the manufacturing process to make more robust solder joints. We contribute to our failure analysis activities hard data to show process engineers what it is that failed, what they can do to take corrective action, and how they can make their assembly lines more robust.
Shaughnessy: This feeds directly into what you're involved with at SMTA as well.
Boguski: That's my night job. My day job is running Datest. My off-hours job is being a member of the board of SMTA. I'm finishing the third year of my term. I'm currently vice president of membership, so in that regard, I chair two committees: the Membership Committee and the Chapter Leadership Committee. Membership oversees everything that has to do with attracting new members, onboarding, and then retaining them, hopefully by showing them the full range of benefits available that SMTA offers. Chapter Leadership looks at and works closely with each and every one of our 40-some individual chapters around the world and helps them as a resource. If they're having problems attracting and retaining officers, looking for speakers, or maybe somewhat dormant and want to revive their chapter, we help them out by encouraging them, bringing speakers and attending their events, providing constructive feedback, and so forth.
I shepherd the people who do that sort of thing and hopefully promote our organization in view of our goals, and in light of all of the crazy developments we've all had to experience the last couple of years with the pandemic, the economy, and so forth. It's been a challenging time. I took office in 2019, about five months before the pandemic hit, and then in March 2020, everything shut down. We went into crisis mode on the SMTA board, where for a time we were meeting every single week to make decisions. Do we keep holding expos? Do we cut back completely? Do we go into hunker down? When they teach you how to be a board member, there's nothing in the manual that teaches that.
We were working very closely as a group, observing data, combining our knowledge of the news and our own personal experience in our respective businesses, trying to figure out what was best with SMTA. I'm happy to say, we've come through the experience a stronger organization, and our membership is up.
Shaughnessy: I attended SMTA Dallas and Atlanta this year, and I saw more young people on both of those trips than I remember seeing at previous shows. Do you see that?
Boguski: Yes, and that's intentional. We have several initiatives to encourage and attract younger engineers and technical people into both the profession and SMTA that has connections that will help their careers. We are revamping our career center, meeting or matching people looking for a job with those offering jobs. There are a lot of job openings right now, as we know.
We have events that are tailored to younger engineers, what we call SYPs—students and young professionals. These are people in technical and engineering programs who are about to graduate and younger engineers who are in the early stages of their careers. We're laser focused on that because it's the lifeblood of our organization. A lot of the veteran members are retiring. There's turnover and we've got to encourage and attract new members. To do that, we must be relevant to what their concerns are and to what's going on in the industry.
Shaughnessy: I know a lot of people are excited about SMTAI this year as it's in a new venue.
Boguski: New place, and a new venue in Minneapolis. It's not the warmest place in November, but it's a nice convention center. We're at a good point where people want to get out. They've been cooped up for two years, and they're looking for an excuse to get out and see their friends and colleagues, share the knowledge, start mingling again, meet face-to-face.
We've all done Zoom. We do that every day. That's probably here to stay, whether we like it or not, but there is some merit in face-to-face meetings. We're not doing a hybrid event this year. It will all be face-to-face. We'll have the expo, and the technical conference all in person. We hope to get 100 to 150 exhibitors for the expo. It looks like we have about 120 to 130 technical papers submitted for the technical conference, so that's very encouraging as well.
Shaughnessy: I'm looking forward to it. I've never been to Minneapolis.
Boguski: It's a nice town. It's a small town for a big town. People are friendly and hospitable. The convention center is nice. It's easy to get to, with lots of airline connections. You might need a jacket in November. It could be a little chilly, but not a problem there.
Shaughnessy: Are there any other updates about SMTA, or anything else that you'd like to mention?
Boguski: Yes. SMTA has gone through a strategic planning process in the past year. We hired a consultant who specializes in nonprofit organizations who put together a plan, which the board is in the process of evaluating and hopefully adopting. This will be our guidepost for the next five years about the things we do and how we do them, the framework for how we execute as an organization.
It's built around four strategic pillars. Basically, the themes are strong industry workforce, member connections and engagement, organizational excellence, and advancing technical knowledge. Each theme has several subsidiary points as to our strategy for accomplishing those themes. That will be the framework we work in as we expand and further diversify the benefits for membership of SMTA.
You'll see a lot of new offerings in the form of activities and initiatives. In the past year, we simplified our membership structure, which has been a big hit for everybody. It's a lot easier to understand. We have three categories of corporate membership—bronze, silver, and gold—that are a big hit. We're revamping our training programs as part of advancing technical knowledge. You will hear about a lot of new offerings in the next 12 months.
I already mentioned the career center and a lot more in the way of follow up and interaction with our chapters and our members to make sure they're taking full advantage of their membership and getting their money's worth. It's a lot more of sitting down and listening to our membership, not telling them how to do things, but listening to what they want, and then putting proactive programs together to help them achieve what they want in their careers, with their chapters, and in their companies. We've got a lot going on.
Shaughnessy: Very good. Thanks for speaking with me, Rob.
Boguski: Thank you, Andy.
---
Suggested Items
11/30/2023 | AIM
AIM Solder, a leading global manufacturer of solder assembly materials for the electronics industry, is pleased to announce its new NC259FPA Ultrafine No Clean Solder Paste, which it revealed recently during the Productronica Germany trade show.
11/27/2023 | Real Time with...productronica
Koh Young's Harald Eppinger talks about the company's technology for the semiconductor and advanced packaging market and how they address the challenges introduced by reflective components and micro solder deposits.
11/27/2023 | HyRel
HyRel Technologies, a global provider of quick turn semiconductor modification solutions, announces the achievement of International Traffic in Arms Regulations (ITAR) registration.
11/24/2023 | Mek (Marantz Electronics)
Mek (Marantz Electronics), a leader in Automated Optical Inspection (AOI) solutions, used last weeks' Productronica show in Munich to proudly introduce the SpectorBOX X series, a modular full 3D AOI system for THT solder joints and THT components.
11/21/2023 | Pete Starkey, I-Connect007
Productronica 2023 played host to the IPC World Hand Soldering Competition, bringing talented regional solder champions from all over the globe to compete for the title of World Champion. Each competitor was given sixty minutes to assemble a complex printed circuit board with their performance judged in accordance with IPC-A-610 Class 3 criteria. Each competitor's efforts were rated on the merits of the results achieved, scored on the quality of the assembly process, the electrical functionality of the assembly and the speed at which the assembly was produced.