Rocket Lab Successfully Launches 30th Electron Rocket & 150th Satellite to Space
September 16, 2022 | Business Wire
Estimated reading time: 1 minute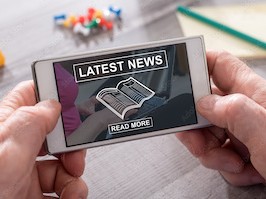 Rocket Lab USA, Inc., a leading launch and space systems company, has delivered its 30th mission and 150th satellite to orbit following its latest successful Electron launch earlier today.
"The Owl Spreads Its Wings" dedicated mission for Japanese Earth-observation company Synspective launched on the Electron rocket from Pad B at Rocket Lab Launch Complex 1 at 20:38 UTC, September 15, 2022. The mission successfully deployed a single spacecraft, the StriX-1 satellite, to a 563km circular Earth orbit, where it will join other StriX satellites launched by Rocket Lab in February 2022 and December 2020 as part of Synspective's Earth-observation satellite constellation.
"The Owl Spreads Its Wings" is Rocket Lab's seventh Electron launch this year with a 100% mission success rate for 2022. With today's 30th Electron launch and 150th satellite delivered to orbit, the mission also marked the 300th Rutherford engine flown to space on Electron. Designed and built by Rocket Lab, Rutherford is the world's first 3D-printed, electric pump-fed orbital rocket engine. Earlier this month Rocket Lab successfully test fired a reused Rutherford first stage engine for the first time. This is a significant technical achievement as Rocket Lab develops Electron into the world's first reusable orbital small rocket.
Among the Company's scheduled missions on the 2022 manifest is another attempt at recovering an Electron rocket with a helicopter and the first Electron mission from Rocket Lab's Launch Complex 2 in Wallops Island, Virginia.
---
Suggested Items
11/28/2023 | Lockheed Martin
Lockheed Martin will soon launch a unique wideband Electronically Steerable Antenna (ESA) payload demonstrator to show the company's investment in advanced technology to perform missions faster once on orbit. The payload demonstrator, which will launch aboard Firefly Aerospace's Alpha rocket, extends Lockheed Martin's significant investment in scalable wideband ESA technology development to showcasing an actual on-orbit capability. This technology is critical to future remote sensing architectures.
11/27/2023 | Spirit AeroSystems, Inc.
Skyrora and Spirit AeroSystems have announced a collaboration on orbital launch capability. The companies celebrated the announcement on the conference's opening day in Belfast, home to Spirit's largest UK manufacturing facility.
11/09/2023 | BUSINESS WIRE
Terran Orbital Corporation, a global leader in satellite-based solutions primarily serving the aerospace and defense industries, today announced two additional configurations of its largest platform offered in the standard product line the Company initially announced in September: Enterprise.
10/31/2023 | UK Space Agency
The agreement between the UK Space Agency and Axiom Space sets out plans for the 2 organisations to work together to pursue a commercially sponsored, UK astronaut mission.
10/31/2023 | Northrop Grumman
The Space Development Agency (SDA) awarded Northrop Grumman Corporation (NYSE: NOC) an agreement with a total potential value of approximately $732 million to design and build 38 data transport satellites.