Velodyne Lidar Signs Multi-Year Agreement with Yamaha Motor
October 11, 2022 | Business Wire
Estimated reading time: 1 minute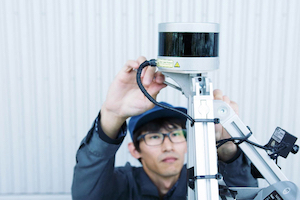 Velodyne Lidar, Inc. announced a multi-year agreement to provide its lidar sensors to Yamaha Motor for eve autonomy, a joint venture between Yamaha Motor and Tier IV, Inc. eve autonomy's autonomous goods transport service eve auto provides logistical support for factories to improve efficiency and safety. Velodyne has already begun shipping sensors to Yamaha Motor to support an October 2022 launch of eve auto.
Yamaha Motor is using Velodyne's Puck lidar sensors to provide localization and navigation capabilities for their eve auto all-in-one automated conveyance service. Velodyne's lidar sensors enable the small electric vehicles to navigate factory facilities autonomously.
eve auto is a full-service solution that provides customers with a quick set up that does not require any construction. Built for both indoor and outdoor applications that allows customers to transport goods autonomously, eve auto has a towing capacity of 1500 kg and can navigate slopes up to 7 degrees and gaps up to 3 cm. With operational support offering fleet management and mapping services, eve auto's subscription model provides customers access to maintenance and the latest software. eve auto's autonomous capabilities are enabled by Velodyne's lidar technology and can be connected with existing infrastructures and external systems through web API.
"Velodyne's versatile and high performing sensors help eve auto provide a robust automated solution for our customers," said Takahiro Watanabe, General Manager New Business Development Division at Yamaha Motor. "Velodyne's lidar technology delivers the range, accuracy and resolution needed for our solution to navigate complex indoor and outdoor factory settings."
"Yamaha Motor's eve auto is transforming the factory logistics industry by offering a complete package solution of autonomous transport," said Laura Wrisley, Senior Vice President, Worldwide Sales, Velodyne Lidar. "Equipped with Velodyne's Puck lidar sensors, eve auto is a user-friendly service that can significantly reduce the barrier of entry for companies wanting autonomous transport solutions to improve efficiency and factory safety."
---
Suggested Items
09/26/2023 | QinetiQ
KBR and QinetiQ signed a teaming agreement to work collaboratively to deliver test and evaluation services for the Australian Defence Force.
09/26/2023 | Pratt & Whitney
Pratt & Whitney, an RTX business, announced plans to increase the capacity of its Singapore engine center, Eagle Services Asia (ESA).
09/25/2023 | HyRel
HyRel Technologies, a global provider of quick turn semiconductor modification solutions, proudly announces that it earned the prestigious AS9100 certification.
09/20/2023 | Qualcomm Technologies, Inc.
Qualcomm Technologies, Inc. is ushering in a new era of home connectivity, and new opportunities for service providers, with the introduction of the Qualcomm® 10G Fiber Gateway Platform and its signature feature, Qualcomm® Service Defined Wi-Fi technology.
09/19/2023 | IDC
Asia/Pacific spending on Artificial Intelligence (AI) ), including software, services, and hardware for AI-centric systems will grow to $78.4 billion in 2027, according to International Data Corporation's latest Worldwide Artificial Intelligence Spending Guide.