Velodyne Lidar Signs Multi-Year Agreement with Yamaha Motor
October 11, 2022 | Business Wire
Estimated reading time: 1 minute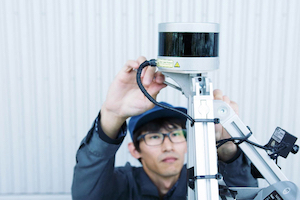 Velodyne Lidar, Inc. announced a multi-year agreement to provide its lidar sensors to Yamaha Motor for eve autonomy, a joint venture between Yamaha Motor and Tier IV, Inc. eve autonomy's autonomous goods transport service eve auto provides logistical support for factories to improve efficiency and safety. Velodyne has already begun shipping sensors to Yamaha Motor to support an October 2022 launch of eve auto.
Yamaha Motor is using Velodyne's Puck lidar sensors to provide localization and navigation capabilities for their eve auto all-in-one automated conveyance service. Velodyne's lidar sensors enable the small electric vehicles to navigate factory facilities autonomously.
eve auto is a full-service solution that provides customers with a quick set up that does not require any construction. Built for both indoor and outdoor applications that allows customers to transport goods autonomously, eve auto has a towing capacity of 1500 kg and can navigate slopes up to 7 degrees and gaps up to 3 cm. With operational support offering fleet management and mapping services, eve auto's subscription model provides customers access to maintenance and the latest software. eve auto's autonomous capabilities are enabled by Velodyne's lidar technology and can be connected with existing infrastructures and external systems through web API.
"Velodyne's versatile and high performing sensors help eve auto provide a robust automated solution for our customers," said Takahiro Watanabe, General Manager New Business Development Division at Yamaha Motor. "Velodyne's lidar technology delivers the range, accuracy and resolution needed for our solution to navigate complex indoor and outdoor factory settings."
"Yamaha Motor's eve auto is transforming the factory logistics industry by offering a complete package solution of autonomous transport," said Laura Wrisley, Senior Vice President, Worldwide Sales, Velodyne Lidar. "Equipped with Velodyne's Puck lidar sensors, eve auto is a user-friendly service that can significantly reduce the barrier of entry for companies wanting autonomous transport solutions to improve efficiency and factory safety."
---
Suggested Items
12/04/2023 | EMA Design Automation
EMA Design Automation, the world's premier EDA VAR, is spinning off their IP, content, and services group as a new company named Accelerated Designs, LLC with a focus on CAD agnostic solutions.
12/01/2023 | Murata
Murata and IIJ have announced the launch of the Crossborder Co-DataBiz IoT data service platform, a collaborative service founded on the sensing and network technologies, data analytics, business model knowledge and know-how developed by the two organizations through the highly successful Traffic Counter data service.
11/20/2023 | Dan Beaulieu -- Column: It's Only Common Sense
No matter how you look at it, everything is about customer service—great customer service. If you think about your own experiences, you'll realize it's about how those you are dealing with or buying from— whether it's a car, your internet service provider, or your landscaper—it's all about how they make you feel. You can have the greatest product in the world, but if you don't deliver a great customer experience, it won't matter.
11/17/2023 | Flex
Flex announced it received Cisco's 2023 Electronic Manufacturing Services (EMS) Partner of the Year award. Cisco presented the distinguished award at its annual Supplier Appreciation Event (SAE), which celebrates the accomplishments and contributions of its supply chain partners.
11/15/2023 | ZDI
Zero Defects International [ZDI] has announced their participation as an exhibitor at the SMTA Silicon Valley Expo and Tech Forum. It will be held at Building 3 on the FLEX campus located at 727 Gibralter Drive, Milpitas, CA.  Expo time and date:  8:30 a.m., Thursday, December 7, 2023.