Books

Featured Books

smt007 Magazine

Latest Issues

Current Issue

Economic Headwinds

This issue takes stock of the current economic outlook and how companies are using current conditions to move themselves through technological evolutions, workforce shifts, and financial changes. Even with these headwinds, there's forward progress to be made.

Attracting New Talent

To get different results in staffing, you must change how you define, promote and recruit your job opportunities. How do you become magnetic to high-quality early-career candidates?

Test and Inspection

Test and inspection methods are undergoing rapid change. In this issue, we consider the influence of AOI, AI, and human eyes. How exactly are these pieces of the puzzle changing the role of test and inspection?

Columns

Latest Columns

||| MENU
Working on the Hill to Build a Future
November 8, 2022 | Nolan Johnson, I-Connect007
Estimated reading time: 2 minutes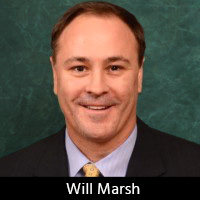 The message can't be emphasized enough: Producing IC substrates overseas weakens America's position and national security. In this frank discussion with Will Marsh, president of PCBAA, he talks about his efforts to educate government policymakers on the dire need to consider the entire microelectronics ecosystem. There's power in numbers, Will says, and he sees the association's efforts making a difference.
Nolan Johnson: Will, we're gathered at the Advanced Packaging Symposium, but you have been spending most of your time on Capitol Hill doing work for PCBAA and TTM. What is the atmosphere there?
Will Marsh: Right now, the Hill is very quiet because Congress is in recess and they aren't back in session until after the election. While D.C. is quieter without the members of Congress, legislative staff are still doing the day-to-day work on behalf of their constituency. In our meetings with staff about the printed circuit board industry and the IC substrate opportunities, we're finding an appetite to learn and talk more about strategies and policies that address the other parts of the electronics ecosystem that were not addressed directly in the CHIPS Act.
From the Senate side, they are adamant that the CHIPS Act covers the ecosystem, but as you read the bill, that's hard to determine. We're reinforcing the messages that while it's a noble cause to advance the CHIPS Act and the $52 billion investment, it's the first of many steps. We are encouraged that staff recognize that the microelectronics ecosystem, the reshoring debate, and having a domestic, secure, resilient supply chain for the ecosystem are absolutely being met with open arms.
It's an encouraging piece of news, but it's something we wouldn't know about unless we were on the Hill talking about it. That's why this IPC event, with 150 really smart people talking about advanced packaging definitions, needs, and requirements, is really important. We can take some of these messages back to the Hill to reinforce the messages that the Printed Circuit Board Association of America, IPC, and USPAE are telling that story. As we know, Washington is all about creating a sense of debate and having discussions. Government is not the speed of business, and this is a slow-moving train, so we must stay in front of the right people and drum beat our message.
Johnson: How does the industry participate in this process? Government moves at the pace of government, but pressure can be applied.
Marsh: Absolutely. Strength in numbers wins every day in Washington, D.C., and in politics. The speed of government might be slow, but the larger your megaphone the quicker we get to a solution. We need more companies involved in the message that the domestic microelectronics ecosystem is relatively broken. You can write your representatives or write op-eds. As associations, we can use our social media platforms to bring more awareness. The more people participating in getting that message out, the quicker it will lead to a solution.
To read this entire article, which appeared in the November 2022 issue of SMT007 Magazine, click here.
---
Suggested Items
09/20/2023 | I-Connect007 Editorial Team
Panasonic's Darren Hitchcock spoke with the I-Connect007 Editorial Team on the complexities of moving toward ultra HDI manufacturing. As we learn in this conversation, the number of shifting constraints relative to traditional PCB fabrication is quite large and can sometimes conflict with each other.
09/19/2023 | Anaya Vardya -- Column: Standard of Excellence
In my last column, I discussed cutting-edge innovations in printed circuit board technology, focusing on innovative trends in ultra HDI, embedded passives and components, green PCBs, and advanced substrate materials. This month, I'm following up with the products these new PCB technologies are destined for. Why do we need all these new technologies?
09/18/2023 | ViTrox
ViTrox, which aims to be the world's most trusted technology company, is excited to announce that our trusted Sales Channel Partner (SCP) in Mexico, SMTo Engineering, S.A. de C.V., will be participating in SMTA Guadalajara Expo & Tech Forum. They will be exhibiting in Booth #911 from the 25th  to the 26th of October 2023,  at the Expo Guadalajara in Jalisco, Mexico.
09/18/2023 | Intel
Intel announced one of the industry's first glass substrates for next-generation advanced packaging, planned for the latter part of this decade.
09/18/2023 | Aidan Salvi -- Column: Facing the Future
I have been in and around circuit boards most of my life. I started 20 years ago in my family's PCB shop, leaving after a couple of years to start my own software company. About a year ago, I returned to the family business, and the first thing I noticed was that nothing had really changed. We were doing the same things in the same way as the day I left. After talking to several experts in the industry, I realized it was worse than that: The manufacturing of PCBs had not changed in 70 years.