Books

Featured Books

smt007 Magazine

Latest Issues

Current Issue

Economic Headwinds

This issue takes stock of the current economic outlook and how companies are using current conditions to move themselves through technological evolutions, workforce shifts, and financial changes. Even with these headwinds, there's forward progress to be made.

Attracting New Talent

To get different results in staffing, you must change how you define, promote and recruit your job opportunities. How do you become magnetic to high-quality early-career candidates?

Test and Inspection

Test and inspection methods are undergoing rapid change. In this issue, we consider the influence of AOI, AI, and human eyes. How exactly are these pieces of the puzzle changing the role of test and inspection?

Columns

Latest Columns

||| MENU
I-Connect007 Editor's Choice: Five Must-Reads for the Week
November 11, 2022 | Nolan Johnson, I-Connect007
Estimated reading time: 2 minutes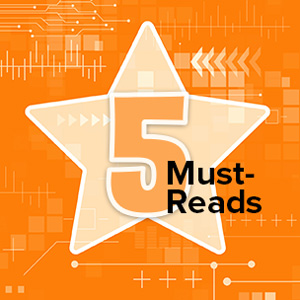 The industry news cycle seems to be picking up speed lately. Of course, 30 days into the quarter is about when public companies announce their results, and in the midst of this worldwide financial situation, we've got all eyes on anything coming out from our counterparts in the industry. I've noticed that global corporate results (Nan Ya PCB and TTM, in particular) do seem to be on everyone's radar. In addition to financial news, trade shows are popping back up around the world—Europe, India, and a special report from editor Andy Shaughnessy, who took his own road trip to Raleigh, reporting on PCB Carolina, which had its own heyday this year.
I'll be in Munich next week, reporting from electronica, meeting with many of our European friends; if you're in Munich, say hello on the show floor. It promises to be an interesting event and I'm looking forward to covering the European market. Guten tag!
TTM Technologies Reports Fiscal Q3 2022 Results
Published November 4
As a major manufacturer, TTM's results can serve as one bellwether for the industry. Quite a few readers thought the same thing, based on click-through rate for this news item. When one holds fiscal reports from the industry leaders, such as TTM, up against the IPC Fabricator Monthly Report, the market does tend to come into focus. Learn about TTM's Q3 results here.
PCB Carolina Breaks Attendance Records
Published November 10
Once editor Andy Shaughnessy found himself a parking spot, it was off to the races for PCB Carolina, where organizers reported some of the largest crowds ever. This show for PCB designers was a perfect fit for the area, with so much tech concentrated in Research Triangle Park. Did they find what they were looking for?
SEMICON Europa 2022 Keynotes to Highlight Chip Industry Growth Opportunities and Advanced Technologies
Published November 7
SEMICON Europa and electronica will both be open for business next week in Munich. Part of the SEMICON agenda includes presentations from "thought leaders who will highlight advanced solutions for electronics packaging and testing." Somewhere, there is a convergence between IPC's work on the PCB side, and SEMICON's efforts on the IC side.
Collins Aerospace, PT Dirgantara Indonesia Sign Agreement to Modernize Indonesian Air Force C-130H Aircraft
Published November 4
We ran two news items from Collins Aerospace (link) this last week, both spiked in readership. In fact, much of our MilAero content generates reader interest. I-Connect007 continues our work to bring more MilAero content to our coverage, and readers seem to agree that we should. If you, or someone you know, would like to contribute to our MilAero coverage, either as subject matter expert or as a contributor in some fashion, contact us. We'd be happy to consider your perspective.
IPC India to Host 2nd Annual Integrated Electronics Manufacturing & Interconnections (IEMI) Event
Published November 4
"IEMI is an annual platform for industry leaders … The two-day, two-city event will bring together designers, manufacturers, traders, suppliers, service providers and technical … IPC India is partnering with several country and trade associations to arrange international delegate visits…IEMI 2022 events in New Delhi and Bengaluru hosted approximately 1,000 international delegates." IEMI is scheduled for August 1, 2023 in Chennai, and for August 3, 2023, in Pune, India. 
Nan Ya PCB Jan-Oct Revenue Up 24% YoY
Published November 8
Not to steal all the thunder from this news item, but Nan Ya PCB "has posted unaudited sales of NT$6 billion ($187.76 million at $1=NT$31.95) in October 2022, up by 1.66% from the previous month and by 17.7% compared to October of last year."
---
Suggested Items
11/29/2023 | TT Electronics
TT Electronics, a global provider of custom power solutions and engineered technologies, has announced that its Power and Control business has officially opened its new state-of-the-art research, development and manufacturing facility.
11/27/2023 | HyRel
HyRel Technologies, a global provider of quick turn semiconductor modification solutions, announces the achievement of International Traffic in Arms Regulations (ITAR) registration.
11/20/2023 | MIT
MIT's Department of Aeronautics and Astronautics (AeroAstro) recently hosted the 2023 Future Leaders in Aerospace Symposium, inviting women and underrepresented minorities in aerospace fields to campus for a two-day program.
11/14/2023 | NEO Tech
NEOTech, a leading provider of electronic manufacturing services (EMS), design engineering, and supply chain solutions in the high-tech industrial, medical device, and aerospace/defense markets, is thrilled to welcome James Doyle to the team as Chief Executive Officer of NEOTech's Aerospace & Defense division, effective immediately.
11/06/2023 | PRNewswire
Vuzix Corporation, a leading supplier of smart glasses and Augmented Reality (AR) technology and products, announced it has completed delivery against a follow-on order from a Tier-1 aerospace and defense contractors with which it has been working with.