Books

Featured Books

pcb007 Magazine

Latest Issues

Current Issue

Finding Ultra

New demands on PCB fabrication, namely advanced packaging, ultra high density interconnect (UHDI), and new specialty materials, are converging, changing the landscape of our business. Is it time to start paying close attention to this convergence?

Developing a Strategy

A solid strategy is a critical part of success. This month, we asked some of the top industry leaders and business strategy "gurus" to share their thoughts on developing strategies.

Winning With TQM

In this issue, we explore how TQM has entered the DNA of continuous improvement disciplines, and the role leadership transformation plays in this. If you've ever competed against a TQM company, you understand their winning advantage.

Columns

Latest Columns

||| MENU
Electronica 2022: Happy to Be Back in Munich
November 21, 2022 | Pete Starkey, I-Connect007
Estimated reading time: 2 minutes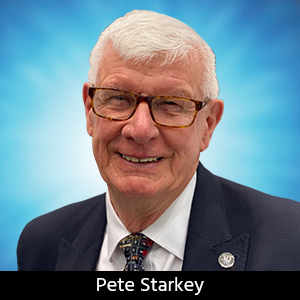 As we stepped out of the hotel into the drizzling rain, we were relieved that it wasn't snow. Looking down the escalator into the U2 platform in Munich's Hauptbahnhof central station early on the morning of Tuesday, Nov. 15 and observing the mass of humanity pushing and shoving to cram into trains to the exhibition centre, it appeared that a significant proportion of the international electronics industry had gathered to attend electronica 2022, co-located with SEMICON Europa and recognised as the world's leading trade fair and conference for electronics.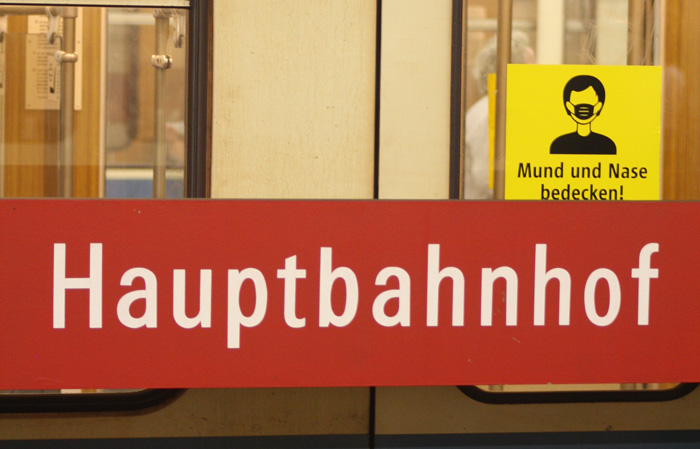 Arriving at Messestadt West, and peeling off our still-compulsory masks as we left the train, we were carried along in a throng of people eager to get to the turnstiles with entrance tickets for a real live show and a glimpse into the future.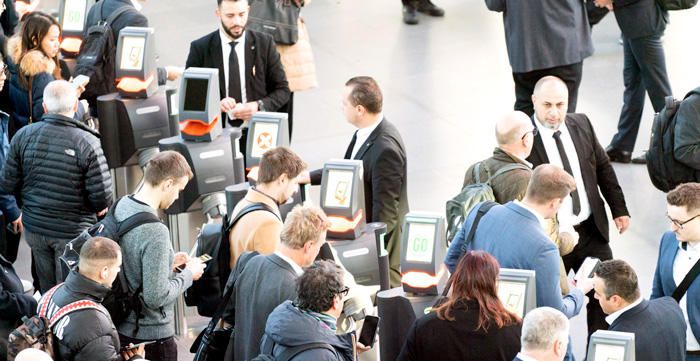 Although over 2,000 exhibitors occupied the 14 halls of Messe München, our areas of interest were concentrated mainly in Halls A1 and B1 with occasional ventures into A3, B3 and C1.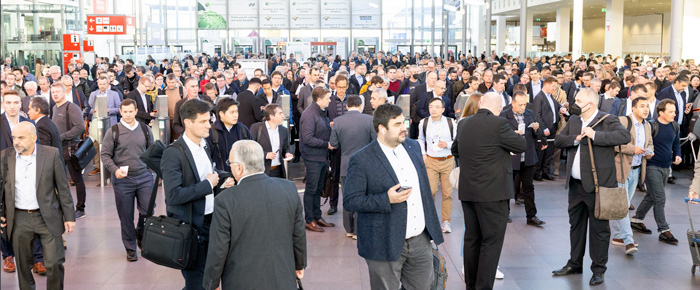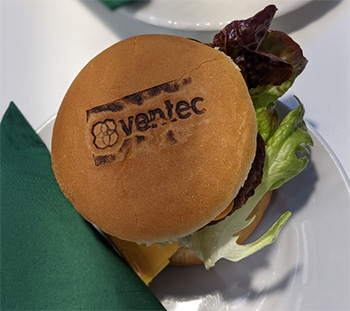 What did we see? A full spectrum of electronics innovations, plenty of incremental improvements in equipment and materials, a few potentially disruptive technologies and a blurring of the boundaries between design rules customarily associated separately with printed circuit and semiconductor territories.
Lots of familiar faces, people not seen in real life since before the lockdown, some not for many years more. We may have been struggling just a bit to remember names, and grateful for badges with bold print.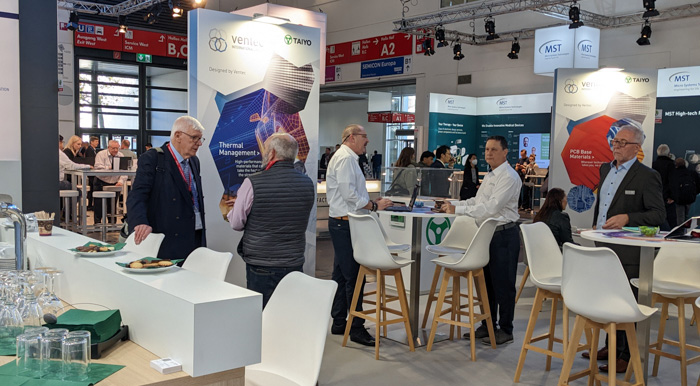 A serious issue highlighted at the General Assembly of EIPC (the European Institute for the PCB Community) by their president Alun Morgan was the continuing decline in the number of PCB manufacturers in Europe, from over 500 in 2000 to less than 200 in 2019. The Russian invasion of Ukraine has added to the industry's problems by driving a dramatic increase in the cost of energy. Further, with the materials supply chain having moved to Asia and the additional cost of freight, the European PCB industry is at a significantly disadvantaged position. EIPC planned to bring these matters to the attention of government, with particular emphasis on defence considerations.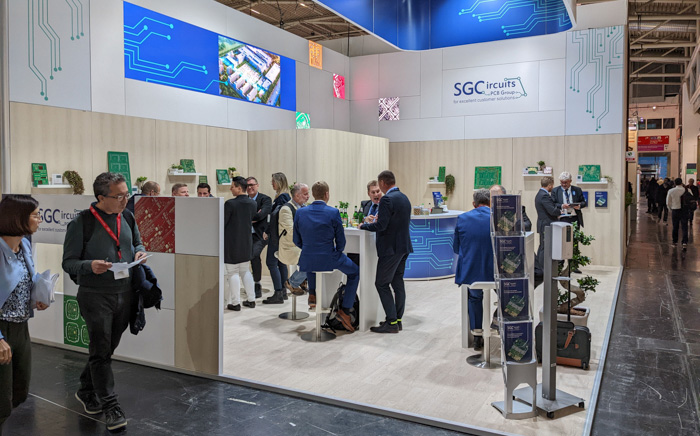 Friday was, as might be expected, a relatively quiet day but official figures indicated an overall total of 70,000 visitors from around 100 countries and regions, with opportunities to visit 2,144 exhibitors, as well as a full supporting program of conferences, forums, practical presentations, and panel discussions.
On the bus to the airport on our way home (yes, predictably, in the rain), we reflected upon a splendid live-event experience but not without some real concerns about the future of our industry. 
---
Suggested Items
09/21/2023 | KIC
KIC, a renowned pioneer in thermal process and temperature measurement solutions for electronics manufacturing, is thrilled to announce its participation in the upcoming SMTA Guadalajara Expo & Tech Forum.
09/21/2023 | Dymax
Dymax, a leading manufacturer of light-curing materials and equipment, will exhibit in booth 1526 at SMTA International 2023 in Minneapolis, MN, from October 10-11.
09/21/2023 | Altus Group
Altus Group, a leading supplier of capital equipment and services to the electronics manufacturing industry, has signed an agreement with SMT Thermal Discoveries to distribute its advanced reflow soldering and thermal technology solutions in Ireland.
09/21/2023 |
Intraratio, a provider of enterprise software solutions, is pleased to announce that Ryan Gamble, CEO and Founder of Intraratio, will deliver an informative keynote presentation at SMTA International 2023. T
09/20/2023 | PRNewswire
ICZOOM Group Inc., a B2B electronic component products e-commerce platform, provided details on the Company's accelerated growth and steady market expansion strategy, as the Company leverages its strengthened balance sheet and fortified global brand following its successful listing on Nasdaq earlier this year.