Books

Featured Books

smt007 Magazine

Latest Issues

Current Issue

Economic Headwinds

This issue takes stock of the current economic outlook and how companies are using current conditions to move themselves through technological evolutions, workforce shifts, and financial changes. Even with these headwinds, there's forward progress to be made.

Attracting New Talent

To get different results in staffing, you must change how you define, promote and recruit your job opportunities. How do you become magnetic to high-quality early-career candidates?

Test and Inspection

Test and inspection methods are undergoing rapid change. In this issue, we consider the influence of AOI, AI, and human eyes. How exactly are these pieces of the puzzle changing the role of test and inspection?

Columns

Latest Columns

||| MENU
Indium Corporation's Dr. Richard McDonough Assumes Role as Material Research Scientist
December 27, 2022 | Indium Corporation
Estimated reading time: 1 minute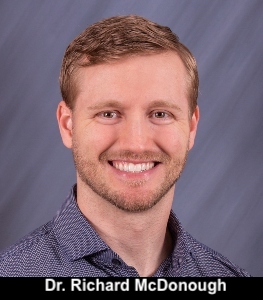 Indium Corporation is pleased to announce that Dr. Richard McDonough has been named Material Research Scientist.
In his new role, Dr. McDonough is responsible for developing new thermal materials and products, and providing solutions for customer challenges and applications. He also develops new testing methods to evaluate power and thermal products, and gathers data on new and existing products for marketing presentations.
Dr. McDonough joined Indium Corporation in August 2018 as a Product Specialist, most recently supporting the Semiconductor product line as a Senior Product Specialist. He has aided in the development of new products and the improvement of existing processes during his time with the company. Most notably, he assisted with the development of PicoShot® and Indium12.8HF solder pastes for dispensing and jetting applications; helped to progress the development of sintering materials; and served as a dispensing expert for Indium Corporation. 
Prior to joining Indium Corporation, Dr. McDonough worked as an Analytical Chemist for Bristol Myers Squibb and as a Nuclear Engineering Officer in the U.S. Navy. He earned his bachelor's degree in chemistry from West Virginia University; his master's degree in physical chemistry from Syracuse University; and his Ph.D. in physical chemistry/biochemistry from Syracuse University.
---
Suggested Items
11/30/2023 | AIM
AIM Solder, a leading global manufacturer of solder assembly materials for the electronics industry, is pleased to announce its new NC259FPA Ultrafine No Clean Solder Paste, which it revealed recently during the Productronica Germany trade show.
11/27/2023 | Real Time with...productronica
Koh Young's Harald Eppinger talks about the company's technology for the semiconductor and advanced packaging market and how they address the challenges introduced by reflective components and micro solder deposits.
11/27/2023 | HyRel
HyRel Technologies, a global provider of quick turn semiconductor modification solutions, announces the achievement of International Traffic in Arms Regulations (ITAR) registration.
11/24/2023 | Mek (Marantz Electronics)
Mek (Marantz Electronics), a leader in Automated Optical Inspection (AOI) solutions, used last weeks' Productronica show in Munich to proudly introduce the SpectorBOX X series, a modular full 3D AOI system for THT solder joints and THT components.
11/21/2023 | Pete Starkey, I-Connect007
Productronica 2023 played host to the IPC World Hand Soldering Competition, bringing talented regional solder champions from all over the globe to compete for the title of World Champion. Each competitor was given sixty minutes to assemble a complex printed circuit board with their performance judged in accordance with IPC-A-610 Class 3 criteria. Each competitor's efforts were rated on the merits of the results achieved, scored on the quality of the assembly process, the electrical functionality of the assembly and the speed at which the assembly was produced.