Books

Featured Books

smt007 Magazine

Latest Issues

Current Issue

Chips Don't Float

In Europe and the U.S., legislation is under way to revitalize PCB fabrication and packaging. What is the status of this work, and how specifically does this change the industry landscape for EMS companies? What will help keep us afloat?

Flying High With Digital Twin

The opportunity to use manufacturing simulation as a test bed for job planning and process optimization brings continuous improvement into the modern age. This may be an all-or-nothing type of project, but it's worth the investment.

Artificial Intelligence

In this issue, we (and AI) explored how and when artificial intelligence plays a role in manufacturing today. Whether on the factory floor, or in the front office, AI applications are emerging and changing how we approach planning, processes and problem solving.

Columns

Latest Columns

||| MENU
Indium Corporation's Dr. Richard McDonough Assumes Role as Material Research Scientist
December 27, 2022 | Indium Corporation
Estimated reading time: 1 minute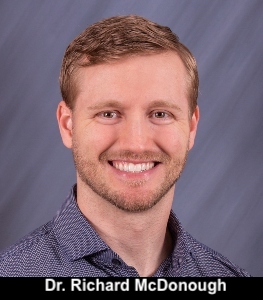 Indium Corporation is pleased to announce that Dr. Richard McDonough has been named Material Research Scientist.
In his new role, Dr. McDonough is responsible for developing new thermal materials and products, and providing solutions for customer challenges and applications. He also develops new testing methods to evaluate power and thermal products, and gathers data on new and existing products for marketing presentations.
Dr. McDonough joined Indium Corporation in August 2018 as a Product Specialist, most recently supporting the Semiconductor product line as a Senior Product Specialist. He has aided in the development of new products and the improvement of existing processes during his time with the company. Most notably, he assisted with the development of PicoShot® and Indium12.8HF solder pastes for dispensing and jetting applications; helped to progress the development of sintering materials; and served as a dispensing expert for Indium Corporation. 
Prior to joining Indium Corporation, Dr. McDonough worked as an Analytical Chemist for Bristol Myers Squibb and as a Nuclear Engineering Officer in the U.S. Navy. He earned his bachelor's degree in chemistry from West Virginia University; his master's degree in physical chemistry from Syracuse University; and his Ph.D. in physical chemistry/biochemistry from Syracuse University.
---
Suggested Items
09/20/2023 | ULT AG
At this year's productronica, the world's leading trade show for electronics manufacturing, ULT will present a brand new extraction solution for solder fumes and vapor.
09/20/2023 | Hentec Industries/RPS Automation
Hentec Industries/RPS Automation, a leading manufacturer of selective soldering, component lead tinning and solderability test equipment, announces that it has added assembly and production staff members to its team to accommodate its recent increase in sales and order demand.
09/19/2023 | SMTA
SMTA is honored to announce Qais Qasaimeh, a graduate student at Auburn University, has been selected as the winner of the 2023 Charles Hutchins Educational Grant.
09/14/2023 | SHENMAO
SHENMAO America, Inc. is proud to introduce its latest innovation in response to the growing demand for ultra-thin packages in the electronics industry.
09/14/2023 | Peters
For Peters, the new Reflow 1.8. soldering machine from SEHO is an investment in the future. Like its predecessor, this machine is used in the laboratory for testing high-quality solder resists. Before the coatings are entrusted to the customers, Peters performs a thermal soldering simulation.