Rice Flashes New Life Into Lithium-ion Anodes
December 30, 2022 | Rice University
Estimated reading time: 2 minutes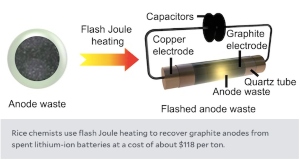 How many rechargeable lithium-ion batteries are you wearing? How many are in your general vicinity?
Probably more than a few, and they're great for powering all the things important to modern lives: cellphones, watches, computers, cars and so much more.
But where they go when they fail is a growing problem. Rice University scientists believe they have a partial solution that relies on the unique "flash" Joule heating process they developed to produce graphene from waste.
The Rice lab of chemist James Tour has reconfigured the process to quickly regenerate graphite anode materials found in lithium-ion batteries, removing impurities so they can be used again and again.
The lab's work appears in Advanced Materials.
Flashing powdered anodes from commercial batteries recycles some of what the researchers called the "staggering" accumulation of waste they currently leave behind. In just a few seconds, a jolt of high energy decomposes inorganic salts including lithium, cobalt, nickel and manganese from an anode. These can be recovered by processing them with dilute hydrochloric acid.
"The production of lithium-ion batteries in 2026 is expected to be five times what it was in 2017, and right now, less than 5% of them are recycled," said Tour, who introduced the flash process for graphene in 2020. "That puts a heavy load on the environment, as these spent batteries are processed and the anodes burned for energy or sent for landfills.
"We're claiming our process can recover critical metals and recondition anodes in a far more environmentally and economically friendly manner," he continued.
The lab reported that flashing anodes degrades the solid-electrolyte interphase (SEI), which conducts lithium ions but also insulates the anode from detrimental reactions.
Flashing then coats the remaining graphite particles with an ion-permeable carbon shell that contributes to their future capacity, rate performance and cycling stability compared to materials conventionally recycled in a time-consuming and energy-intensive process known as high-temperature calcination.
The lab estimated it would cost about $118 to recycle one ton of untreated anode waste. They demonstrated that flash-recycled anodes have a recovered specific capacity of 351 milliAmp hours per gram at 32 degrees Fahrenheit, superior to the rate performance and electrochemical stability of untreated or calcinated recycled anodes.
The recycled, flashed anodes the researchers tested retained more than 77% of their capacity after 400 recharge cycles.
"Beyond the spent graphite anodes, we are confident that the cathodes, the electrolytes and their mixtures can be effectively recycled or reconditioned by our method," said Rice graduate student Weiyin Chen, lead author of the study.
Co-authors are Rice academic visitor Rodrigo Salvatierra; alumnus John Tianci Li; research scientist Carter Kittrell; graduate students Jacob Beckham, Kevin Wyss, Nghi La, Paul Savas, Chang Ge, Paul Advincula, Phelecia Scotland and Lucas Eddy; and postdoctoral researchers Bing Deng and Zhe Yuan.
---
Suggested Items
09/26/2023 | Cadence Design Systems, Inc.
Cadence Design Systems, Inc. announced the expansion of its node-to-node design migration flow based on the Cadence® Virtuoso® Studio, which is compatible with all TSMC advanced nodes, including the latest N3E and N2 process technologies.
09/25/2023 | Koh Young
Koh Young Technology, the leader in True3D™ measurement-based inspection solutions, will discuss the increasingly significant role of data collection and analysis to enable Generative Artificial Intelligence (GenAI) functionality to improve productivity in our industry.
09/28/2023 | Michael Carano -- Column: Trouble in Your Tank
In a previous column, the critical process of desmear and its necessity to ensure a clean copper surface connection was presented. Now, my discussion will focus on obtaining a void-free and tightly adherent copper plating deposit on these surfaces. After the desmear process, the task is to insure a continuous, conductive, and void-free deposit on the via walls and capture pad. Today, there are several processes that can be utilized to render vias conductive.
09/25/2023 | Don Ball -- Column: The Chemical Connection
If your HDI or UHDI production process is quality challenged, don't assume your etcher is to blame. Many factors impact the quality of the final product, so assess broadly, and you may find that the "the devil is in the details." Generally, the first place most people can get good product specification measurement is at the end of the etching process, It's natural and easy to blame quality shortcomings on the etcher. By all means, look at your etcher and invest some time trying to improve its performance but don't stop there. Other factors may be affecting the etch uniformity.
09/21/2023 | KIC
KIC, a renowned pioneer in thermal process and temperature measurement solutions for electronics manufacturing, is thrilled to announce its participation in the upcoming SMTA Guadalajara Expo & Tech Forum.