Electronic On-the-Go COVID-19 & RSV Test to Debut at CES 2023 SM
January 3, 2023 | PR Newswire
Estimated reading time: 2 minutes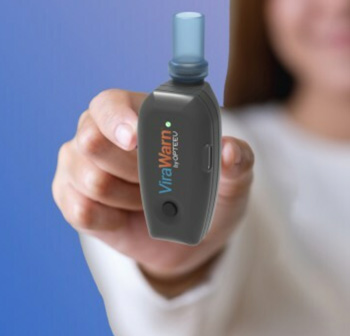 Opteev Technologies, Inc. announced it is debuting at CES 2023 an affordable breath analyzer, ViraWarn, that detects COVID-19, Influenza, and RSV and provides a result in less than 60 seconds. The device, which is multiple-use and rechargeable, will be on display at the influential technology event happening this week in Las Vegas, NV. Press will be able to get 'hands on' with ViraWarn for the first time while Opteev demonstrates this remarkable new way to self-test at CES Unveiled on Tuesday, January 3rd at the Mandalay Bay Convention Center from 5 – 8:30 pm and at the Las Vegas Convention Center, North Hall, Booth #8317 from January 5th – 8th.
CES is an annual trade show that features the latest products and trends across all aspects of the consumer electronics industry. ViraWarn, which will be debuting in the Health & Wellness Hall at CES 2023, was submitted to the FDA this past summer for review as a new easy-to-use and multiple-use test for COVID-19 and other respiratory illnesses.
ViraWarn uses a silk-based biosensor that attracts the electrical discharge of respiratory viruses coupled with an artificial intelligence processor to filter out any potential inaccuracies.  Extremely user-friendly, users simply turn it on, blow twice into the mouthpiece, and an LED notification light will indicate a positive or negative result in under 60 seconds. ViraWarn is reusable and comes with multiple biosensor replacement cartridges that only require being replaced after a positive result or after a period of 2 – 3 weeks of daily usage.
"We're looking forward to debuting ViraWarn to the public at CES this week," said Conrad Bessemer, President and Co-Founder of Opteev. "ViraWarn is designed to allow users an ultra-fast and convenient way to know if they're spreading a dangerous respiratory virus so they can stop the spread and save lives in the process. As COVID, RSV, and Influenza are continuing to surge, we're eager to bring ViraWarn to market so consumers can easily blow into a personal device and immediately find out if they're positive or negative."
ViraWarn is currently under review by the FDA and will hit the market once it becomes approved. In the meantime, updates on ViraWarn's release date will be available by signing up on Opteev's website at www.virawarn.com or by visiting Opteev's booth at CES 2023.
Disclaimer: The statements made regarding these products have not been evaluated by the Food and Drug Administration. This press release is not intended to be a substitute for professional medical advice, diagnosis, or treatment. Please check with your doctor. The news site hosting this press release is not associated with Opteev Technologies, Inc. It is merely publishing a press release announcement submitted by a company, without any stated or implied endorsement of the product or service.
About Opteev Technologies, Inc.
Opteev Technologies, Inc, is a Baltimore, MD-based technology company that is revolutionizing self-diagnostics through its novel viral detection technology. Established in 2020, Opteev is a subsidiary company of Novatec, Inc., a 50-year-old manufacturer, and supplier of machinery and sensor technology, and employs over 200 individuals in Maryland, including engineers, virologists, and other clinical staff, and partners with testing laboratories and hospitals in New Jersey and in India to conduct ongoing clinical trials for its new and developing self-diagnostic devices like ViraWarn.
---
Suggested Items
09/25/2023 | StenTech
StenTech Inc., the leading multinational SMT Printing Solutions company, is pleased to announce plans to exhibit at the SMTA Guadalajara Expo, scheduled to take place Oct. 25-26, 2023 at the Expo Guadalajara in Guadalajara, Jalisco, Mexico.
09/22/2023 | ACN Newswire
Nanofiber Quantum Technologies Inc. raised $8.5m from leading venture capital investors. Phoenix Venture Partners (PvP) in the US, and Japan's JAFCO Group Co Ltd, SPARX Group Co Ltd, Keio Innovation Initiative, Inc. (KII), and Waseda University Ventures (WUV) financed the round through convertible notes.
09/21/2023 | ViTrox
ViTrox, which aims to be the world's most trusted technology company, is pleased to announce the addition of Hayden Dalton to our team as a Field Support Engineer who based in Milwaukee, WI, effective August 21, 2023.
09/20/2023 | Qualcomm Technologies, Inc.
Qualcomm Technologies, Inc. is ushering in a new era of home connectivity, and new opportunities for service providers, with the introduction of the Qualcomm® 10G Fiber Gateway Platform and its signature feature, Qualcomm® Service Defined Wi-Fi technology.
09/19/2023 | Mirtec
MIRTEC, 'The Global Leader in Inspection Technology', is pleased to announce its participation in the upcoming SMTA Guadalajara Expo on Wednesday, Oct. 25, 2023.