Books

Featured Books

pcb007 Magazine

Latest Issues

Current Issue

The Registration Sweet Spot

Registration is underrated and underappreciated. The key is to ensure proper registration from layer to layer across the entire printed circuit board. It's a holistic process requiring anticipation, prediction, precise attention at each step, and detailed data tracking and monitoring.

High-reliability Fabrication

In this month's issue, our expert contributors discuss the latest in technologies, trends, complexities and resources regarding high-reliability fabrication.

Finding Ultra

New demands on PCB fabrication, namely advanced packaging, ultra high density interconnect (UHDI), and new specialty materials, are converging, changing the landscape of our business. Is it time to start paying close attention to this convergence?

Columns

Latest Columns

||| MENU
IPC Debuts First Issue of IPC Community at IPC APEX EXPO 2023
January 24, 2023 | IPC
Estimated reading time: 2 minutes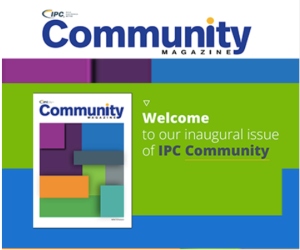 Monday at IPC APEX EXPO 2023, IPC, in partnership with IPC Publishing Group, launched an industry-specific quarterly publication (a digital publication with a special print edition for show participants), "IPC Community." The publication celebrates member success while sharing the important work being done within the association to better serve its members and the global electronics manufacturing community.

With news and information to help readers be more competitive and profitable, the debut issue provides information on manufacturing and management best practices and solutions, emerging technologies, IPC standards, government relations issues, industry intelligence, advanced packaging, sustainability regional office updates, and more.
"The name 'Community' refers to all of us – the global team of electronics manufacturers throughout the vast supply chain," said IPC President and CEO John Mitchell. "'IPC Community' is our way of honoring and serving that connection, that community of individuals who share the same goal and who work together to build electronics better," Mitchell added. "We're excited about the possibilities of this quarterly magazine taking our ability to disseminate important information to the next level, all while making sure member stories and voices are reflected and commemorated."
"Articles within 'IPC Community' are written to appeal to our members, to provide them with must-read, relevant and timely content," said Brian Knier, IPC chief marketing officer. The editorial team is committed to providing news items that are of high value, but we encourage reader feedback. We want readers to share their success stories with us – to suggest any editorial content, please reach out to Managing Editor Michelle Te, at MichelleTe@ipc.org."
"Developing this publication has been such a joy," said Michelle Te. "It has been the members and readers that propelled our efforts forward in developing it and seeing it through. Their hard work and dedication to the electronics manufacturing industry are what have made the collaboration so special. I'm excited to share this first issue and look forward to the many more stories we will be able to tell in future issues."
The second quarter issue of IPC Community will be distributed on April 15, 2023. To subscribe to "IPC Community," visit www.ipccommunity.org. For inquiries regarding advertising opportunities within the magazine, contact Barb Hockaday, ad sales manager, at BarbHockaday@ipc.org or view media kit.
About IPC
IPC (www.IPC.org) is a global industry association based in Bannockburn, Ill., dedicated to the competitive excellence and financial success of its 3,000+ member companies which represent all facets of the electronics industry, including design, printed board manufacturing, electronics assembly, test and advanced packaging. As a member-driven organization and leading source for industry standards, training, market research and public policy advocacy, IPC supports programs to meet the needs of an estimated $2 trillion global electronics industry. IPC maintains additional offices in Atlanta, Georgia; Washington, D.C.; Orlando, Fla.; Munich, Germany; Brussels, Belgium; Bangalore and New Delhi, India; Bangkok, Thailand; and Qingdao, Shanghai, Shenzhen, Chengdu, Suzhou and Beijing, China.
---
Suggested Items
12/08/2023 | TT Electronics
TT Electronics, a leading provider of global manufacturing solutions and engineered technologies, announced today that one of its Asia electronics manufacturing facilities has received approval from the Food and Drug Administration (FDA), through its premarket approval (PMA) supplement evaluation process, to manufacture Class IIa devices on behalf of global medical OEM customers.
12/07/2023 | VDL Groep
VDL Groep has strengthened its position in the high-quality electronics market. The industrial family business with its head office in Eindhoven has acquired Rena Electronica from Zundert.
12/05/2023 | HANZA
HANZA AB has signed an agreement to acquire all shares in Orbit One AB, a Swedish company that offers contract manufacturing of electronics and electromechanics. Orbit One has annual sales of approximately SEK 1.1 billion with an operating profit (EBITA) of approximately SEK 70 million.
12/05/2023 | IPC
Electronics industry sentiment improved during November with demand sentiment also taking a solid step up over the last 30 days per IPC's November 2023 Global Sentiment of the Electronics Supply Chain Report.
12/05/2023 | Robert Erickson and Lorena Villanueva, IPC
About 200 kilometers (125 miles) north of Mexico City lies Queretaro, an area rich in history, with stone streets and public squares, and which twice has been the country's capital. But it's also quickly becoming a global capital of electronics manufacturing, especially aeronautics, and was the location for the first IPC Day Mexico this past June.