Books

Featured Books

pcb007 Magazine

Latest Issues

Current Issue

Finding Ultra

New demands on PCB fabrication, namely advanced packaging, ultra high density interconnect (UHDI), and new specialty materials, are converging, changing the landscape of our business. Is it time to start paying close attention to this convergence?

Developing a Strategy

A solid strategy is a critical part of success. This month, we asked some of the top industry leaders and business strategy "gurus" to share their thoughts on developing strategies.

Winning With TQM

In this issue, we explore how TQM has entered the DNA of continuous improvement disciplines, and the role leadership transformation plays in this. If you've ever competed against a TQM company, you understand their winning advantage.

Columns

Latest Columns

||| MENU
IPC Debuts First Issue of IPC Community at IPC APEX EXPO 2023
January 24, 2023 | IPC
Estimated reading time: 2 minutes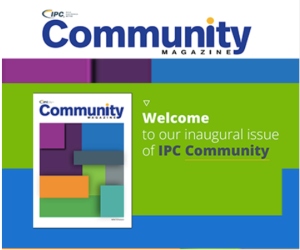 Monday at IPC APEX EXPO 2023, IPC, in partnership with IPC Publishing Group, launched an industry-specific quarterly publication (a digital publication with a special print edition for show participants), "IPC Community." The publication celebrates member success while sharing the important work being done within the association to better serve its members and the global electronics manufacturing community.

With news and information to help readers be more competitive and profitable, the debut issue provides information on manufacturing and management best practices and solutions, emerging technologies, IPC standards, government relations issues, industry intelligence, advanced packaging, sustainability regional office updates, and more.
"The name 'Community' refers to all of us – the global team of electronics manufacturers throughout the vast supply chain," said IPC President and CEO John Mitchell. "'IPC Community' is our way of honoring and serving that connection, that community of individuals who share the same goal and who work together to build electronics better," Mitchell added. "We're excited about the possibilities of this quarterly magazine taking our ability to disseminate important information to the next level, all while making sure member stories and voices are reflected and commemorated."
"Articles within 'IPC Community' are written to appeal to our members, to provide them with must-read, relevant and timely content," said Brian Knier, IPC chief marketing officer. The editorial team is committed to providing news items that are of high value, but we encourage reader feedback. We want readers to share their success stories with us – to suggest any editorial content, please reach out to Managing Editor Michelle Te, at MichelleTe@ipc.org."
"Developing this publication has been such a joy," said Michelle Te. "It has been the members and readers that propelled our efforts forward in developing it and seeing it through. Their hard work and dedication to the electronics manufacturing industry are what have made the collaboration so special. I'm excited to share this first issue and look forward to the many more stories we will be able to tell in future issues."
The second quarter issue of IPC Community will be distributed on April 15, 2023. To subscribe to "IPC Community," visit www.ipccommunity.org. For inquiries regarding advertising opportunities within the magazine, contact Barb Hockaday, ad sales manager, at BarbHockaday@ipc.org or view media kit.
About IPC
IPC (www.IPC.org) is a global industry association based in Bannockburn, Ill., dedicated to the competitive excellence and financial success of its 3,000+ member companies which represent all facets of the electronics industry, including design, printed board manufacturing, electronics assembly, test and advanced packaging. As a member-driven organization and leading source for industry standards, training, market research and public policy advocacy, IPC supports programs to meet the needs of an estimated $2 trillion global electronics industry. IPC maintains additional offices in Atlanta, Georgia; Washington, D.C.; Orlando, Fla.; Munich, Germany; Brussels, Belgium; Bangalore and New Delhi, India; Bangkok, Thailand; and Qingdao, Shanghai, Shenzhen, Chengdu, Suzhou and Beijing, China.
---
Suggested Items
09/21/2023 | Dymax
Dymax, a leading manufacturer of light-curing materials and equipment, will exhibit in booth 1526 at SMTA International 2023 in Minneapolis, MN, from October 10-11.
09/21/2023 | Altus Group
Altus Group, a leading supplier of capital equipment and services to the electronics manufacturing industry, has signed an agreement with SMT Thermal Discoveries to distribute its advanced reflow soldering and thermal technology solutions in Ireland.
09/21/2023 |
Intraratio, a provider of enterprise software solutions, is pleased to announce that Ryan Gamble, CEO and Founder of Intraratio, will deliver an informative keynote presentation at SMTA International 2023. T
09/20/2023 | PRNewswire
ICZOOM Group Inc., a B2B electronic component products e-commerce platform, provided details on the Company's accelerated growth and steady market expansion strategy, as the Company leverages its strengthened balance sheet and fortified global brand following its successful listing on Nasdaq earlier this year.
09/20/2023 | Murray Percival Company
The Murray Percival Company proudly unveils its latest promotion, spotlighting its range of depanelizers.