Books

Featured Books

smt007 Magazine

Latest Issues

Current Issue

Economic Headwinds

This issue takes stock of the current economic outlook and how companies are using current conditions to move themselves through technological evolutions, workforce shifts, and financial changes. Even with these headwinds, there's forward progress to be made.

Attracting New Talent

To get different results in staffing, you must change how you define, promote and recruit your job opportunities. How do you become magnetic to high-quality early-career candidates?

Test and Inspection

Test and inspection methods are undergoing rapid change. In this issue, we consider the influence of AOI, AI, and human eyes. How exactly are these pieces of the puzzle changing the role of test and inspection?

Columns

Latest Columns

||| MENU
IPC Education Foundation Announces New Website Launch
January 24, 2023 | IPC
Estimated reading time: 2 minutes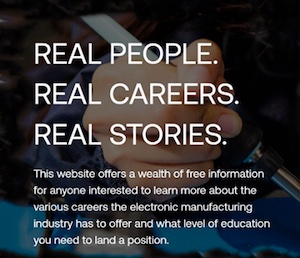 The electronics manufacturing industry offers a wide range of career opportunities for all levels of education and experience. To make career searches easier, the IPC Education Foundation (IPCEF) launched a new, industry-focused career website www.careersinelectronics.com.
The interactive website features a variety of career profiles associated with the electronics manufacturing industry, including job descriptions, typical skills needed, estimated salary ranges, and videos of individuals working in electronics manufacturing careers to provide detailed information on specific jobs.
Charlene Gunter, IPCEF senior director said, "If anyone is interested in any aspect of the electronics industry, be it in design, soldering, robotics, chemistry, machinery, or computers, there is a career path available. This website will be a valuable resource not only to the future workforce but also to the industry, because it provides employers the opportunity to share valuable information about careers, to promote opportunities through the launch of a unique job board, and to participate by showcasing real people in real jobs as industry members to share their stories."
Foundation staff connected with many industry representatives to share their career advice with potential jobseekers, and it became clear that the electronics industry provides opportunities for all types of interests. "Whether it be designing computers, creating software, or deciding which materials to build with and test them in the lab, every facet of science, engineering, and business development have a home in the electronics industry," said Christina Rutherford, a hardware engineer at Honeywell and IPC Emerging Engineer program participant.
Diane Jung, R&D/process engineer at Glenair provided her thoughts about the exciting opportunities within the industry and commented, "Since electronics are prevalent and so embedded in our daily lives, the electronics industry is crucial, stable, and rapidly growing. Students who desire to learn, innovate, and impact the world on various scales can be fulfilled here."
"For years, workforce development, training, and availability have been among the most pressing concerns for leaders in companies throughout the electronics supply chain," said Joe O'Neil, IPCEF chair. "Through its efforts to provide access to crucial information and resources for career development, as well as connecting students with industry professionals and companies, the IPC Education Foundation is addressing these issues head-on and working to ensure that the industry has a highly-skilled and motivated workforce that is prepared to meet the evolving needs of the industry."
"The "careers in electronics" website will be updated on a regular basis to serve the industry and to identify a talent pipeline to address the industry's needs. Visitors are encouraged to sign up to become an insider. To learn more on how to get involved, contact, Charlene Gunter at charlenegunter@ipc.org or visit www.careersinelectronics.com.
About IPC
IPC (www.IPC.org) is a global industry association based in Bannockburn, Ill., dedicated to the competitive excellence and financial success of its 3,000+ member companies which represent all facets of the electronics industry, including design, printed board manufacturing, electronics assembly, test and advanced packaging. As a member-driven organization and leading source for industry standards, training, market research and public policy advocacy, IPC supports programs to meet the needs of an estimated $2 trillion global electronics industry.
About IPC Education Foundation
The IPC Education Foundation's (www.ipcef.org) mission is to create awareness of the careers the electronics manufacturing industry has to offer and promote opportunities to students in high school and technical college/university by providing them access to knowledge and content and connections with people and companies.
---
Suggested Items
12/08/2023 | TT Electronics
TT Electronics, a leading provider of global manufacturing solutions and engineered technologies, announced today that one of its Asia electronics manufacturing facilities has received approval from the Food and Drug Administration (FDA), through its premarket approval (PMA) supplement evaluation process, to manufacture Class IIa devices on behalf of global medical OEM customers.
12/07/2023 | VDL Groep
VDL Groep has strengthened its position in the high-quality electronics market. The industrial family business with its head office in Eindhoven has acquired Rena Electronica from Zundert.
12/05/2023 | HANZA
HANZA AB has signed an agreement to acquire all shares in Orbit One AB, a Swedish company that offers contract manufacturing of electronics and electromechanics. Orbit One has annual sales of approximately SEK 1.1 billion with an operating profit (EBITA) of approximately SEK 70 million.
12/05/2023 | IPC
Electronics industry sentiment improved during November with demand sentiment also taking a solid step up over the last 30 days per IPC's November 2023 Global Sentiment of the Electronics Supply Chain Report.
12/05/2023 | Robert Erickson and Lorena Villanueva, IPC
About 200 kilometers (125 miles) north of Mexico City lies Queretaro, an area rich in history, with stone streets and public squares, and which twice has been the country's capital. But it's also quickly becoming a global capital of electronics manufacturing, especially aeronautics, and was the location for the first IPC Day Mexico this past June.