Books

Featured Books

pcb007 Magazine

Latest Issues

Current Issue

Finding Ultra

New demands on PCB fabrication, namely advanced packaging, ultra high density interconnect (UHDI), and new specialty materials, are converging, changing the landscape of our business. Is it time to start paying close attention to this convergence?

Developing a Strategy

A solid strategy is a critical part of success. This month, we asked some of the top industry leaders and business strategy "gurus" to share their thoughts on developing strategies.

Winning With TQM

In this issue, we explore how TQM has entered the DNA of continuous improvement disciplines, and the role leadership transformation plays in this. If you've ever competed against a TQM company, you understand their winning advantage.

Columns

Latest Columns

||| MENU
North American PCB Industry Sales Down 1.7% in December
January 27, 2023 | IPC
Estimated reading time: 2 minutes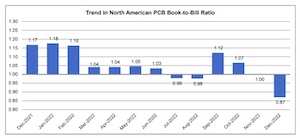 IPC announced the December 2022 findings from its North American Printed Circuit Board (PCB) Statistical Program. The book-to-bill ratio stands at 0.87.
Total North American PCB shipments in December 2022 were up down 1.7 percent compared to the same month last year. Compared to the preceding month, December shipments dropped 5.1 percent.
PCB year-to-date bookings in December were down 26.5 percent compared to last year. December bookings were up 8.1 percent compared to the same month last year.
"Some of the weakness in this month's book-to-bill reflects uneven shipments figures in recent months," said Shawn DuBravac, IPC's chief economist. "December results showed a second consecutive month of improvement. For the year, order were down 6.5 percent while shipments were up 10.1 percent."
Detailed Data Available
Companies that participate in IPC's North American PCB Statistical Program have access to detailed findings on rigid PCB and flexible circuit sales and orders, including separate rigid and flex book-to-bill ratios, growth trends by product types and company size tiers, demand for prototypes, sales growth to military and medical markets, and other timely data.
Interpreting the Data
The book-to-bill ratios are calculated by dividing the value of orders booked over the past three months by the value of sales billed during the same period from companies in IPC's survey sample. A ratio of more than 1.00 suggests that current demand is ahead of supply, which is a positive indicator for sales growth over the next three to twelve months. A ratio of less than 1.00 indicates the reverse.
Year-on-year and year-to-date growth rates provide the most meaningful view of industry growth. Month-to-month comparisons should be made with caution as they reflect seasonal effects and short-term volatility. Because bookings tend to be more volatile than shipments, changes in the book-to-bill ratios from month to month might not be significant unless a trend of more than three consecutive months is apparent. It is also important to consider changes in both bookings and shipments to understand what is driving changes in the book-to-bill ratio.
IPC's monthly PCB industry statistics are based on data provided by a representative sample of both rigid PCB and flexible circuit manufacturers selling in the USA and Canada. IPC publishes the PCB book-to-bill ratio by the end of each month.
About IPC
IPC (www.IPC.org) is a global industry association based in Bannockburn, Ill., dedicated to the competitive excellence and financial success of its more than 3,100-member company sites which represent all facets of the electronics industry, including design, printed board manufacturing, electronics assembly and test. As a member-driven organization and leading source for industry standards, training, market research and public policy advocacy, IPC supports programs to meet the needs of an estimated $2 trillion global electronics industry. IPC maintains additional offices in Washington, D.C.; Atlanta, Ga.; Miami, Fla.; Brussels, Belgium; Bangalore and New Delhi, India; Bangkok, Thailand; and Qingdao, Shanghai, Shenzhen, Chengdu, Suzhou and Beijing, China.
---
Suggested Items
09/21/2023 | SEMI
The SEMI Semiconductor Climate Consortium (SCC) issued its first report of the semiconductor ecosystem's greenhouse gas (GHG) emissions profile, an in-depth analysis of the semiconductor value chain's carbon footprint and priority-ranked carbon emission sources for the industry to address.
09/20/2023 | PDR
PDR is set to showcase its cutting-edge IR-E3 Series of SMD/BGA IR rework systems, as well as its industry-leading X-ray solutions.
09/20/2023 | Hentec Industries/RPS Automation
Hentec Industries/RPS Automation, a leading manufacturer of selective soldering, component lead tinning and solderability test equipment, announces that it has added assembly and production staff members to its team to accommodate its recent increase in sales and order demand.
09/20/2023 | Austin American Technology (AAT)
Austin American Technology (AAT) is proud to announce its pivotal role as a key sponsor for the on-camera interviews conducted by Justin Cody Worden for What's New in Electronics (WNIE) at SMTA International 2023, October 10-11 in Minneapolis, MN.
09/19/2023 | Nolan Johnson -- Column: Nolan's Notes
When I stop to consider the dynamics in our industry at this moment, I keep coming back to the idea of "convergence." Aspects of our industry historically thought of as distinct and separate are blurring the lines and overlapping. As I look back on our coverage in the past five years, I see convergence taking place, moving like a glacier—slow and steady but with formidable force. In this issue of PCB007 Magazine, the three areas of convergence we consider are materials, advanced packaging, and UHDI.