Books

Featured Books

pcb007 Magazine

Latest Issues

Current Issue

The Registration Sweet Spot

Registration is underrated and underappreciated. The key is to ensure proper registration from layer to layer across the entire printed circuit board. It's a holistic process requiring anticipation, prediction, precise attention at each step, and detailed data tracking and monitoring.

High-reliability Fabrication

In this month's issue, our expert contributors discuss the latest in technologies, trends, complexities and resources regarding high-reliability fabrication.

Finding Ultra

New demands on PCB fabrication, namely advanced packaging, ultra high density interconnect (UHDI), and new specialty materials, are converging, changing the landscape of our business. Is it time to start paying close attention to this convergence?

Columns

Latest Columns

||| MENU
I-Connect007 Editor's Choice: Five Must-Reads for the Week
January 27, 2023 | Nolan Johnson, I-Connect007
Estimated reading time: 3 minutes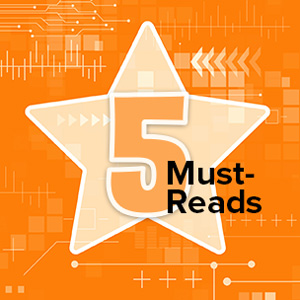 This week, the IPC APEX EXPO event has cast a long shadow across the news feeds. No, that's not the right metaphor. No, not a shadow; shadows are dark. It would be more accurate to say IPC APEX EXPO cast a beam of illumination upon the news feeds for the electronics manufacturing industry. To that end, the APEX EXPO news makes a prominent appearance in this week's editor's picks.
If there is a theme to this week's selections, it's resources. Content, a new careers website, a new magazine launch, and an introduction to flexible circuit assembly processes. On a more somber note, we also wish to make everyone aware of the passing of Jack Fisher, an icon of this industry.
In mid-February, look for our "Real Time with… IPC APEX EXPO 2023 Show & Tell" special edition magazine to find out about all the events and news from the annual trade show. 
Real Time with… IPC APEX EXPO 2023
Published January 25
Okay, okay. Maybe this is a bit of a cheat, but it's my turn to curate this list and I think that the entire body of show floor video interviews is must-see content for the industry. We showcase industry leaders, strategists, business units, and award-winning technical papers. It doesn't matter who you are or what your professional role, there is useful information amongst the 60 or so interviews here for you.
IPC Education Foundation Announces New Website Launch 
Published January 24
The electronics manufacturing industry offers a wide range of career opportunities for all levels of education and experience. To make career searches easier, the IPC Education Foundation (IPCEF) launched a new, industry-focused career website www.careersinelectronics.com.
The interactive website features a variety of career profiles associated with the electronics manufacturing industry, including job descriptions, typical skills needed, estimated salary ranges, and videos of individuals working in electronics manufacturing careers to provide detailed information on specific jobs. These resources should be useful to job seekers and hiring teams as well. 
IPC Debuts First Issue of IPC Community at IPC APEX EXPO 2023 
Published January 24
IPC, in partnership with IPC Publishing Group, launched an industry-specific quarterly publication, including a digital publication with a special print edition for show participants, "IPC Community." The publication, led by I-Connect007 managing editor Michelle Te, celebrates member success while sharing the important work being done within the association to better serve its members and the global electronics manufacturing community.
Launched at the recent IPC APEX EXPO, Community contains news and information to help readers be more competitive and profitable. The debut issue provides information on manufacturing and management best practices and solutions, emerging technologies, IPC standards, government relations issues, industry intelligence, advanced packaging, sustainability regional office updates, and more. Look for this magazine quarterly.
Designers Notebook: Flexible Circuits for In-line SMT Assembly Processing 
Published January 20
I-Connect007 columnist Vern Solberg explains how flexible circuits move through the assembly line. With flex circuits on the rise in certain applications, you may be finding yourself starting to work with this material. Solberg's column can help you sort your understanding of flex circuit assembly. 
In Memoriam: Jack Fisher Remembered 
Published January 24
The electronics manufacturing industry lost an icon when Jack Fisher passed away January 20, 2023. Jack began his career in the printed circuit board and electronics manufacturing industry with IBM in 1965. In 1994, Fisher retired from IBM and accepted the position of chief technology officer of the newly formed Interconnect Technology Research Institute (ITRI), which advocated industry research and development. During his five years with ITRI, the consortium published 10 technology reports on significant issues, many of which are still referenced today. A few of us collaborated with Jack over the years, and he'll be missed.
---
Suggested Items
12/08/2023 | TT Electronics
TT Electronics, a leading provider of global manufacturing solutions and engineered technologies, announced today that one of its Asia electronics manufacturing facilities has received approval from the Food and Drug Administration (FDA), through its premarket approval (PMA) supplement evaluation process, to manufacture Class IIa devices on behalf of global medical OEM customers.
12/07/2023 | VDL Groep
VDL Groep has strengthened its position in the high-quality electronics market. The industrial family business with its head office in Eindhoven has acquired Rena Electronica from Zundert.
12/05/2023 | HANZA
HANZA AB has signed an agreement to acquire all shares in Orbit One AB, a Swedish company that offers contract manufacturing of electronics and electromechanics. Orbit One has annual sales of approximately SEK 1.1 billion with an operating profit (EBITA) of approximately SEK 70 million.
12/05/2023 | IPC
Electronics industry sentiment improved during November with demand sentiment also taking a solid step up over the last 30 days per IPC's November 2023 Global Sentiment of the Electronics Supply Chain Report.
12/05/2023 | Robert Erickson and Lorena Villanueva, IPC
About 200 kilometers (125 miles) north of Mexico City lies Queretaro, an area rich in history, with stone streets and public squares, and which twice has been the country's capital. But it's also quickly becoming a global capital of electronics manufacturing, especially aeronautics, and was the location for the first IPC Day Mexico this past June.