Books

Featured Books

pcb007 Magazine

Latest Issues

Current Issue

Finding Ultra

New demands on PCB fabrication, namely advanced packaging, ultra high density interconnect (UHDI), and new specialty materials, are converging, changing the landscape of our business. Is it time to start paying close attention to this convergence?

Developing a Strategy

A solid strategy is a critical part of success. This month, we asked some of the top industry leaders and business strategy "gurus" to share their thoughts on developing strategies.

Winning With TQM

In this issue, we explore how TQM has entered the DNA of continuous improvement disciplines, and the role leadership transformation plays in this. If you've ever competed against a TQM company, you understand their winning advantage.

Columns

Latest Columns

||| MENU
Henniker Plasma: Plasma Treatment of Fluoropolymers
February 14, 2023 | Henniker Plasma
Estimated reading time: 2 minutes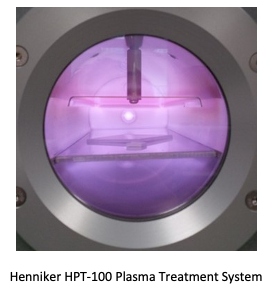 PTFE, and other fluorinated polymers, are chemically inert, thermally stable and highly hydrophobic, due to their intrinsically low surface energy. The chemical inertness of PTFE as an example, means that it is virtually impossible to form lasting adhesive bonds and coatings tend instead to form droplets and 3D particles on the surface rather than a uniform film. Traditional methods to increase the surface energy involve the use of aggressive primers which represent an ecological hazard.
Fluorinated polymers are not readily modified by standard plasma processes. Oxygen plasmas, which are successfully used to treat many hydrocarbon-based polymers, are not successful because the binding energy of the fluorine to carbon atom is far higher than that of oxygen to carbon. Plasma treatment of fluorinated polymers with oxygen plasmas instead causes a gradual etching of the surface, as opposed to surface activation.
The use of hydrogen plasma on the other hand, produces an immediate and lasting change in the nature of the fluoropolymer surface. The action of atomic hydrogen, generated by the plasma, is to react with surface fluorine and remove this into the gas phase where it is pumped away by the vacuum system. Hydrogen then terminates the free surface bonds to produce a CHx polymer surface which is readily wettable. The resulting surface is also mildly-etched on a microscopic scale which produces a microscopically structured surface. Both actions in combination result in a modified surface which may be glued, painted etc.

Typical Results
Results, below and across, show the change in morphology, water contact angle and surface energy obtained for PTFE following hydrogen plasma treatment. The surface energy of PTFE that has been plasma treated is actually lower than that of many common polyolefins, such as polyethylene and polypropylene, and well within the range of wettability required for many adhesives to form strong bonds.
Plasma Process
When gas atoms are ionised, the collision of high energy particles knocks electrons out of their orbits. This results in the characteristic "glow" or light associated with plasma. Plasmas many different species including atoms, molecules, ions, electrons, free radicals, metastables, and photons in the short wave ultraviolet (vacuum UV or VUV) range. Plasmas are generated in closed vessels at low pressures, typically < 1.0 Torr. The low pressure results in a long mean free path of the plasma species, so that they remain reactive until contact with a surface. The overall chamber temperature at the commonly used power levels and pressures is close to room temperature
---
Suggested Items
09/21/2023 | Anda Technologies
Anda Technologies, a leading provider of fluid application and custom automated manufacturing equipment, is excited to announce its participation in SMTA Guadalajara, a premier event in the electronics manufacturing industry.
09/14/2023 | Vern Solberg -- Column: Designer's Notebook
Flexible circuit applications can be as basic as furnishing electrical interconnect between two conventional circuit board assemblies, or to prove a platform for placing and interconnecting electronic components. During the planning and pre-design phase of the flexible circuit, there will be several material and process related questions that need to be addressed. Most flexible circuit fabricators welcome the opportunity to discuss their customers' flexible circuit objectives prior to beginning the actual design process.
09/11/2023 | ZESTRON
ZESTRON, the leading global provider of high-precision cleaning products, services, and training solutions in the electronics manufacturing and semiconductor industries, is thrilled to announce its participation in the upcoming Surface Mount Technology Association (SMTA) International Conference and Exhibition, scheduled to take place from October 9-12, 2023.
09/07/2023 | Austin American Technology (AAT)
Justin Worden, the dynamic Global Sales and Marketing Director at Austin American Technology (AAT), is no stranger to creating a buzz in the electronics industry.
09/06/2023 | Anda Technologies USA, Inc.
Anda Technologies, a leading provider of fluid application and custom automated manufacturing equipment, will exhibit in Booth #916 at the upcoming SMTA International exhibition. The event will be held at the Minneapolis Convention Center in Minnesota from Oct. 10-11, 2023.