Books

Featured Books

pcb007 Magazine

Latest Issues

Current Issue

Finding Ultra

New demands on PCB fabrication, namely advanced packaging, ultra high density interconnect (UHDI), and new specialty materials, are converging, changing the landscape of our business. Is it time to start paying close attention to this convergence?

Developing a Strategy

A solid strategy is a critical part of success. This month, we asked some of the top industry leaders and business strategy "gurus" to share their thoughts on developing strategies.

Winning With TQM

In this issue, we explore how TQM has entered the DNA of continuous improvement disciplines, and the role leadership transformation plays in this. If you've ever competed against a TQM company, you understand their winning advantage.

Columns

Latest Columns

||| MENU
Nano Dimension Hired Lazard to Advise on Potential Transformative Acquisitions
February 17, 2023 | Nano Dimension Ltd.
Estimated reading time: 1 minute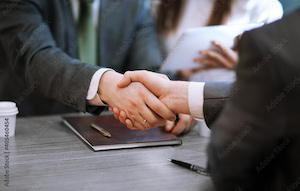 Nano Dimension Ltd., a leading supplier of Additively Manufactured Electronics (AME) and multi-dimensional polymer, metal & ceramic Additive Manufacturing (AM) 3D printers, announced that it has hired Lazard Ltd. (Lazard) as an advisor for strategic mergers & acquisitions (M&A) and for addressing Bistricer/Murchinson Ltd.'s challenges to the Company's value creation strategy for all shareholders. Lazard has been working with the Company on potential transformative acquisitions and growth maximization strategies, in furtherance of the Company's previously announced M&A master plan, complementing the advice provided to the Company by other advisors.
In addition to the above, the Company remains focused on its primary mission: to accelerate the growth of its business, and to leverage its unique market position and seize organic and inorganic opportunities for meaningful shareholder value creation. The current strategy has led to a growth in annual revenues at a rate of over 1,000% between the years 2020 and 2022, while preserving over $1 billion in cash.
Yoav Stern, Chairman and Chief Executive Officer, commented, "Our board of directors and management are excited to enter this new chapter of Nano Dimension's journey. The Company's mission continues to be to create the clear AM market leader and to transform AM, AM Electronics and adjacent industrial non-digitized sectors into an environmentally friendly and economically efficient additive manufacturing Industry 4.0. 2022 was a turning point for our Company, both from a strategic and financial standpoint and we do not want Bistricer/Murchinson's efforts to prematurely undermine the maximization of long-term value creation for all shareholders. Looking forward we are focused on reinvesting the capital that has been generated from our ongoing efforts in order to accelerate our development and growth, advance toward profitability and capture highly strategic and value-creating M&A consolidation opportunities."
---
Suggested Items
09/25/2023 | IDC
Newly released data from IDC's Worldwide Quarterly Mobile Phone Tracker shows that shipments of smartphones to the Gulf Cooperation Council (GCC) region increased 2.9% year on year in Q2 2023, with growth of 2.8% on the previous quarter.
09/25/2023 | Camtek
Camtek Ltd., together with FormFactor, Inc., are pleased to announce that they have entered into an agreement for the acquisition by Camtek of FormFactor, Inc.'s FRT Metrology business for $100 million in cash, subject to customary purchase price adjustments.
09/22/2023 | BUSINESS WIRE
Nordson Corporation (NASDAQ: NDSN) shared today that Anne Pombier has announced her intention to retire as Vice President, Corporate Development, effective April 1, 2024. Ms. Pombier will be succeeded by Katie Colacarro, who will be promoted from her current role as Director of Internal Audit, effective January 1, 2024. They will be working together over the next several months to ensure a smooth transition, continuing the momentum of the Company's inorganic growth strategy.
09/21/2023 | IDC
Global shipments for wearable devices returned to growth in the second quarter of 2023 (2Q23) reversing two quarters of decline, according to new data from the International Data Corporation (IDC) Worldwide Quarterly Wearable Device Tracker.
09/20/2023 | PRNewswire
ICZOOM Group Inc., a B2B electronic component products e-commerce platform, provided details on the Company's accelerated growth and steady market expansion strategy, as the Company leverages its strengthened balance sheet and fortified global brand following its successful listing on Nasdaq earlier this year.