Interconnect Solutions Company Earns IPC/WHMA-A-620 QML Requalification
March 8, 2023 | IPC
Estimated reading time: 1 minute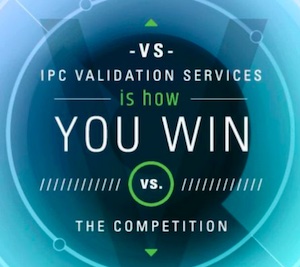 IPC's Validation Services Program has awarded a requalification of the IPC/WHMA-A-620 Qualified Manufacturers Listing (QML) Class 3, to Interconnect Solutions Company in Fountain Valley, California. 
The company has built custom power cables and assemblies since 1971 and continues to be a trusted quality supplier meeting the stringent requirements of IPC's foremost standard: IPC/WHMA-A-620, Requirements and Acceptance for Cable and Wire Harness Assemblies.
Interconnect Solutions Company has fulfilled or exceeded the requirements for the electronics industry's most rigorous classification, Class 3, which is intended for high performance electronic assemblies.       
"Interconnect Solutions Company is pleased to announce the successful requalification to IPC/WHMA-A-620 for our Fountain Valley, California facility. The partnership with IPC's Validation Services team has helped strengthen our internal processes and allows us to continue to offer best in class manufacturing services," said David Herrera, vice president of operations, Interconnect Solutions Company.
IPC's Validation Services QPL/QML programs were developed to promote supply chain verification and recognition. It also provides auditing and qualification of electronics companies' products and identifies processes which conform to IPC standards.
"Different from other audit programs, IPC's Validation Services Programs uniquely provides technical and in-depth assessments of products and processes in accordance with IPC standards," said Randy Cherry, IPC director of Validation Services. "We are pleased to especially recognize Interconnect Solutions Company for maintaining their participation in IPC's network of trusted suppliers."
---
Suggested Items
09/29/2023 | Dixon
Dixon wholly owned subsidiary- Padget Electronics Private Limited enters into an Agreement with Xiaomi to carry out manufacturing of smart phones and other related products for Xiaomi.
09/29/2023 | USPAE
In a major initiative to innovate how the Department of Defense (DoD) spurs commercial technology development, the U.S. Partnership for Assured Electronics (USPAE) and DoD launched a Defense Business Accelerator (DBX) to open doors for industrial base growth and stimulate private investment.
09/28/2023 | KYZEN'
KYZEN, the global leader in innovative environmentally friendly cleaning chemistries, is proud to announce that it is sponsoring the Women's Leadership Program Connection Reception to be held at SMTA International.
09/28/2023 | Nolan Johnson, I-Connect007
The practical question around CHIPS Act development and electronics assembly is, "Will this change how we do business?" Indium Corporation's Dr. Andy Mackie sat down with Nolan Johnson to share what he sees as emerging answers to that question from his perspective as an expert in electronics assembly and packaging, and as a participant in standards development through IPC, JEDEC, and SEMI.
09/28/2023 | ZESTRON
ZESTRON is happy to announce that Senior Application Engineer, Ravi Parthasarathy, will be presenting "Revolutionizing PCB Assembly Cleaning: