Books

Featured Books

smt007 Magazine

Latest Issues

Current Issue

Attracting New Talent

To get different results in staffing, you must change how you define, promote and recruit your job opportunities. How do you become magnetic to high-quality early-career candidates?

Test and Inspection

Test and inspection methods are undergoing rapid change. In this issue, we consider the influence of AOI, AI, and human eyes. How exactly are these pieces of the puzzle changing the role of test and inspection?

Chips Don't Float

In Europe and the U.S., legislation is under way to revitalize PCB fabrication and packaging. What is the status of this work, and how specifically does this change the industry landscape for EMS companies? What will help keep us afloat?

Columns

Latest Columns

||| MENU
Darwin AI Evolving the Islands of Automation
March 20, 2023 | Nolan Johnson, I-Connect007
Estimated reading time: 2 minutes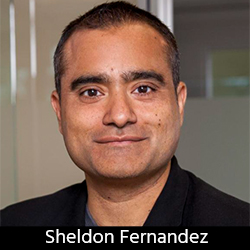 When Canadian artificial intelligence company Darwin AI was founded in 2017, machine learning and deep learning were still relatively new terms. In the past five years, CEO Sheldon Fernandez and his team have been working with this technology to develop some foundational IP to simplify implementation. About a year ago, Sheldon took a "part happenstance, part deliberate" opportunity to develop a vertical offering for EMS manufacturing. Here's what happened.
Sheldon, it's nice to meet you. Would you briefly introduce your company?
Sheldon Fernandez: We're based out of Waterloo, Ontario, Canada, and we're organically connected to the University of Waterloo, which is kind of like Canada's MIT. Two of our co-founders are professors at the institution, including Professor Alexander Wong, Canada's Research Chair in AI and Medical Imaging. 
We've been working on foundational machine learning and deep learning technology for the past five years. A couple of years ago, our large industrial and aerospace clients were telling us about their supply chain challenges during the pandemic and reshoring sensitive electronics manufacturing work back to North America, specifically printed circuit boards (PCB). We thought that created an opportunity for us. 
When we looked at PCB manufacturing, it became apparent that while the SMT placement workflow was highly automated, there was a need in automating back-end production and final assembly. This laborious part of the process was where EMS companies and OEMs were still employing manual inspection. These inspection tasks are tough to crack from a traditional machine vision perspective, and we wondered, "Can AI bring anything to bear on this problem?" We spent about a year developing a hardware and software solution which fits into the typical assembly line for PCB manufacturing. It also does post-assembly analysis, and what's really fascinating is how quickly an operator can program our product. 
We often hear that AOIs are good at what they do but are laborious to program and maintain. With our system, there's not a lot of manual work. You give the system a good (i.e., golden) board—or a couple of good boards if there's a union of different components—and our AI system creates a map of where components should be in less than a minute; away you go. You can tweak it after that, and it's striking how quickly you can configure the product. 
We brought our mini system to IPC APEX EXPO, and the response was fascinating. So many companies were intrigued by finally automating back-end production, and we're really excited about becoming a part of the community. 
To read this entire conversation, which appeared in the March 2023 issue of SMT007 Magazine, click here.
---
Suggested Items
11/30/2023 | BUSINESS WIRE
Ciena, a U.S.-based networking systems, services and software company, is adding domestic manufacturing through an expanded agreement with global diversified manufacturer Flex.
11/30/2023 | Keysight Technologies, Inc.
Keysight Technologies, Inc. announces that Arbe has selected the E8719A Radar Target Solution (RTS) to test the Arbe 4D imaging radar chipset for automotive applications.
11/29/2023 | TT Electronics
TT Electronics, a global provider of custom power solutions and engineered technologies, has announced that its Power and Control business has officially opened its new state-of-the-art research, development and manufacturing facility.
11/29/2023 | Dana Korf -- Column: Dana on Data
November's issue of Design007 Magazine had an excellent theme that evolved around design simplification. There were exceptionally good articles about how to reduce over-constrained or needlessly complex designs. One significant time-consuming category is the creation of many design files and drawings which lead to lengthy creation and interpretation time along with the considerable time to resolve conflicting or erroneous information.
11/29/2023 | Anaya Vardya -- Column: Standard of Excellence
To sustain a standard of excellence, it's equally important to look at both what we're doing today as well as what we'll do in the future. In other words, plan ahead. In that spirit, I thought it would be prudent to peek into the future and talk about what a printed circuit board fabrication facility with a "standard of excellence" will look like five years from now.