Books

Featured Books

smt007 Magazine

Latest Issues

Current Issue

Chips Don't Float

In Europe and the U.S., legislation is under way to revitalize PCB fabrication and packaging. What is the status of this work, and how specifically does this change the industry landscape for EMS companies? What will help keep us afloat?

Flying High With Digital Twin

The opportunity to use manufacturing simulation as a test bed for job planning and process optimization brings continuous improvement into the modern age. This may be an all-or-nothing type of project, but it's worth the investment.

Artificial Intelligence

In this issue, we (and AI) explored how and when artificial intelligence plays a role in manufacturing today. Whether on the factory floor, or in the front office, AI applications are emerging and changing how we approach planning, processes and problem solving.

Columns

Latest Columns

||| MENU
Darwin AI Evolving the Islands of Automation
March 20, 2023 | Nolan Johnson, I-Connect007
Estimated reading time: 2 minutes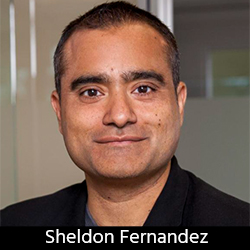 When Canadian artificial intelligence company Darwin AI was founded in 2017, machine learning and deep learning were still relatively new terms. In the past five years, CEO Sheldon Fernandez and his team have been working with this technology to develop some foundational IP to simplify implementation. About a year ago, Sheldon took a "part happenstance, part deliberate" opportunity to develop a vertical offering for EMS manufacturing. Here's what happened.
Sheldon, it's nice to meet you. Would you briefly introduce your company?
Sheldon Fernandez: We're based out of Waterloo, Ontario, Canada, and we're organically connected to the University of Waterloo, which is kind of like Canada's MIT. Two of our co-founders are professors at the institution, including Professor Alexander Wong, Canada's Research Chair in AI and Medical Imaging. 
We've been working on foundational machine learning and deep learning technology for the past five years. A couple of years ago, our large industrial and aerospace clients were telling us about their supply chain challenges during the pandemic and reshoring sensitive electronics manufacturing work back to North America, specifically printed circuit boards (PCB). We thought that created an opportunity for us. 
When we looked at PCB manufacturing, it became apparent that while the SMT placement workflow was highly automated, there was a need in automating back-end production and final assembly. This laborious part of the process was where EMS companies and OEMs were still employing manual inspection. These inspection tasks are tough to crack from a traditional machine vision perspective, and we wondered, "Can AI bring anything to bear on this problem?" We spent about a year developing a hardware and software solution which fits into the typical assembly line for PCB manufacturing. It also does post-assembly analysis, and what's really fascinating is how quickly an operator can program our product. 
We often hear that AOIs are good at what they do but are laborious to program and maintain. With our system, there's not a lot of manual work. You give the system a good (i.e., golden) board—or a couple of good boards if there's a union of different components—and our AI system creates a map of where components should be in less than a minute; away you go. You can tweak it after that, and it's striking how quickly you can configure the product. 
We brought our mini system to IPC APEX EXPO, and the response was fascinating. So many companies were intrigued by finally automating back-end production, and we're really excited about becoming a part of the community. 
To read this entire conversation, which appeared in the March 2023 issue of SMT007 Magazine, click here.
---
Suggested Items
09/26/2023 | GlobalFoundries
GlobalFoundries (GF) announced it has applied for U.S. CHIPS and Science Act Funding, with two full applications submitted to the CHIPS Program Office of the U.S. Department of Commerce.
09/22/2023 | GlobalFoundries
The U.S. Department of Defense (DoD) has awarded GlobalFoundries (Nasdaq: GFS) (GF) a new 10-year contract for a supply of securely manufactured, U.S.-made semiconductors for use across a wide range of critical aerospace and defense applications. 
09/25/2023 | APCT
APCT, a leading name in the PCB and electronics industry, is delighted to announce the appointment of Peter Austin as its President and CEO, effective September 1. Peter takes the reins from former CEO, Steve Robinson, who has retired after years of dedicated service to the company.
09/22/2023 | Happy Holden, I-Connect007
Ever since high density interconnect (HDI) was created in 1982 by Hewlett-Packard to package its first 32-bit computer powered by a single chip, it has continued to evolve and provide the solutions for miniaturized products. The leading edge of HDI technology became the process used for organic flip-chip packaging for the semiconductor industry. The two distinct markets—IC substrates and product-system integration—are now colliding and utilizing the same ultra-HDI manufacturing processes.
09/21/2023 | KIC
KIC, a renowned pioneer in thermal process and temperature measurement solutions for electronics manufacturing, is thrilled to announce its participation in the upcoming SMTA Guadalajara Expo & Tech Forum.