MobileDrive Builds Next Generation Autonomous Driving Systems with Siemens' Digital Twin Technology
March 21, 2023 | Siemens
Estimated reading time: 2 minutes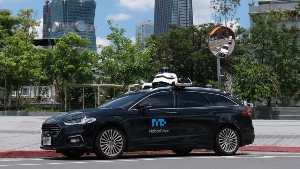 Siemens Digital Industries Software announced that MobileDrive has adopted a model-based systems engineering (MBSE) approach to support its Advanced Driver Assistance Systems (ADAS) development, using the Siemens Xcelerator portfolio and its comprehensive digital twin technology. By leveraging Siemens' robust expertise in the digital thread, MobileDrive has accelerated its progress to build the next-generation autonomous driving systems and helped to achieve the industry-leading quality of the products.
Founded in 2021 as a joint venture between two mobility technology leaders, FIH Mobile and Stellantis, MobileDrive is focused on developing infotainment, telematics and a cloud service platform, together with ancillary hardware and software. Combining exceptional innovation capabilities with over 15 years software/hardware integration experience, MobileDrive is the first company in Taiwan capable of providing complete in-vehicle solutions with cutting-edge AI technology.
Aiming to deliver the highest quality software to meet market demands in a time-to-market manner, MobileDrive's primary interest was to use a model-based framework to develop the algorithms and software controls for common and advanced ADAS applications, such as Lane Keep Assist (LKA), Emergency Lane Keeping (ELK), Lane Following Control (LFC), Auto Lane Change (ALC), Emergency Steering Assist (ESA), and Autonomous Emergency Steering (AES).
To help the organization achieve its goals, Siemens' Simcenter™ Engineering and Consulting services team worked with MobileDrive to deliver a complete methodology and roadmap for its ADAS vision while developing the control algorithms and building a detailed scenario-based system model including sensors and vehicle dynamics, based on market led full vehicle requirements using the Siemens Xcelerator portfolio of software and services.
This systems model was then applied to virtual test environment allowing the MobileDrive team to observe vehicles as a true digital twin to quickly uncover and address both system and software performance issues earlier in the development cycle.
Ultimately, MobileDrive realized a more effective and reliable software development process before a physical prototype was even built. This was due to their newfound ability to verify ADAS software features early in the digital twin environment, reducing the effort of hardware-in-the-loop (HiL) and vehicle testing.
"The automotive industry is undergoing major transformations to better satisfy the needs of users in diverse scenarios and enable a more intuitive, seamless in-vehicle user experience and we have established the key sophisticated technologies and actively collaborated with reliable partners," said Winston Hsu, CTO at MobileDrive. "Thanks to our collaboration with Siemens, we are able to bring our products to market in a much more streamlined, efficient manner."
MobileDrive has successfully delivered products combining security, personalization, and reliability to automakers and has also been awarded ISO 26262 for automotive functional safety, helping toimprove the driving safety of vehicles.
---
Suggested Items
09/28/2023 | TrendForce
TrendForce projects that shipments of smartphone display panels (smartphone panels) will reach approximately 1.85 billion pieces in 2023, reflecting a YoY increase of 8.7%.
09/27/2023 | IFR
The new World Robotics report recorded 553,052 industrial robot installations in factories around the world – a growth rate of 5% in 2022, year-on-year.
09/26/2023 | Kirk Thompson, Isola Group
Despite being a leader in R&D investment in semiconductors and packaging with greater than $50 billion per year, the U.S. has seen its market share decrease to less than 3% in areas like advanced packaging and advanced substrates. The cause for this market share erosion was a laser focus in Asian countries to attract semiconductors and advanced packaging investment through ecosystem development and incentives. If the U.S. is serious about changing the momentum to onshore advanced packaging and advanced substrates, an ecosystem approach to innovation and manufacturing incentives must be employed. It is not enough to have the most innovative technology if the supply chain and manufacturing economics do not deliver competitive commercial opportunities.
09/26/2023 | IDC
The global PC monitor market remained steadfast in its efforts to manage inventory levels amidst a significant drop in demand during the second quarter of 2023 (2Q23).
09/26/2023 | GlobalFoundries
GlobalFoundries (GF) announced it has applied for U.S. CHIPS and Science Act Funding, with two full applications submitted to the CHIPS Program Office of the U.S. Department of Commerce.