Intel Labs Advances Computer Vision Development with Two New AI Models
March 24, 2023 | Intel
Estimated reading time: 2 minutes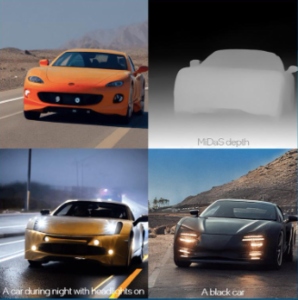 Depth estimation is a challenging computer vision task required to create a wide range of applications in robotics, augmented reality (AR) and virtual reality (VR). Existing solutions often struggle to correctly estimate distances, which is a crucial aspect in helping plan motion and avoiding obstacles when it comes to visual navigation. Researchers at Intel Labs are addressing this issue by releasing two AI models1 for monocular depth estimation: one for visual-inertial depth estimation and one for robust relative depth estimation (RDE).
The latest RDE model, MiDaS version 3.1, predicts robust relative depth using only a single image as an input. Due to its training on a large and diverse dataset, it can efficiently perform on a wider range of tasks and environments. The latest version of MiDaS improves model accuracy for RDE by about 30% with its larger training set and updated encoder backbones.
MiDaS has been incorporated into many projects, most notably Stable Diffusion 2.0, where it enables the depth-to-image feature that infers the depth of an input image and then generates new images using both the text and depth information. For example, digital creator Scottie Fox used a combination of Stable Diffusion and MiDaS to create a 360-degree VR environment. This technology could lead to new virtual applications, including crime scene reconstruction for court cases, therapeutic environments for healthcare and immersive gaming experiences.
Intel Introduces MiDaS 3.1 for Computer Vision
While RDE has good generalizability and is useful, the lack of scale decreases its utility for downstream tasks requiring metric depth, such as mapping, planning, navigation, object recognition, 3D reconstruction and image editing. Researchers at Intel Labs are addressing this issue by releasing VI-Depth, another AI model that provides accurate depth estimation.
VI-Depth is a visual-inertial depth estimation pipeline that integrates monocular depth estimation and visual-inertial odometry (VIO) to produce dense depth estimates with a metric scale. This approach provides accurate depth estimation, which can aid in scene reconstruction, mapping and object manipulation.
Incorporating inertial data can help resolve scale ambiguity. Most mobile devices already contain inertial measurement units (IMUs). Global alignment determines appropriate global scale, while dense scale alignment (SML) operates locally and pushes or pulls regions toward correct metric depth. The SML network leverages MiDaS as an encoder backbone. In the modular pipeline, VI-Depth combines data-driven depth estimation with the MiDaS relative depth prediction model, alongside the IMU sensor measurement unit. The combination of data sources allows VI-Depth to generate more reliable dense metric depth for every pixel in an image.
---
Suggested Items
09/20/2023 | Aven
Aven, a full-service technology provider, is pleased to announce that it will showcase its Mighty Vue Inspector in Booth 801 at the SMTA Guadalajara Expo on Wednesday, Oct. 25, 2023. The event will take place at Expo Guadalajara in Jalisco, Mexico.
09/07/2023 | TrendForce
According to TrendForce Research, Apple is gearing up for the highly anticipated launch of its iPhone 15 series, featuring a lavish array of upgrades to its camera module—the quintessential lure for consumer upgrades—it faces a marketplace teetering on uncertain ground.
06/27/2023 | Tagarno
TAGARNO, a leading provider of digital microscopes, announced the launch of its new Glare Removal feature, a groundbreaking advancement that empowers microscope operators to capture glare-free images of magnified samples effortlessly.
06/20/2023 | Andy Shaughnessy, I-Connect007
One of the coolest things that NASA has going for it—besides launching things and people into space—is their state-of-the-art photography capabilities. NASA photographers are among the best in the world, and maybe even the galaxy. We hope you enjoy this photo gallery of images taken by the James Webb Space Telescope, the most powerful telescope ever launched into space. With its improved infrared resolution, it can view objects too far away to be detected by the Hubble, as well as objects dating to much earlier in the history of the universe.
06/20/2023 | Tagarno
TAGARNO, a leading provider of digital microscopes, is pleased to offer the innovative Image Comparison App. Designed specifically for digital microscopes, this intuitive app empowers users to create their own image library, enabling seamless and accurate product comparisons during quality control processes in the electronics industry.