Books

Featured Books

pcb007 Magazine

Latest Issues

Current Issue

Finding Ultra

New demands on PCB fabrication, namely advanced packaging, ultra high density interconnect (UHDI), and new specialty materials, are converging, changing the landscape of our business. Is it time to start paying close attention to this convergence?

Developing a Strategy

A solid strategy is a critical part of success. This month, we asked some of the top industry leaders and business strategy "gurus" to share their thoughts on developing strategies.

Winning With TQM

In this issue, we explore how TQM has entered the DNA of continuous improvement disciplines, and the role leadership transformation plays in this. If you've ever competed against a TQM company, you understand their winning advantage.

Columns

Latest Columns

||| MENU
I-Connect007 Editor's Choice: Five Must-Reads for the Week
March 24, 2023 | Nolan Johnson, I-Connect007
Estimated reading time: 2 minutes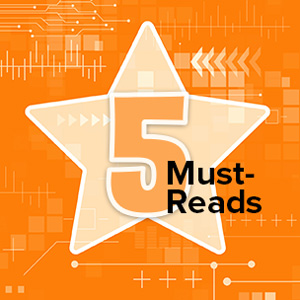 It's almost as if upheaval is the new normal. We often describe slow-moving but unstoppable change as moving in "geologic time." But occasionally–like an earthquake–geology shifts suddenly. Here in my office, tracking the news of the industry, things are moving faster than geologic time, but more slowly than the jolt of an earthquake. The wave seems almost surfable, where before it seemed overwhelming.  In this week's list, we bring news from five different, high-vibration areas in our industry. If you read nothing else this week, these five items will keep you informed.  
The Big Picture: A New Globalization 
Published March 20, 2023 
I-Connect007 columnist, Mehul Davé takes a step back to consider nationalism, globalism and their teeter-totter relationship, the "paradox mindset" as a unifying worldview, the advent of AI, and the implications all these dynamics bring to the world in which we do business. No wonder this column got so much attention. 
Darwin AI Evolving the Islands of Automation 
Published March 20, 2023 
Speaking of the effect of artificial intelligence applications on our industry, we recently had the opportunity to interview Darwin AI's CEO and founder, Sheldon Fernandez. Darwin AI is focused on bringing AI to electronics assembly. Learn what he has to say here. 
Foxconn Announces FY2022, 4Q22 Financial Results 
Published March 20, 2023 
As one of the largest electronics assembly companies on the planet, Foxconn's 2022 revenues equal nearly $218 billion. How did the rest of the financial numbers turn out? Seems plenty of readers wanted to know.  
NextFlex Launches $4.4M Funding Opportunity to Strengthen U.S. Electronics Manufacturing, Advance Adoption of Hybrid Electronics 
Published March 22, 2023 
From the press release, "NextFlex, America's Flexible Hybrid Electronics (FHE) Manufacturing Institute, released Project Call 8.0 (PC 8.0), the latest call for proposals that seek to fund projects that further the development and adoption of FHE while addressing key challenges in advanced manufacturing that support Department of Defense priorities. The total PC 8.0 project value is expected to exceed $9.4M (project value/investment figures include cost-sharing), bringing the total anticipated investment in advancing FHE since NextFlex's formation to $134M." If this is a program you can take advantage of, read on here. 
The Summit View of the Marketplace 
Published March 21, 2023 
Investments, staffing, cybersecurity, and a peek into his crystal ball—John Vaughan, vice president of strategic markets at Summit Interconnect, sits down with Nolan Johnson to talk about it all. Business is good, by the way, thanks to Summit's portfolio of military contracts, and he has sound advice to offer for smaller shops in the United States, and their real ability to make a difference in PCB fabrication.
---
Suggested Items
09/25/2023 | Purdue University
Purdue University continues building momentum as America's leading university in semiconductors, with a broad range of updates this fall semester.
09/25/2023 | Alison James
"Electronics systems are at the heart of almost all modern technology. The performance and functionality of these systems have increased at breathtaking speed, chiefly as a result of advancements in semiconductor technology. Semiconductors do not function in isolation," writes Alison James, IPC senior director of government relations, in a 2023 report for the European Commission's Directorate General for Internal Market, Industry, Entrepreneurship. "These electronics systems feature prominently in key sectors like defence, aerospace, space, automotive, medical, and high-performance computing, but electronics are vital to every industry and are central to a variety of EU priorities, including the twin digital and green transitions and Europe's technological sovereignty."
09/25/2023 | APCT
APCT, a leading name in the PCB and electronics industry, is delighted to announce the appointment of Peter Austin as its President and CEO, effective September 1. Peter takes the reins from former CEO, Steve Robinson, who has retired after years of dedicated service to the company.
09/21/2023 | KIC
KIC, a renowned pioneer in thermal process and temperature measurement solutions for electronics manufacturing, is thrilled to announce its participation in the upcoming SMTA Guadalajara Expo & Tech Forum.
09/21/2023 | Dymax
Dymax, a leading manufacturer of light-curing materials and equipment, will exhibit in booth 1526 at SMTA International 2023 in Minneapolis, MN, from October 10-11.