Books

Featured Books

smt007 Magazine

Latest Issues

Current Issue

Chips Don't Float

In Europe and the U.S., legislation is under way to revitalize PCB fabrication and packaging. What is the status of this work, and how specifically does this change the industry landscape for EMS companies? What will help keep us afloat?

Flying High With Digital Twin

The opportunity to use manufacturing simulation as a test bed for job planning and process optimization brings continuous improvement into the modern age. This may be an all-or-nothing type of project, but it's worth the investment.

Artificial Intelligence

In this issue, we (and AI) explored how and when artificial intelligence plays a role in manufacturing today. Whether on the factory floor, or in the front office, AI applications are emerging and changing how we approach planning, processes and problem solving.

Columns

Latest Columns

||| MENU
Micross Celebrates Grand Opening of its New Facility in Florida
March 27, 2023 | PRNewswire
Estimated reading time: 2 minutes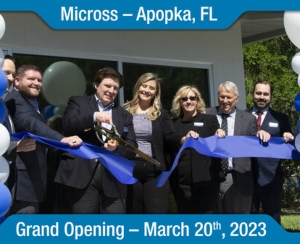 Micross Components, Inc., a leading provider of high-reliability microelectronic product and service solutions for aerospace, defense, space, medical and industrial applications, celebrated the grand opening of its new 85,000 sq. ft. state-of-the-art flagship semiconductor and specialty electronics manufacturing facility in Apopka, FL, on March 20, 2023.  Speakers at the event included acting Secretary of Florida's Department of Economic Opportunity, Meredith Ivey; US Congressman Darren Soto of Florida's 9th District Outreach Representative Darren Vierday; and the honorable Mayor Bryan Nelson of Apopka, Florida. Special guests in attendance included Thomas Self, Regional Director, Central Florida Region Office of United States Senator Marco Rubio, and his Outreach Assistant Ms. Ryleigh M. Wogoman. Attendees and speakers were provided tours of the new facility, and all were extremely impressed with scope and level of capabilities provided.
Vincent Buffa, Chairman and CEO of Micross, stated at the event, "Micross' investment in Florida reinforces our commitment in expanding world-class semiconductor manufacturing capabilities onshore. The products and services Micross provide enable all of the industries critical to our national interests, including aerospace & defense, medical, energy, and transportation.  We are very excited to share with you how Micross is strengthening the electronics supply chain for the United States and our friends worldwide. I want to thank this amazing Apopka team for seamlessly relocating multiple operating units while maintaining production.  Your work, through arguably one of the most challenging periods in American history, was critical in support of the greater US and global supply chain."
Micross now has fourteen AS9100/ISO9001 certified manufacturing facilities covering more than 540,000 sf, with 10 in the US, 1 in Mexico, and 3 in the UK, along with a design center in Denmark, sales offices across southeast Asia, an Express Die Distribution center in Massachusetts, and is headquartered on Long Island, in Melville, NY.  Micross is the most complete, leading global end-to-end provider of advanced microelectronic services, and component, die and wafer solutions for mission-critical high-reliability markets.
Jeremy Adams, Vice President, Micross Products & Services, stated at the event, "We've spent the past 2 decades building up the semiconductor and specialty electronics ecosystem we have today, enabling Micross to provide what otherwise would require many other specialty electronics providers. The scale of each of the specialty services we provide is many times that of our nearest competitor, for any specialty value added service." 
Along with the world's broadest authorized access to die & wafer suppliers, and the most comprehensive advanced packaging, assembly, modification and test capabilities, Micross is uniquely positioned to provide unparalleled high-reliability solutions from bare die, to fully packaged devices, to complete program lifecycle sustainment.  Our high-reliability products and services including hermetic multichip module packaging, advanced 3D Heterogeneous Integration, ASIC design, and the many other hi-rel product solutions and value-added services we offer, enable the size, weight, and power optimization desired for critical electronic systems and devices.  For more than 40 years, Micross has been a trusted source for the aerospace, defense, space, medical, energy, and industrial markets.
---
Suggested Items
09/25/2023 | Purdue University
Purdue University continues building momentum as America's leading university in semiconductors, with a broad range of updates this fall semester.
09/25/2023 | Alison James
"Electronics systems are at the heart of almost all modern technology. The performance and functionality of these systems have increased at breathtaking speed, chiefly as a result of advancements in semiconductor technology. Semiconductors do not function in isolation," writes Alison James, IPC senior director of government relations, in a 2023 report for the European Commission's Directorate General for Internal Market, Industry, Entrepreneurship. "These electronics systems feature prominently in key sectors like defence, aerospace, space, automotive, medical, and high-performance computing, but electronics are vital to every industry and are central to a variety of EU priorities, including the twin digital and green transitions and Europe's technological sovereignty."
09/25/2023 | APCT
APCT, a leading name in the PCB and electronics industry, is delighted to announce the appointment of Peter Austin as its President and CEO, effective September 1. Peter takes the reins from former CEO, Steve Robinson, who has retired after years of dedicated service to the company.
09/21/2023 | KIC
KIC, a renowned pioneer in thermal process and temperature measurement solutions for electronics manufacturing, is thrilled to announce its participation in the upcoming SMTA Guadalajara Expo & Tech Forum.
09/21/2023 | Dymax
Dymax, a leading manufacturer of light-curing materials and equipment, will exhibit in booth 1526 at SMTA International 2023 in Minneapolis, MN, from October 10-11.