Books

Featured Books

smt007 Magazine

Latest Issues

Current Issue

Chips Don't Float

In Europe and the U.S., legislation is under way to revitalize PCB fabrication and packaging. What is the status of this work, and how specifically does this change the industry landscape for EMS companies? What will help keep us afloat?

Flying High With Digital Twin

The opportunity to use manufacturing simulation as a test bed for job planning and process optimization brings continuous improvement into the modern age. This may be an all-or-nothing type of project, but it's worth the investment.

Artificial Intelligence

In this issue, we (and AI) explored how and when artificial intelligence plays a role in manufacturing today. Whether on the factory floor, or in the front office, AI applications are emerging and changing how we approach planning, processes and problem solving.

Columns

Latest Columns

||| MENU
Garry McGuire: Aiming for the Stars
March 27, 2023 | Patty Goldman, I-Connect007
Estimated reading time: 1 minute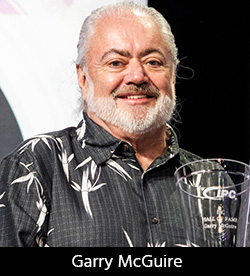 Garry McGuire of the Jacobs Space Exploration Group at Marshall Space Flight Center in Huntsville, Alabama, reflects on the serendipitous moment that led to a leadership role at IPC and the enduring relationships he's built through his participation in the organization. With the rapid advance of technology constantly pushing the industry forward, Garry urges newcomers to jump in and experience all IPC has to offer.
Garry, congratulations on receiving the Hall of Fame Award, the highest award that IPC gives to their volunteers. What was it like getting that phone call from John Mitchell?
It was a big surprise. When I first picked up the phone, I had that anxious feeling you'd get when you got called to the principal's office for doing something bad—but then it turned out to be a great surprise.
I'll bet. What got you involved in IPC? When did all that happen?
In the early '90s, I was supporting NASA at Goddard Space Flight Center; my main role there was to support our customer by developing and maintaining NASA's workmanship standards. In 1994, Admiral Perry released an acquisition reform memo directing government agencies to stop using their internal standards and to look for voluntary consensus standards where possible. At NASA, we began looking outside the organization to see what options we had to get rid of for our internal soldering and cabling standards, etc. Before that moment, we'd known a little about IPC, but after that decision by the Admiral we started taking a more serious look at them and found them to be a good fit. We started going to the semiannual IPC meetings, probably in 1995 or '96; I've been active in IPC since then.
That transition actually became part of my job description which is when I fully engaged with the IPC which lead to the work on the initial release of the J-STD-001 space addendum around 2000.
To read this entire conversation, which appeared in the 2023 edition of Show & Tell Magazine, click here.
---
Suggested Items
09/28/2023 | Nolan Johnson, I-Connect007
The practical question around CHIPS Act development and electronics assembly is, "Will this change how we do business?" Indium Corporation's Dr. Andy Mackie sat down with Nolan Johnson to share what he sees as emerging answers to that question from his perspective as an expert in electronics assembly and packaging, and as a participant in standards development through IPC, JEDEC, and SEMI.
09/28/2023 | IPC
IPC continues to collaborate with the electronics manufacturing industry to meet their current and future workforce training needs.
09/28/2023 | IPC
Though product demand weakened this month with Orders and Backlog Indexes slipping, overall electronics industry operations remain healthy per IPC's September 2023 Global Sentiment of the Electronics Supply Chain Report.
09/27/2023 | Cherie Litson, CID+, Litson1 Consulting
Rigid-flex circuits are unique structures; part rigid board and part flex, they're increasingly working their way into many of the electronic devices we use every day. There have been many advances in rigid-flex lately as more companies find themselves exploring this technology. So, before I started writing this article about rigid-flex design, I double-checked a few things. Fortunately, there is plenty of rigid-flex information available on a variety of great websites that we all know and trust.
09/18/2023 | IPC
IPC Day France: Aerospace Electronics is an aerospace-focused networking event featuring key industry experts from NASA and Airbus and will take place on October 2, 2023 .