New SIA Map Highlights Broad U.S. Semiconductor Ecosystem
March 29, 2023 | SIA
Estimated reading time: 1 minute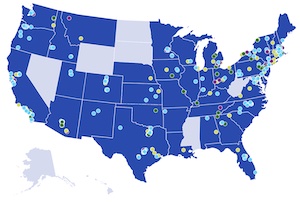 The semiconductor ecosystem in the United States is broad and diverse, as illustrated by SIA's new U.S. Semiconductor Ecosystem Map, a first-of-its-kind tool that allows users to explore industry activities across the country, including nearly 500 locations in 42 states. This expansive ecosystem is comprised of semiconductor manufacturing, chip design, intellectual property and chip design software providers, semiconductor materials and manufacturing equipment, and research and development, including university R&D partners of the Semiconductor Research Corporation (SRC) and the National Nanotechnology Coordinated Infrastructure (NNCI).
Of particular note, the U.S. Semiconductor Ecosystem Map highlights announced company investments for new and expansion semiconductor ecosystem projects. These projects cover a range of activities needed to bolster the U.S. chip ecosystem, including new, expanded, or upgraded fabs in various semiconductor segments (e.g., advanced logic, memory, analog, and legacy chips), semiconductor equipment facilities, and facilities to produce key materials used in the chip manufacturing process. From the time the CHIPS Act was introduced in the Spring of 2020 through the months following its enactment in August 2022, companies in the semiconductor ecosystem announced dozens of projects to increase manufacturing capacity in the U.S. As of March 2023, some highlights of announcements spurred by the CHIPS Act include:
Over $210 billion in new private investments announced across 19 states to increase domestic manufacturing capacity
Over 50 new semiconductor ecosystem projects announced across the U.S., including the construction of new fabs, expansions of existing sites, and facilities that supply the materials and equipment used in chip manufacturing
44,000 new high-quality jobs announced in the semiconductor ecosystem as part of the new projects, which will support many more jobs throughout the broader U.S. economy
As the CHIPS Act incentives and R&D programs continue to be implemented, SIA's U.S. Semiconductor Ecosystem Map will be updated to reflect the ever-growing domestic semiconductor footprint.
---
Suggested Items
10/03/2023 | Amitron
Amitron, a leading U.S.-based manufacturer of printed circuit boards (PCB), brings an additional 80,000 square feet of manufacturing space into the overall MIL-SPEC ecosystem with high automation, and the latest equipment technology and processes for military and aerospace applications.
10/03/2023 | I-Connect007 Editorial Team
Based on the wisdom of 50 years of PCB manufacturing at Sunstone Circuits, this book is a must-have reference for designers understanding the PCB manufacturing process as it relates to their design. Designing for manufacturability requires understanding the production process fundamentals and factors within the process that often lead to variations in manufacturability, reliability, and cost of the board.
10/03/2023 | Nolan Johnson -- Column: Nolan's Notes
A great example of AI's power at pattern matching images in medicine is the Google Automated Retinal Disease Assessment (ARDA) program, which turns retinopathy screening—once a test performed by an ophthalmologist—into a technician-level task. Given that only a small percentage of patients test positive for retinopathy, the AI-based assessment means that ophthalmologists now only see the patients who test positive on the app.
09/29/2023 | Intel
Intel celebrated the arrival of its Intel 4 technology, which uses extreme ultraviolet (EUV) technology, and the first use of EUV in high-volume manufacturing (HVM) in Europe.
09/29/2023 | Dixon
Dixon wholly owned subsidiary- Padget Electronics Private Limited enters into an Agreement with Xiaomi to carry out manufacturing of smart phones and other related products for Xiaomi.