New SIA Map Highlights Broad U.S. Semiconductor Ecosystem
March 29, 2023 | SIA
Estimated reading time: 1 minute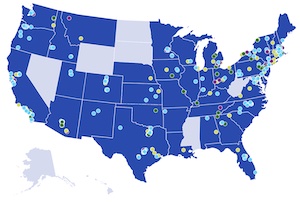 The semiconductor ecosystem in the United States is broad and diverse, as illustrated by SIA's new U.S. Semiconductor Ecosystem Map, a first-of-its-kind tool that allows users to explore industry activities across the country, including nearly 500 locations in 42 states. This expansive ecosystem is comprised of semiconductor manufacturing, chip design, intellectual property and chip design software providers, semiconductor materials and manufacturing equipment, and research and development, including university R&D partners of the Semiconductor Research Corporation (SRC) and the National Nanotechnology Coordinated Infrastructure (NNCI).
Of particular note, the U.S. Semiconductor Ecosystem Map highlights announced company investments for new and expansion semiconductor ecosystem projects. These projects cover a range of activities needed to bolster the U.S. chip ecosystem, including new, expanded, or upgraded fabs in various semiconductor segments (e.g., advanced logic, memory, analog, and legacy chips), semiconductor equipment facilities, and facilities to produce key materials used in the chip manufacturing process. From the time the CHIPS Act was introduced in the Spring of 2020 through the months following its enactment in August 2022, companies in the semiconductor ecosystem announced dozens of projects to increase manufacturing capacity in the U.S. As of March 2023, some highlights of announcements spurred by the CHIPS Act include:
Over $210 billion in new private investments announced across 19 states to increase domestic manufacturing capacity
Over 50 new semiconductor ecosystem projects announced across the U.S., including the construction of new fabs, expansions of existing sites, and facilities that supply the materials and equipment used in chip manufacturing
44,000 new high-quality jobs announced in the semiconductor ecosystem as part of the new projects, which will support many more jobs throughout the broader U.S. economy
As the CHIPS Act incentives and R&D programs continue to be implemented, SIA's U.S. Semiconductor Ecosystem Map will be updated to reflect the ever-growing domestic semiconductor footprint.
---
Suggested Items
12/07/2023 | Matt Stevenson -- Column: Connect the Dots
It makes sense to optimize your board using design for manufacturability (DFM) techniques. But applying DFM best practices can be confusing without formal training. The results are designs that are often incomplete, poorly designed, or too complex. When these issues arise, your PCB manufacturing partner rejecting the design can be considered a best-case scenario because it means they have your back. If your design is simply dropped into an automated queue without concern for manufacturability, the output can be a batch of unusable boards.
12/05/2023 | Travis Kelly -- Column: American Made Advocacy
For this month's PCBAA Member Profile, the focus is on Hari Pillai, president, Technology Components, Sanmina. Hari says, "I think I've had a good dose of luck throughout my career. But beyond luck, I had a vision to become a general manager as far back as my undergraduate years. I made all my career decisions based on that. My evaluation criteria was always, "How does this opportunity get me closer to my goal?" Sometimes opportunities come from unexpected places."
12/05/2023 | Amkor Technology
Amkor Technology, Inc., a leading provider of semiconductor packaging and test services, has announced its plan to build an advanced packaging and test facility in Peoria, Arizona.
12/05/2023 | HANZA
HANZA AB has signed an agreement to acquire all shares in Orbit One AB, a Swedish company that offers contract manufacturing of electronics and electromechanics. Orbit One has annual sales of approximately SEK 1.1 billion with an operating profit (EBITA) of approximately SEK 70 million.
12/05/2023 | Arch Systems
Arch Systems, the leading provider of data, analytics, and insightful actions for manufacturing operations, announced this week its collaboration with Plexus Corp., a global leader in complex product design, supply chain, manufacturing, and sustaining services.