Books

Featured Books

smt007 Magazine

Latest Issues

Current Issue

Chips Don't Float

In Europe and the U.S., legislation is under way to revitalize PCB fabrication and packaging. What is the status of this work, and how specifically does this change the industry landscape for EMS companies? What will help keep us afloat?

Flying High With Digital Twin

The opportunity to use manufacturing simulation as a test bed for job planning and process optimization brings continuous improvement into the modern age. This may be an all-or-nothing type of project, but it's worth the investment.

Artificial Intelligence

In this issue, we (and AI) explored how and when artificial intelligence plays a role in manufacturing today. Whether on the factory floor, or in the front office, AI applications are emerging and changing how we approach planning, processes and problem solving.

Columns

Latest Columns

||| MENU
Thermaltronics Ormond, Florida Demo Facility Is Now Fully Operational for Sample Board Processing
March 29, 2023 | Thermaltronics
Estimated reading time: Less than a minute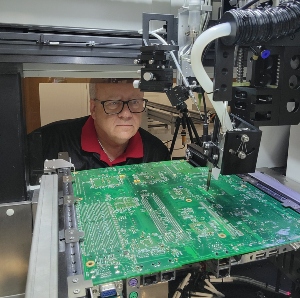 Thermaltronics USA, Inc., a manufacturer of award-winning solder robots, announced that the Ormond, Florida office and demonstration facility is now fully operational and can provide customers with complete "sample board" processing and programming for robotic soldering applications.
Ed Zamborsky, the Technical Support Manager, was confident that the evaluation and reporting process would give customers a clear understanding of the unique features and benefits of the Thermaltronics award-winning systems. Zamborsky commented, "While there were several competitive systems available on the market, yield rates could not compare to those achieved by Thermaltronics' solder robots. The use of high-precision hardware and intelligent software ensures precision soldering and low operator training costs."
All of Thermaltronics' demonstration facilities allow potential customers to see the benefits of the Thermaltronics soldering robots, which include dynamic laser height control, vision, mapping, and advanced software controls.
In addition to its award-winning hand-soldering product line, Thermaltronics also provides an extended range of accessories to support both production and rework applications.
---
Suggested Items
09/21/2023 | Thermaltronics USA, Inc.
Thermaltronics USA, Inc., a globally acclaimed manufacturer of Precision Soldering Robots and innovative Curie point soldering systems, is excited to announce its participation in the highly anticipated SMTA Guadalajara Expo & Tech Forum, scheduled to take place from October 25-26, 2023.
09/20/2023 | ULT AG
At this year's productronica, the world's leading trade show for electronics manufacturing, ULT will present a brand new extraction solution for solder fumes and vapor.
09/20/2023 | Hentec Industries/RPS Automation
Hentec Industries/RPS Automation, a leading manufacturer of selective soldering, component lead tinning and solderability test equipment, announces that it has added assembly and production staff members to its team to accommodate its recent increase in sales and order demand.
09/19/2023 | SMTA
SMTA is honored to announce Qais Qasaimeh, a graduate student at Auburn University, has been selected as the winner of the 2023 Charles Hutchins Educational Grant.
09/14/2023 | SHENMAO
SHENMAO America, Inc. is proud to introduce its latest innovation in response to the growing demand for ultra-thin packages in the electronics industry.