I-Connect007 Editor's Choice: Five Must-Reads for the Week
April 14, 2023 | Andy Shaughnessy, Design007 Magazine
Estimated reading time: 2 minutes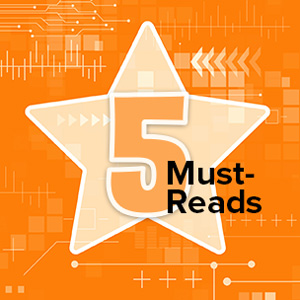 How was your week? We've been pretty busy ourselves, bringing you coverage of the SMTA Expo & Tech Forum in Boise, Idaho. Tabletops shows like this offer a great value during the spring, in between the bigger shows like IPC APEX EXPO and SMTA International. In fact, SMTA schedules approximately 30 regional shows around the United States and abroad.
This week we feature an interview with SMTA Boise Chapter President Tony Whitt, as well as a conversation with Sunstone's Matt Stevenson about his current mindset and outlook for the near future. We also highlight an article by DownStream's Mark Gallant that explores the intricacies of DFM for flex and rigid-flex circuits. 
There's news about Cadence's India subsidiary partnering to build a school for underprivileged students that includes a computer lab and STEM lab. And we'd like to welcome our new columnist and doctoral student Henry Crandall, who details his PhD journey in this month's column. Henry is a go-getter; he's already secured industry sponsors for his research.
Have a great weekend!
SMTA Boise: More Than Potatoes in Idaho
Published April 12
Tabletop trade shows are more popular than ever. The Boise SMTA Expo & Tech Forum is a great example of an event that serves an area that's geographically distant from America's technology hotspots. During this week's show, which sold out its exhibit space, Barry Matties spoke with SMTA Boise Chapter President Tony Whitt about the local electronics industry and the constant search for employees who really want to work.
DFM Analysis for Flex and Rigid-flex Design, Part 1
Published April 13
As DownStream Technologies continues to add more post-processing functionality for flex and rigid-flex circuits, they're discovering that DFM for flex is a much different animal that DFM for traditional rigid boards. In this first part of a three-part series, Mark Gallant explains some of the hurdles that designers face when designing flex, and why flex DFM can be a daunting task, especially with multilayer flex.
The Doctor's In: Everything You Need to Know About Getting a PhD
Published April 10
I imagine that we've all thought about going back to school to get an advanced degree at one time or another. (I only thought about it for 11 seconds, actually.) Well, our new PCB007 columnist Henry Crandall is a doctoral student, and in his inaugural column he walks us through the ins and outs of earning a PhD. We salute Henry for working to bring more young people into the industry. 
A Goal of Higher Technology
Published April 12
What's your mindset this year? That's the question we put to Sunstone Vice President Matt Stevenson. In this interview, he discusses Sunstone's optimistic outlook for the rest of 2023, and how the company attracts and retains customers, often including more personal interaction and "hand-holding" with customers.
Cadence Partners with Vidya & Child to Build a School for Underprivileged Children in Noida
Published April 11
Cadence Design Systems' India subsidiary has teamed up with Vidya & Child to build a school for underprivileged kids in Noida. The school opened in February and is open to students from nursery school through eighth grade, and includes a computer lab and STEM lab that's equipped with laptops. Vidya & Child educated 400 kids who are now in college or working full time.
---
Suggested Items
09/20/2023 | I-Connect007 Editorial Team
Panasonic's Darren Hitchcock spoke with the I-Connect007 Editorial Team on the complexities of moving toward ultra HDI manufacturing. As we learn in this conversation, the number of shifting constraints relative to traditional PCB fabrication is quite large and can sometimes conflict with each other.
09/19/2023 | Anaya Vardya -- Column: Standard of Excellence
In my last column, I discussed cutting-edge innovations in printed circuit board technology, focusing on innovative trends in ultra HDI, embedded passives and components, green PCBs, and advanced substrate materials. This month, I'm following up with the products these new PCB technologies are destined for. Why do we need all these new technologies?
09/18/2023 | ViTrox
ViTrox, which aims to be the world's most trusted technology company, is excited to announce that our trusted Sales Channel Partner (SCP) in Mexico, SMTo Engineering, S.A. de C.V., will be participating in SMTA Guadalajara Expo & Tech Forum. They will be exhibiting in Booth #911 from the 25th  to the 26th of October 2023,  at the Expo Guadalajara in Jalisco, Mexico.
09/18/2023 | Intel
Intel announced one of the industry's first glass substrates for next-generation advanced packaging, planned for the latter part of this decade.
09/18/2023 | Aidan Salvi -- Column: Facing the Future
I have been in and around circuit boards most of my life. I started 20 years ago in my family's PCB shop, leaving after a couple of years to start my own software company. About a year ago, I returned to the family business, and the first thing I noticed was that nothing had really changed. We were doing the same things in the same way as the day I left. After talking to several experts in the industry, I realized it was worse than that: The manufacturing of PCBs had not changed in 70 years.