New Flex Circuits Guide Now Available From American Standard Circuits
May 22, 2023 | I-Connect007
Estimated reading time: Less than a minute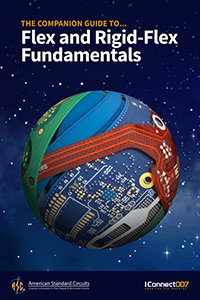 I-Connect007 and American Standard Circuits are proud to announce the launch of the companion guide to the immensely popular The Printed Circuit Designer's Guide to... Flex and Rigid-flex Fundamentals.
This short guide, written by topic experts at American Standard Circuits, is designed to provide additional insights and best practices for those who design or utilize flexible and/or rigid-flex circuit boards. Topics covered include trace routing options, guidelines for process optimization, dynamic flexing applications, rigid-to-flex transition and more. Visit I-007ebooks.com/flexcg to download and learn more.
I-Connect007 has published nearly three dozen educational books serving the printed circuit electronics supply chain. Visit the entire library here.
American Standard Circuits is a total solutions provider, manufacturing quality rigid, metal-backed, RF/microwave, flex, and rigid-flex PCBs for the markets such as medical, automotive, industrial, defense, and aerospace in volumes from test and prototypes to large production orders. They have published multiple books, which can be found in the I-007ebooks library.
---
Suggested Items
09/26/2023 | GlobalFoundries
GlobalFoundries (GF) announced it has applied for U.S. CHIPS and Science Act Funding, with two full applications submitted to the CHIPS Program Office of the U.S. Department of Commerce.
09/25/2023 | HyRel
HyRel Technologies, a global provider of quick turn semiconductor modification solutions, proudly announces that it earned the prestigious AS9100 certification.
09/18/2023 | RTX
RTX business Collins Aerospace has been selected by BAE Systems as the provider for Large Area Display technology to be integrated into the cockpits of future Eurofighter Typhoon aircraft.
09/18/2023 | IPC
IPC Day France: Aerospace Electronics is an aerospace-focused networking event featuring key industry experts from NASA and Airbus and will take place on October 2, 2023 . 
09/14/2023 | CONFIDEE
CONFIDEE, a leading PCB partner, proudly announces its recent achievement of AS9120 certification. This prestigious certification highlights the company's commitment to excellence, quality, and customer satisfaction, making it a preferred choice for all defence and aerospace needs.