Books

Featured Books

pcb007 Magazine

Latest Issues

Current Issue

The Registration Sweet Spot

Registration is underrated and underappreciated. The key is to ensure proper registration from layer to layer across the entire printed circuit board. It's a holistic process requiring anticipation, prediction, precise attention at each step, and detailed data tracking and monitoring.

High-reliability Fabrication

In this month's issue, our expert contributors discuss the latest in technologies, trends, complexities and resources regarding high-reliability fabrication.

Finding Ultra

New demands on PCB fabrication, namely advanced packaging, ultra high density interconnect (UHDI), and new specialty materials, are converging, changing the landscape of our business. Is it time to start paying close attention to this convergence?

Columns

Latest Columns

||| MENU
The Birth of the Printed Circuit Board
May 23, 2023 | Barry Matties and Nolan Johnson, I-Connect007
Estimated reading time: 2 minutes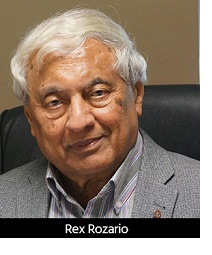 Every industry has a beginning, and we are lucky to have Rex Rozario here to share the story of how the printed circuit board industry got its start. I-Connect007 chatted with Rex recently about how he became involved with circuit board inventor Dr. Paul Eisler.
Barry Matties: Let's start at the beginning, Rex. My understanding is you were there when circuit boards were first being manufactured.
Rex Rozario: You're correct. Fortunately for me, when I left university, my first job was with a company called The Telegraph Condenser Company; they had just acquired the first license from Paul Eisler. He developed the printed circuit in a shed in London, circa 1940; they were single-sided boards. He had the patents in 1948 and issued five licenses. We (The Telegraph Condenser Company) were the first to get a license.
Eisler later joined Technograph and worked there for some time. Eventually, Technograph and Telegraph merged.
Matties: Would you say you were the first company to produce a licensed printed circuit board?
Rozario: Technically, we were the first company in the UK to manufacture PCBs. Eisler sold one license to the UK and four others to the U.S. We could appoint other people as well, if they wanted to manufacture under our license.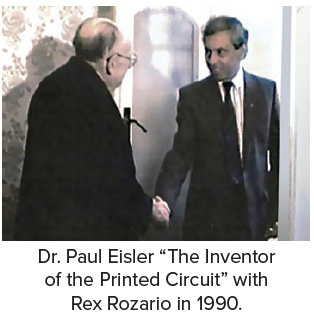 Matties: So, how did you get involved?
Rozario: Whilst studying for my degree at university, I was lucky to obtain a work/study job in my spare time in a development lab with Daly Condensers Ltd. (UK) where I learned all about manufacturing electrical condensers. This gave me the opportunity, after obtaining my university degree, to apply to the UK's largest condenser manufacturer, The Telegraph Condenser Co., which employed me as a development technician. Three weeks into my new job, I took a pre-arranged vacation for two weeks. When I returned, I was met by a senior director and was marched into the office of the managing director who was already addressing five men. The managing director informed us that Telegraph had just obtained the first license in the world from the inventor Dr. Paul Eisler, who was also engaged by Telegraph as a consultant. I was invited to join the five specialists which Telegraph had tapped to form this new team with Dr. Eisler. We were given 5,000 square feet of a surplus building to further develop and introduce printed circuits to replace manual wiring. This period was circa 1953.
In the beginning, we had to shop around for everything, from the base laminate to the copper foil. We did all that within our team, and then suddenly the printed circuit developed in the UK went from a single- to a double-sided board. For the double sided, we used eyelets until through-hole [electroless copper plating] came along.
Matties: You were along for the journey the whole way.
Rozario: I was just lucky to be there.
To read this entire conversation, which appeared in the May 2023 issue of PCB007 Magazine, click here.
---
Suggested Items
11/13/2023 | Global Newswire
The "Global Copper Clad Laminates Market (by Type, Application, Reinforcement Material, & Region): Insights and Forecast with Potential Impact of COVID-19 (2023-2028)" report has been added to ResearchAndMarkets.com's offering.
11/07/2023 | SCHMID Group
The SCHMID Group, a global solution provider for the high-tech electronics, photovoltaics, glass and energy systems industries, will be exhibiting at productronica in Munich from November 14 – 17, 2023.
11/01/2023 | Alex Stepinski, Stepinski Group
The topic of intrinsic copper structure has been largely neglected in discussions regarding the PCB fabrication quality control process. At face value, this seems especially strange considering that copper has been the primary conductor in all wiring boards and substrates since they were first invented. IPC and other standards almost exclusively address copper thickness with some mild attention being paid to surface structure for signal loss-mitigation/coarse properties. 
10/26/2023 | Andy Shaughnessy, Design007
At PCB West, I sat down for an interview with John Andresakis, the director of business development for Quantic Ohmega. I asked John to update us on the company's newest materials, trends in advanced materials, and the integration of Ticer Technologies, which Quantic acquired in 2021. As John explains, much of the excitement in materials focuses on laminates with lower and lower dielectric constants.
10/25/2023 | Preeya Kuray -- Column: Material Insight
Printed circuit board (PCB) reliability testing is generally performed by exposing the board to various mechanical, electrical, and/or thermal stimuli delineated by IPC standards, and then evaluating any resulting failure modes. Thermal shock testing is one type of reliability test that involves repeatedly exposing the PCB test board to a 288°C pot of molten solder for a specific time (typically 10 seconds) and measuring the number of cycles it takes for a board's copper layer to separate from the organic dielectric layer. If there is no delamination, fabricators can rest assured that the board will perform within expected temperature tolerances in the real world.