The 1Q23 Philippines' Smartphone Market Fell to the Lowest Quarterly Shipments in Three Years
May 30, 2023 | IDC
Estimated reading time: 1 minute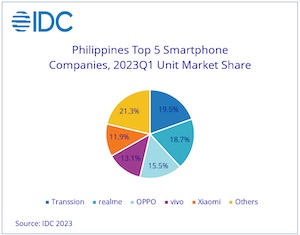 According to the International Data Corporation's (IDC) Worldwide Quarterly Mobile Phone Tracker, the Philippines smartphone market declined 16.7% quarter over quarter (QoQ) and 11.0% year over year (YoY), shipping 3.5 million units for the first quarter of 2023. Market conditions remained difficult as core inflation continued to rise through March 2023.
"The last time shipments hit below 3.5 million records was back in 1Q20 when the pandemic just started and the first lockdown was implemented," says Angela Medez, Client Devices Senior Market Analyst at IDC Philippines.
Transsion climbed to the top spot, ending realme's two-year streak as top the ranking smartphone company in the Philippines. Transsion's sub-brand, Tecno, grew 33.7% YoY and 107.8% QoQ contributing more than 50% to the company's total shipments, surpassing Infinix's share.
Tecno's rise is attributable to its aggressive campaigns offering new models at different price points (with its Spark Go 2023 model leading its growth) as well as introducing its Phantom series, initiating the brand's entry in the US$500+ band.
"Though it seems that the market has finally bottomed out and is on its road to recovery with inflation finally slowing down, IDC anticipates shipments to remain flat in 2023 as vendors will remain cautious with inflation still above comfortable levels," Medez added.
---
Suggested Items
12/01/2023 | SEMI
Global semiconductor equipment billings contracted 11% year-over-year to US$25.6 billion in the third quarter of 2023, while quarter-over-quarter billings slipped 1% during the same period, SEMI announced today in its Worldwide Semiconductor Equipment Market Statistics (WWSEMS) Report.
12/01/2023 | SEMI
Aiming to reduce global semiconductor ecosystem carbon emissions, SEMI and the Semiconductor Climate Consortium (SCC) have created the Energy Collaborative (EC) to understand and clear roadblocks to the installation of low-carbon energy sources in the Asia-Pacific region.
11/30/2023 | PRNewswire
Hyundai Mobis is poised to secure new orders for premium vehicle displays, characterized by large screens, high definition, and slim design, using a fusion of innovative technologies targeting global automakers.
11/30/2023 | PRNewswire
Hi Sharp, a leading maker of video surveillance systems, is globally announcing its expansion into AI and cloud-based technologies for video capture.
11/29/2023 | TrendForce
TrendForce's latest research indicates that despite a decrease in the CPI in Europe and the US this year, consumer budgets are still constrained due to the current high-interest-rate environment, and the real estate bubble in China has suppressed TV demand. Moreover, a significant increase in TV panel prices this year has led brands to scale down promotional events.