5G IoT Market Size Set to Grow by $77,586.17 million from 2022 to 2027
May 30, 2023 | PRNewswire
Estimated reading time: 1 minute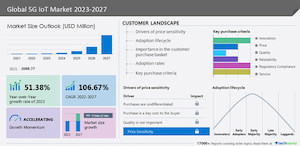 The global 5G iot market size is estimated to grow by USD 77,586.17 million from 2022 to 2027, according to Technavio. The market is estimated to grow at a CAGR of 106.67%, during the forecast period. APAC is estimated to account for 48% of the global market growth during the forecast period. The growth in the regional market can be attributed to the growing demand for high-speed connectivity and telecommunications. The improving telecommunications sector in developing countries, as well as developed markets, are further estimated to boost the growth of the 5G IoT market in the region. Additionally, the market for 5G devices is growing due to the increasing number of mobile subscribers in the region. Hence, such factors drive regional growth in the market during the forecast period. For more insights on the historic period (2017 to 2021) and forecast market size (2023 to 2027) - Request a sample report 
5G IoT Market - Segmentation Assessment
Segment Overview 
Technavio has segmented the market based on type (5G non-standalone and 5G standalone), component (hardware, services, platform, and connectivity), and geography (APAC, North America, Europe, Middle East and Africa, and South America).
The market share growth by the 5G non-standalone segment will be significant for overall market growth during the forecast period. Autonomous vehicles move from trials to commercial deployments and drive the demand for 5G IoT devices during the forecast period. At the same time, established companies in the energy and utilities industry continue to have an interest in using the latest technologies to automate their power generation and distribution processes. Hence, due to the increasing demand for high-speed data, the global 5G IoT market is expected to witness high growth during the forecast period.
---
Suggested Items
12/01/2023 | SEMI
Global semiconductor equipment billings contracted 11% year-over-year to US$25.6 billion in the third quarter of 2023, while quarter-over-quarter billings slipped 1% during the same period, SEMI announced today in its Worldwide Semiconductor Equipment Market Statistics (WWSEMS) Report.
12/01/2023 | SEMI
Aiming to reduce global semiconductor ecosystem carbon emissions, SEMI and the Semiconductor Climate Consortium (SCC) have created the Energy Collaborative (EC) to understand and clear roadblocks to the installation of low-carbon energy sources in the Asia-Pacific region.
11/30/2023 | PRNewswire
Hyundai Mobis is poised to secure new orders for premium vehicle displays, characterized by large screens, high definition, and slim design, using a fusion of innovative technologies targeting global automakers.
11/30/2023 | PRNewswire
Hi Sharp, a leading maker of video surveillance systems, is globally announcing its expansion into AI and cloud-based technologies for video capture.
11/29/2023 | TrendForce
TrendForce's latest research indicates that despite a decrease in the CPI in Europe and the US this year, consumer budgets are still constrained due to the current high-interest-rate environment, and the real estate bubble in China has suppressed TV demand. Moreover, a significant increase in TV panel prices this year has led brands to scale down promotional events.