5G IoT Market Size Set to Grow by $77,586.17 million from 2022 to 2027
May 30, 2023 | PRNewswire
Estimated reading time: 1 minute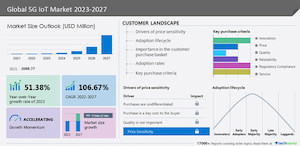 The global 5G iot market size is estimated to grow by USD 77,586.17 million from 2022 to 2027, according to Technavio. The market is estimated to grow at a CAGR of 106.67%, during the forecast period. APAC is estimated to account for 48% of the global market growth during the forecast period. The growth in the regional market can be attributed to the growing demand for high-speed connectivity and telecommunications. The improving telecommunications sector in developing countries, as well as developed markets, are further estimated to boost the growth of the 5G IoT market in the region. Additionally, the market for 5G devices is growing due to the increasing number of mobile subscribers in the region. Hence, such factors drive regional growth in the market during the forecast period. For more insights on the historic period (2017 to 2021) and forecast market size (2023 to 2027) - Request a sample report 
5G IoT Market - Segmentation Assessment
Segment Overview 
Technavio has segmented the market based on type (5G non-standalone and 5G standalone), component (hardware, services, platform, and connectivity), and geography (APAC, North America, Europe, Middle East and Africa, and South America).
The market share growth by the 5G non-standalone segment will be significant for overall market growth during the forecast period. Autonomous vehicles move from trials to commercial deployments and drive the demand for 5G IoT devices during the forecast period. At the same time, established companies in the energy and utilities industry continue to have an interest in using the latest technologies to automate their power generation and distribution processes. Hence, due to the increasing demand for high-speed data, the global 5G IoT market is expected to witness high growth during the forecast period.
---
Suggested Items
09/25/2023 | IDC
Newly released data from IDC's Worldwide Quarterly Mobile Phone Tracker shows that shipments of smartphones to the Gulf Cooperation Council (GCC) region increased 2.9% year on year in Q2 2023, with growth of 2.8% on the previous quarter.
09/22/2023 | Keysight Technologies, Inc.
Keysight Technologies, Inc. and Synopsys, Inc. are partnering to provide internet of things (IoT) device makers with a comprehensive cybersecurity assessment solution to ensure consumers are protected when devices are shipped to market. Under the arrangement, the Synopsys Defensics® fuzzing tool will be embedded as an option into the Keysight IoT Security Assessment solution. 
09/22/2023 | Dicro Oy
Dicro Oy is pleased to announce the expansion of Dicro into Narva, the third largest city in Estonia, where last week we started production in our new factory.
09/21/2023 | Mirtec
MIRTEC, the 'Global Leader in 3D Inspection Technology' is pleased to announce that Robert Horowitz has been promoted to the position of National Sales Manager for MIRTEC's North American Sales and Service Division.
09/21/2023 | IDC
Global shipments for wearable devices returned to growth in the second quarter of 2023 (2Q23) reversing two quarters of decline, according to new data from the International Data Corporation (IDC) Worldwide Quarterly Wearable Device Tracker.