Books

Featured Books

smt007 Magazine

Latest Issues

Current Issue

Chips Don't Float

In Europe and the U.S., legislation is under way to revitalize PCB fabrication and packaging. What is the status of this work, and how specifically does this change the industry landscape for EMS companies? What will help keep us afloat?

Flying High With Digital Twin

The opportunity to use manufacturing simulation as a test bed for job planning and process optimization brings continuous improvement into the modern age. This may be an all-or-nothing type of project, but it's worth the investment.

Artificial Intelligence

In this issue, we (and AI) explored how and when artificial intelligence plays a role in manufacturing today. Whether on the factory floor, or in the front office, AI applications are emerging and changing how we approach planning, processes and problem solving.

Columns

Latest Columns

||| MENU
Indium Corporation Expert to Deliver Keynote at NordPac
May 30, 2023 | Indium Corporation
Estimated reading time: 1 minute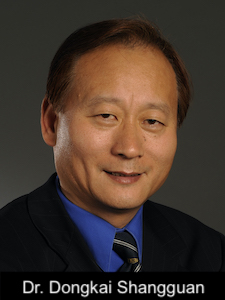 Indium Corporation Strategic Advisor Dr. Dongkai Shangguan is scheduled to deliver a keynote presentation at NordPac, hosted by IMAPS, June 12-14, in Oslo, Norway.
The presentation, titled Interconnect Reliability: From the Chip to the System, examines the importance of interconnect reliability to the overall integrity of semiconductor packaging and electronic systems. As newer forms of interconnects emerge to meet the demand for high density and high performance, interconnect reliability is becoming more complex and more critical. The growing adoption of heterogeneous integration leads to increased diversity of interconnects (with different geometries, materials, and interfaces) in the same package, with complex (and often interactive) reliability failure modes and mechanisms.
"As an international gathering of microelectronics packaging experts, from both academia and industry, NordPac is a tremendously valuable forum for discussing the groundbreaking research taking place throughout the field," said Dr. Shangguan. "I am honored that IMAPS has invited me to deliver a keynote presentation to my esteemed colleagues at this important event."
Dr. Shangguan is a Strategic Advisor to Indium Corporation. In this role, he works on specific trends related to the advanced semiconductor packaging and SMT industries, and applies his significant industry experience to supporting customers. Dr. Shangguan is an IEEE Fellow and IMAPS Fellow, and has served on the boards of directors for several professional organizations and industry associations, including IPC, IEEE EPS, and iNEMI. He also served as a Distinguished Lecturer for IEEE EPS. He has been honored with some of the industry's most prestigious awards, including IPC's President's Award, the Society of Manufacturing Engineers' (SME) Total Excellence in Electronics Manufacturing Award, the Outstanding Sustained Technical Contribution Award from IEEE EPS, and the William D. Ashman Achievement Award from IMAPS, among others. Dr. Shangguan received a bachelor's degree in mechanical engineering from Tsinghua University, China, an MBA from San Jose State University, Calif., and a Ph.D. in materials from the University of Oxford, U.K. He has held postdoctoral positions at the University of Cambridge, U.K., and the University of Alabama, and has served as a guest professor at several universities. Dr. Shangguan has published two books, more than 200 scientific papers and technical articles, and has given numerous presentations to share knowledge and expertise with the industry. He is the inventor/co-inventor of 30 U.S. patents and several foreign patents.
---
Suggested Items
09/22/2023 | IPC
Join fellow EMS leaders in the region on Oct 5, 2023, 4:30 - 8:00pm EDT, to share industry pain points and solutions. Our focus for this meeting is how companies profitably reach the next level of revenue. Following a presentation on the current EMS market and revenue tiers in the industry, participants will discuss how to reach the next level and grow their business. Discussion will pull from direct experience, questions, and ideas. From there, the conversation goes where you, the leaders, take it. Every roundtable ends in unique takeaways.  
09/21/2023 | Intraratio
Intraratio, a provider of enterprise software solutions, is pleased to announce its participation in the SMTA Guadalajara Expo and Tech Forum 2023.
09/21/2023 | SEMI
The SEMI Semiconductor Climate Consortium (SCC) issued its first report of the semiconductor ecosystem's greenhouse gas (GHG) emissions profile, an in-depth analysis of the semiconductor value chain's carbon footprint and priority-ranked carbon emission sources for the industry to address.
09/20/2023 | PDR
PDR is set to showcase its cutting-edge IR-E3 Series of SMD/BGA IR rework systems, as well as its industry-leading X-ray solutions.
09/20/2023 | Hentec Industries/RPS Automation
Hentec Industries/RPS Automation, a leading manufacturer of selective soldering, component lead tinning and solderability test equipment, announces that it has added assembly and production staff members to its team to accommodate its recent increase in sales and order demand.