Analog Devices Further Strengthens its South-East Asia Operations with New Singapore Facility
May 31, 2023 | ACN Newswire
Estimated reading time: 2 minutes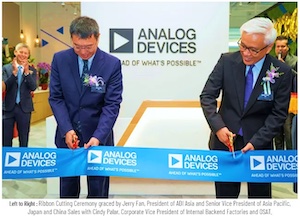 Analog Devices, Inc., a global semiconductor leader, announced the launch of a new state-of-the-art, environmentally friendly, 38,951 sq. ft. facility in Singapore. Located within the Kallang Industrial Park, the facility is planned to serve as a central hub for the more than 200 employees working in Singapore in key divisions of the company, including research and development, test engineering, sales, and manufacturing. ADI established its first location in Singapore in 1995 and has steadily grown its operations and workforce since then. This new strategic investment aligns with the company's global expansion plans, which include enhancing its capabilities in the Asia Pacific region.
"Our new facility is an important milestone in ADI's global growth strategy," said Jerry Fan, President of Asia for ADI. "Enhancing our capabilities in Singapore is vital to leveraging the country's superb talent pool and advanced manufacturing capabilities to serve our regional and global customers' needs. Our investment reinforces ADI's presence within Singapore's thriving semiconductor ecosystem, which is supported by the nation's digital growth initiatives."
The new facility features a more spacious and advanced laboratory to foster interaction between the research and development team as well as customers in the region. Through this forum for the exchange of ideas, ADI and its customers plan to deepen their collaboration and deliver innovative products for the Intelligent Edge. In addition, a dedicated space has been allocated for test development purposes within the new facility, custom-tailored to accommodate multiple automated test equipment (ATE) stations. These on-site testing stations are designed to enable faster initial testing of ADI's state-of-the-art products and accelerate the timeline of ADI engineering's ability to meet customers' toughest challenges.
Fan continued, "Customer intimacy, business strategy, engineering processes, manufacturing capabilities, and problem-solving are essential for creating long-term value for our customers. We are confident the environment within our new facility will help us deliver the kind of innovation that leads to breakthrough products and services, and we believe it will have a lasting impact on the region's ongoing digital transformation journey." 
Location selection and build criteria for the site prioritized accessibility and sustainability. The new office is bicycle-friendly, close to public transportation, and is directly accessible via expressways. Recyclable materials were used throughout construction, and energy efficient AC, lighting, and water systems are all part of its advanced building automation system. Low carbon footprint materials were an integral part of the biophilic interior design. The office building is Green Mark Platinum-certified and expected to get LEED Gold certification by July 2023.
---
Suggested Items
12/07/2023 | Matt Stevenson -- Column: Connect the Dots
It makes sense to optimize your board using design for manufacturability (DFM) techniques. But applying DFM best practices can be confusing without formal training. The results are designs that are often incomplete, poorly designed, or too complex. When these issues arise, your PCB manufacturing partner rejecting the design can be considered a best-case scenario because it means they have your back. If your design is simply dropped into an automated queue without concern for manufacturability, the output can be a batch of unusable boards.
12/05/2023 | Travis Kelly -- Column: American Made Advocacy
For this month's PCBAA Member Profile, the focus is on Hari Pillai, president, Technology Components, Sanmina. Hari says, "I think I've had a good dose of luck throughout my career. But beyond luck, I had a vision to become a general manager as far back as my undergraduate years. I made all my career decisions based on that. My evaluation criteria was always, "How does this opportunity get me closer to my goal?" Sometimes opportunities come from unexpected places."
12/05/2023 | Amkor Technology
Amkor Technology, Inc., a leading provider of semiconductor packaging and test services, has announced its plan to build an advanced packaging and test facility in Peoria, Arizona.
12/05/2023 | HANZA
HANZA AB has signed an agreement to acquire all shares in Orbit One AB, a Swedish company that offers contract manufacturing of electronics and electromechanics. Orbit One has annual sales of approximately SEK 1.1 billion with an operating profit (EBITA) of approximately SEK 70 million.
12/05/2023 | Arch Systems
Arch Systems, the leading provider of data, analytics, and insightful actions for manufacturing operations, announced this week its collaboration with Plexus Corp., a global leader in complex product design, supply chain, manufacturing, and sustaining services.