Books

Featured Books

smt007 Magazine

Latest Issues

Current Issue

Economic Headwinds

This issue takes stock of the current economic outlook and how companies are using current conditions to move themselves through technological evolutions, workforce shifts, and financial changes. Even with these headwinds, there's forward progress to be made.

Attracting New Talent

To get different results in staffing, you must change how you define, promote and recruit your job opportunities. How do you become magnetic to high-quality early-career candidates?

Test and Inspection

Test and inspection methods are undergoing rapid change. In this issue, we consider the influence of AOI, AI, and human eyes. How exactly are these pieces of the puzzle changing the role of test and inspection?

Columns

Latest Columns

||| MENU
Comtree Presents Kurtz Ersa Rework and Soldering Equipment at EPTECH Vancouver
June 2, 2023 | Kurtz Ersa Inc.
Estimated reading time: 1 minute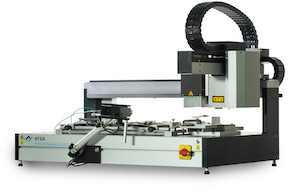 Kurtz Ersa Inc., a leading supplier of electronics production equipment, is excited to announce its participation in EPTECH Vancouver. Representatives from Comtree, a trusted partner of Ersa, will be available at the event to discuss Ersa's comprehensive range of solutions for the electronics manufacturing industry.
EPTECH Vancouver, a leading trade show for electronics professionals, provides an ideal platform for Kurtz Ersa to discuss its innovative products. Comtree representatives will be available to engage with attendees and provide insights into Ersa's rework, selective soldering, wave soldering, and reflow equipment.
Ersa's patented IR rework technology has been proven to deliver exceptional results on even the most challenging rework applications, benefiting thousands of users worldwide. Ersa systems are renowned for their outstanding cost/price ratio, making them a preferred choice for electronics manufacturers. Visitors to the event will have the opportunity to learn about Ersa's rework and soldering systems, highlighting their superior performance and versatility.
For over 30 years, Ersa's reflow ovens have set the industry standard for high-end reflow machines. The HOTFLOW series, the latest offering from Ersa, continues to push the boundaries of excellence. With impressive energy savings of 25 percent and a 20 percent reduction in N2 consumption, the HOTFLOW series raises the bar for efficiency.
---
Suggested Items
11/30/2023 | BUSINESS WIRE
Nordson Electronics Solutions, a global leader in electronics manufacturing technologies, is pleased to announce the release of the new ASYMTEK Select Coat® SL-1040 conformal coating system.
11/29/2023 | TT Electronics
TT Electronics, a global provider of custom power solutions and engineered technologies, has announced that its Power and Control business has officially opened its new state-of-the-art research, development and manufacturing facility.
11/27/2023 | IPC
IPC welcomes the actions outlined today by the U.S. Government "to strengthen supply chains critical to America's economic and national security."
11/27/2023 | GOEPEL Electronics
The US branch of GÖPEL electronic is proud to announce the addition of David Kalaidjian as the new National Sales Development Manager.
11/27/2023 | Wurth Elektronik
HyPerStripes project partners will create a technology platform including manufacturing techniques for roll-to-roll (R2R) processing as well as the integration of electronic components onto very long ("endless"), flexible and stretchable printed circuit boards.