NI, Spirent Announce First Comprehensive Test Solution for OpenRAN O-RU Customers
June 5, 2023 | Business Wire
Estimated reading time: 2 minutes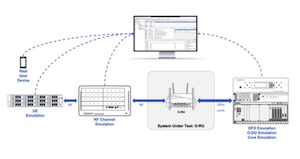 NI and Spirent Communications announced the first and only O-RU (Radio Unit) test solution that uses application layer testing with any commercial device, providing comprehensive, real-time O-RU validation. This unique capability enables customers to validate their systems faster and in a real-world environment while reducing costs - all in one highly capable validation solution.
Traditional testing of O-RAN systems has been very time-intensive and cost-prohibitive due to its need for engineers to manually test their systems from beginning to end. Built on common technologies, the Spirent/NI joint solution combines Spirent's software and emulation environment, including pre-built test cases, with NI's high-performance instrumentation, providing a robust and integrated O-RU validation solution that improves time to market with full automation through a single, intuitive GUI while also minimizing instrument cost and footprint.
"Spirent and NI have a long history of providing joint solutions that enable our customers to accelerate the production of their products," said Chen Chang, Senior Director, Strategic Business Development, NI. "Combining Spirent's best-in-class methodology with NI's versatile and powerful product lineup is a critical step in standardizing and accelerating O-RAN ORU development."
"Major chipset developers, equipment manufacturers, and carriers around the world are already benefitting from NI and Spirent working together to provide innovative solutions," said James Kimery, Vice President of Product Management, Lifecycle Service Assurance, Spirent. "This latest solution for the Open RAN space demonstrates how our continued collaboration is addressing critical testing gaps created by disaggregating the RAN that will expand the market by unambiguously validating true multivendor interoperability." 
The solution wraps the O-RU with a real-time O-DU emulator through a fully compliant O-RAN 7.2 interface, a CU emulator, a core network emulator, and a commercial UE emulator for real-world Interoperability Testing (IOT) to deliver a testbed capable of running real-world test scenarios in the lab. Customers can also use a commercial device in place of the UE emulator to validate all timing, full throughput including 4x4 MIMO, and any system-level test that an O-RU would experience in a real-world deployment scenario to test true performance and interoperability at a functional level rather than at the interface. On the production side, NI also has an O-RAN O-RU APT test system which uses the same O-DU emulation and combines this with NI's PXIe-5841 VST for parametric measurements for best-in-class efficiency with unmatched measurement accuracy. 
This test system is highly configurable, real-time, and ORAN FH compliant. It enables customers to configure the O-DU to emulate various timing profiles, test corner cases, and validate the system performance under real-time conditions. In addition, having the same test systems used in validation facilitates a streamlined O-RU development process that connects validation to production and drastically reduces test time, cost, and development effort.
---
Suggested Items
11/30/2023 | BUSINESS WIRE
Nordson Electronics Solutions, a global leader in electronics manufacturing technologies, is pleased to announce the release of the new ASYMTEK Select Coat® SL-1040 conformal coating system.
11/30/2023 | PRNewswire
Hi Sharp, a leading maker of video surveillance systems, is globally announcing its expansion into AI and cloud-based technologies for video capture.
11/29/2023 | Intel
Ahead of Enlit Europe, Intel announced that its technology is helping power the Edge for Smart Secondary Substations (E4S) Alliance's new solution to modernize the energy grid.
11/29/2023 | Airbus
Airbus has signed a contract with the Spanish Ministry of Defence for the development and acquisition of SIRTAP, a High Performance Tactical UAS that will reinforce the tactical capabilities of the Spanish Army and the Air and Space Force.
11/28/2023 | Real Time with...productronica
Marc Aicheler and Pete Starkey discuss TSK's horizontal vacuum systems, including vacuum etching process equipment. Aicheler details the benefits of a vacuum etch in managing challenges such as etchant puddling, etc. Aicheler also teases at a vacuum alkaline etchant systems as well.