Books

Featured Books

smt007 Magazine

Latest Issues

Current Issue

Chips Don't Float

In Europe and the U.S., legislation is under way to revitalize PCB fabrication and packaging. What is the status of this work, and how specifically does this change the industry landscape for EMS companies? What will help keep us afloat?

Flying High With Digital Twin

The opportunity to use manufacturing simulation as a test bed for job planning and process optimization brings continuous improvement into the modern age. This may be an all-or-nothing type of project, but it's worth the investment.

Artificial Intelligence

In this issue, we (and AI) explored how and when artificial intelligence plays a role in manufacturing today. Whether on the factory floor, or in the front office, AI applications are emerging and changing how we approach planning, processes and problem solving.

Columns

Latest Columns

||| MENU
Thermaltronics Introduces M Series - Power Plus Soldering Cartridges for Demanding Soldering Applications
June 5, 2023 | Thermaltronics
Estimated reading time: 1 minute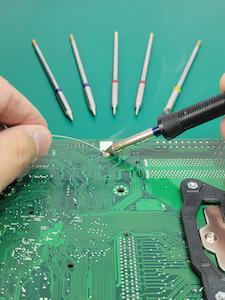 Thermaltronics USA, Inc., a manufacturer of award-winning solder robots, proud to unveil the M Series - Power Plus soldering cartridges, designed to address demanding soldering applications without the need for upgrading to other brands' premium handles.
The M Series - Power Plus tips from Thermaltronics have been developed specifically for heavy-duty soldering jobs, offering exceptional performance and extended tip life. By incorporating a larger copper mass and additional plating, these cartridges deliver superior soldering performance and durability. The enhanced design of the M Series allows users of the TMT-9000S soldering system to achieve remarkable results without the need to increase tip temperature.
"We are thrilled to introduce the M Series - Power Plus soldering cartridges, a game-changer for demanding soldering applications," said Ed Zamborsky, Technical Support Manager, Thermaltronics. "With these new cartridges, users can experience significant performance gains, longer tip life, and lower soldering temperatures. Our goal is to provide our customers with a cost-effective and efficient solution that surpasses their expectations."
Thermaltronics' Power Plus cartridges offer a wide range of options, boasting over 30 different styles compared to the traditional six offered by other manufacturers. This expanded selection ensures that soldering professionals can find the perfect cartridge to suit their specific application requirements. By choosing the M Series - Power Plus, users can enjoy lower soldering temperatures, extended tip life, and reduced expenses without compromising on performance.
"Soldering professionals face a variety of challenges in their day-to-day work, especially when dealing with demanding soldering applications," added Zamborsky. "The M Series - Power Plus cartridges provide an effective solution by offering enhanced performance, improved tip life, and a wider range of options. With these cartridges, soldering professionals can work with confidence, knowing they have the right tools to tackle any job."
In addition to its award-winning hand soldering product line, Thermaltronics also provides an extended range of accessories to support both production and rework applications.
---
Suggested Items
09/21/2023 | Thermaltronics USA, Inc.
Thermaltronics USA, Inc., a globally acclaimed manufacturer of Precision Soldering Robots and innovative Curie point soldering systems, is excited to announce its participation in the highly anticipated SMTA Guadalajara Expo & Tech Forum, scheduled to take place from October 25-26, 2023.
09/20/2023 | ULT AG
At this year's productronica, the world's leading trade show for electronics manufacturing, ULT will present a brand new extraction solution for solder fumes and vapor.
09/20/2023 | Hentec Industries/RPS Automation
Hentec Industries/RPS Automation, a leading manufacturer of selective soldering, component lead tinning and solderability test equipment, announces that it has added assembly and production staff members to its team to accommodate its recent increase in sales and order demand.
09/19/2023 | SMTA
SMTA is honored to announce Qais Qasaimeh, a graduate student at Auburn University, has been selected as the winner of the 2023 Charles Hutchins Educational Grant.
09/14/2023 | SHENMAO
SHENMAO America, Inc. is proud to introduce its latest innovation in response to the growing demand for ultra-thin packages in the electronics industry.