Toyochem Constructs New Pilot Facility for High-performance Polymers in Japan
June 5, 2023 | Toyochem
Estimated reading time: 1 minute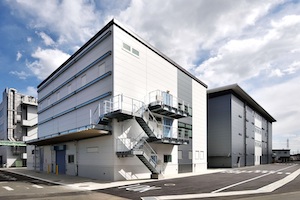 Toyochem Co., Ltd., the polymer and coatings arm of Japan's Toyo Ink Group, announced today that it has completed construction of a new Polymer Pilot Facility at its Kawagoe Factory, a manufacturing complex located in Kawagoe City, Saitama Prefecture in Japan. The new Facility, which came online in April 2023, is engaged in the prototyping and medium-scale production of advanced polymers and their composites. In the first-phase production line, Toyochem plans to manufacture condensation polymers that exhibit high heat resistance and high flexibility, properties needed to fulfill the very demanding requirements of today's semiconductor components. Key applications include high heat resistant and flexible adhesive materials for high-speed communication components and functional adhesives for electric vehicles.
In line with its growth strategy, Toyochem, with the cooperation of its Polymer Materials Research Institute in Japan and the new Polymer Pilot Facility, is expected to accelerate development of new products and related businesses needed to support its customer base now and well into the future. "The Toyo Ink Group has a long track record of manufacturing polymers based on acrylics, urethanes, polyesters and their composites for use primarily in can coatings, adhesives, laminating adhesives and inks," said Yasushi Ariyoshi, Division Director of the Polymer & Coating R&D Division at Toyochem.
"Over the years, the Group has reinforced our capability and technological base to engineer our own polymer-based systems. Recently, Toyochem has been focusing its efforts on developing a series of high-functional products, including environmentally friendly types and performance coatings for the electronics field. These applications require improved properties to satisfy the most demanding requirements. And the establishment of a new pilot facility bolsters our ability to develop and deliver new polymer grades needed to meet the future performance and sustainability demands of our customers."
In addition to serving as a model system for the trial production of new polymers, Toyochem's Polymer Pilot Facility is also being used to consolidate polymer pilot areas at Kawagoe and to accumulate data needed to enhance smart-factory initiatives incorporated at its manufacturing sites.
---
Suggested Items
12/07/2023 | Matt Stevenson -- Column: Connect the Dots
It makes sense to optimize your board using design for manufacturability (DFM) techniques. But applying DFM best practices can be confusing without formal training. The results are designs that are often incomplete, poorly designed, or too complex. When these issues arise, your PCB manufacturing partner rejecting the design can be considered a best-case scenario because it means they have your back. If your design is simply dropped into an automated queue without concern for manufacturability, the output can be a batch of unusable boards.
12/05/2023 | Travis Kelly -- Column: American Made Advocacy
For this month's PCBAA Member Profile, the focus is on Hari Pillai, president, Technology Components, Sanmina. Hari says, "I think I've had a good dose of luck throughout my career. But beyond luck, I had a vision to become a general manager as far back as my undergraduate years. I made all my career decisions based on that. My evaluation criteria was always, "How does this opportunity get me closer to my goal?" Sometimes opportunities come from unexpected places."
12/05/2023 | Amkor Technology
Amkor Technology, Inc., a leading provider of semiconductor packaging and test services, has announced its plan to build an advanced packaging and test facility in Peoria, Arizona.
12/05/2023 | HANZA
HANZA AB has signed an agreement to acquire all shares in Orbit One AB, a Swedish company that offers contract manufacturing of electronics and electromechanics. Orbit One has annual sales of approximately SEK 1.1 billion with an operating profit (EBITA) of approximately SEK 70 million.
12/05/2023 | Arch Systems
Arch Systems, the leading provider of data, analytics, and insightful actions for manufacturing operations, announced this week its collaboration with Plexus Corp., a global leader in complex product design, supply chain, manufacturing, and sustaining services.