Toyochem Constructs New Pilot Facility for High-performance Polymers in Japan
June 5, 2023 | Toyochem
Estimated reading time: 1 minute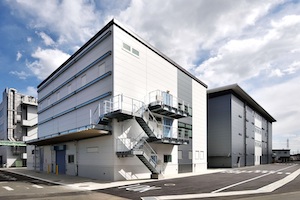 Toyochem Co., Ltd., the polymer and coatings arm of Japan's Toyo Ink Group, announced today that it has completed construction of a new Polymer Pilot Facility at its Kawagoe Factory, a manufacturing complex located in Kawagoe City, Saitama Prefecture in Japan. The new Facility, which came online in April 2023, is engaged in the prototyping and medium-scale production of advanced polymers and their composites. In the first-phase production line, Toyochem plans to manufacture condensation polymers that exhibit high heat resistance and high flexibility, properties needed to fulfill the very demanding requirements of today's semiconductor components. Key applications include high heat resistant and flexible adhesive materials for high-speed communication components and functional adhesives for electric vehicles.
In line with its growth strategy, Toyochem, with the cooperation of its Polymer Materials Research Institute in Japan and the new Polymer Pilot Facility, is expected to accelerate development of new products and related businesses needed to support its customer base now and well into the future. "The Toyo Ink Group has a long track record of manufacturing polymers based on acrylics, urethanes, polyesters and their composites for use primarily in can coatings, adhesives, laminating adhesives and inks," said Yasushi Ariyoshi, Division Director of the Polymer & Coating R&D Division at Toyochem.
"Over the years, the Group has reinforced our capability and technological base to engineer our own polymer-based systems. Recently, Toyochem has been focusing its efforts on developing a series of high-functional products, including environmentally friendly types and performance coatings for the electronics field. These applications require improved properties to satisfy the most demanding requirements. And the establishment of a new pilot facility bolsters our ability to develop and deliver new polymer grades needed to meet the future performance and sustainability demands of our customers."
In addition to serving as a model system for the trial production of new polymers, Toyochem's Polymer Pilot Facility is also being used to consolidate polymer pilot areas at Kawagoe and to accumulate data needed to enhance smart-factory initiatives incorporated at its manufacturing sites.
---
Suggested Items
09/22/2023 | GlobalFoundries
The U.S. Department of Defense (DoD) has awarded GlobalFoundries (Nasdaq: GFS) (GF) a new 10-year contract for a supply of securely manufactured, U.S.-made semiconductors for use across a wide range of critical aerospace and defense applications. 
09/25/2023 | APCT
APCT, a leading name in the PCB and electronics industry, is delighted to announce the appointment of Peter Austin as its President and CEO, effective September 1. Peter takes the reins from former CEO, Steve Robinson, who has retired after years of dedicated service to the company.
09/22/2023 | Happy Holden, I-Connect007
Ever since high density interconnect (HDI) was created in 1982 by Hewlett-Packard to package its first 32-bit computer powered by a single chip, it has continued to evolve and provide the solutions for miniaturized products. The leading edge of HDI technology became the process used for organic flip-chip packaging for the semiconductor industry. The two distinct markets—IC substrates and product-system integration—are now colliding and utilizing the same ultra-HDI manufacturing processes.
09/21/2023 | KIC
KIC, a renowned pioneer in thermal process and temperature measurement solutions for electronics manufacturing, is thrilled to announce its participation in the upcoming SMTA Guadalajara Expo & Tech Forum.
09/21/2023 | Intraratio
Intraratio, a provider of enterprise software solutions, is pleased to announce its participation in the SMTA Guadalajara Expo and Tech Forum 2023.